The average stock that has reported earnings so far this season has gained 1.07% on its report day, which is a very high number. We'll see if the strong performance on earnings lasts through the entire reporting period.
Below is a list of the stocks that have reacted the most positively to their earnings reports so far this season. As shown, Netflix (NASDAQ:NFLX) ranks first with a gain of 42.22% on its report day (Thursday), followed by Swift Transportation (NYSE:SWFT), Travelzoo (NASDAQ:TZOO), Cree (NASDAQ:CREE), and Super Micro Computer (NASDAQ:SMCI). Other notables on the list of big winners on earnings include Cirrus Logic (NASDAQ:CRUS), Advanced Micro (NYSE:AMD), Intuitive Surgical (NASDAQ:ISRG), and Tempur Pedic (NYSE:TPX).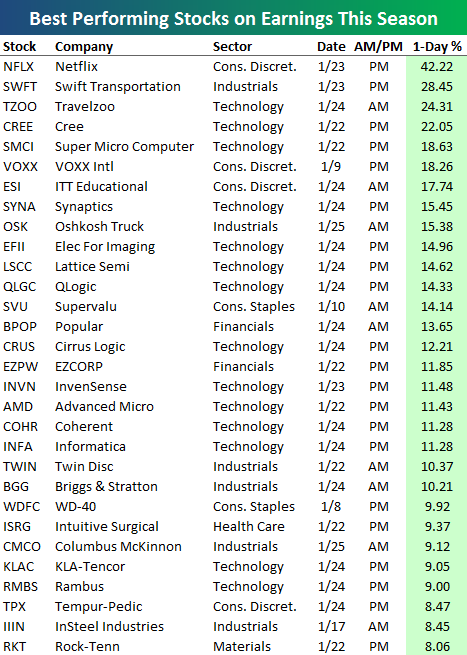 DragonWave (NASDAQ:DRWI) has had the biggest decline on its report day so far this season at -27.19%. Coach (NYSE:COH) ranks fourth worst at -16.36%, and Apple (NASDAQ:AAPL) -- yes, Apple -- ranks sixth worst with a decline of 12.35%.