Chevron Corporation (NYSE:CVX) is still cheap at $116, and shares should provide significant returns for investors during the months and years ahead. Consider using a "married put" approach to reduce your risk while leaving most of the upside in place.
Valuation:
Chevron is too cheap at 9.4X earnings and 4.3X EV/EBITDA. We recently ran a DCF model for Chevron and found the company to be undervalued. Here is a quick summation on our results:
| | | | | | |
| --- | --- | --- | --- | --- | --- |
| | 2012 | 2013 | 2014 | 2015 | 2016 |
| Revenue | $279 Bn | $290 Bn | $301 Bn | $314 Bn | $326 Bn |
| NOPAT | $24 Bn | $25 Bn | $26 Bn | $27Bn | $28.3 Bn |
| FCF | $10.93 Bn | $13.1 Bn | $15.4 Bn | $17.9 Bn | $20.5 Bn |
| FCF/%Rev | 3.9% | 4.5% | 5.1% | 5.7% | 6.3% |
| LT Gr Rt = 3% | invested | +cash-debt | = $413 Bn | /1.97MM | =$215FV |
Using a 9% WACC and a long-term growth rate of 3%, we can calculate the fair value of CVX shares to be around $215. I think $200 is a more conservative fair value estimate.
While an investment in CVX at $116 carries a 40% or so margin of safety to our target price, the investment carries a wider margin of safety using a covered call approach. CVX covered calls are usually an exceptional value when compared to the average stock in the market, in my view, as I tend to believe CVX is too cheap at 9.4X earnings. Currently, however, we think option premiums are too low to make a covered call strategy viable here, and would consider a "married put" strategy, or shorting something in the oil market you don't like as a hedge, maybe InterOil (NYSE:IOC) with its high valuations or the Russell 2000 (NYSEARCA:IWM), which looks overbought and overvalued here.
Macro Backdrop:
I also believe the valuations of the majors assume a longer-term drop in oil prices, or an immediate shift to renewable energy sources, while a continued long-term bull market is far more likely because Federal Reserve policy is driving a major bull market for raw materials. Just look at a 10-year chart of the Rogers Raw Materials Index Fund (NYSEARCA:RJI), (NYSEARCA:RJA):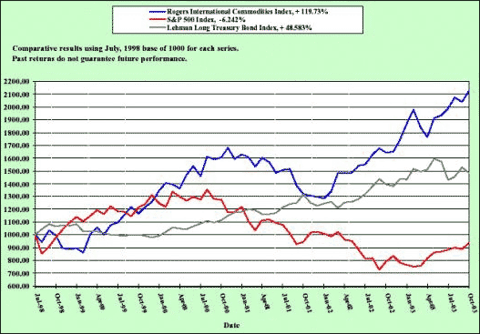 Oil stocks were valued in much the same way as they are today back in 2003, carrying some of the lowest sector specific valuations in the stock market. Back then, everyone thought that high oil prices were the temporary result of evil "speculators" and not easy money Fed policy. The same is true today, and if oil prices continue to rise or remain high, continued Quantitative Easing should benefit the companies with oil assets under the ground like Chevron.
While there may be no obvious short-term catalyst for a move higher, I think the dividend yield combined with a married put option approach gives Chevron investors the best possible risk/reward combination among the majors. I also think high oil and gas prices are here to stay, which should benefit CVX shareholders over time, but the best reason to buy CVX right now is simply valuation. At today's price tag, investors can own a chunk of the exploration, refining, and retail oil and gas business at a huge discount to the valuation of the S&P 500, which sits at around double the price tag for CVX's free cash flow.
Easy Money Flooding The Markets:
The second best reason to buy Chevron is because of central bank easing across the globe. Easy money Fed policy likely means that oil prices can continue to rise despite any supply and demand concerns. The reason for oil rising is simply because the purchasing value of paper money declines as central banks attempt to print their way out of the recession.
Maximizing Shareholder Value Without Destroying Nature:
Chevron has also addressed the issues all oil and gas majors face in terms of public perception and environmental concerns. Sure, it is an oil company whose profits are stained with ecological bloodshed, but at least Chevron recognizes that a major change needs to take place. While maximizing shareholder value is the main concern for any corporation (according to modern portfolio theory, managerialism, Aswath Damodoran, etc.), Chevron seems to realize that for its shareholders to receive this maximum value, it has to live in a sustainable environment and a planet that can support life forms. In other words, you can't assume that Global Warming is a major issue while looking at oil and gas reserves for this company in a vacuum. What will new regulatory and environmental hurdles will this company face? If all of the oil and gas reserves worldwide are converted to energy, will the world become too hot and polluted to support life? These are real issues for investors trying to value oil and gas reserves, and there are simply no easy answers. In my view, the environmental risks for Chevron shareholders are significant, but the lobbying power of this industry is unstoppable. In other words, expect the environmental issues can to be kicked down the road for the next decade or so -- CVX investors need not panic over environmental regulation because of the lobbyists and climate change denial that is going on in Washington.
As a long-term investor, I am almost more concerned/interested in the macro backdrop than anything company specific -- can Chevron make a transition to cleaner burning fuels 20 years from now? Is Chevron prepared for a major drop or rise in the price of oil, and is it going to gain market share in the green technology space decades from now? These are the questions discounted cash flow analysis must account for to arrive at an accurate valuation for this stock. In my view, the risks mean a possible 1% long-term growth rate down the road, but this stagnation of earnings growth is already priced into shares at today's prices.
Whenever valuations for major Fortune 500 companies start hitting the 7-8X range, the market is telling us something about a company's perceived future prospects and usually, it's telling us that business is going to be bad in the coming years and quarters (either that, or a given stock is simply too cheap and Mr. Market is overstating these threats).
In Chevron's case, we think the market is pricing in a shift toward green energy, including natural gas, wind, biomass, and solar, but also, to a larger drop in commodity prices. The major catalyst for us in choosing to recommend Chevron to our readers over other businesses is not just that we think the financial service industry is incorrect about the future direction of oil prices (commodities will remain in a prolonged bull market in our view). I also believe that green technologies are the future of the energy industry. However, I can't see that it will taking less than another 15 years before "green" energy gains the upper hand over fossil fuels. We also believe that the stock market is pricing in a permanent shift away from oil too early (just as Mr. Market did back in 2003), and that oil and gas stocks trading for less than 9X earnings make a good deal of sense right now for an overweight position in investment portfolios.
Challenges:
CVX is a cheap name with outstanding management and a better record of safety than competitors such as BP PLC (NYSE:BP) and Exxon Mobil (NYSE:XOM). Chevron does a good job at the retail level with relatively clean stores and fairly compensated employees. With the shift to higher fuel prices, many savers choose to buy convenience items at the gas station because of transportation costs. Retail operations are strong here, but as big guns like WalMart and Costco move into gasoline sales, Chevron will face additional competition and pricing pressure.
Option Ideas: Low VIX Means Married Puts, Not Covered Calls:
The best way to play Chevron in my view: buy and hold CVX shares for the longer term, selling front month at the money call options against your stock (equal amounts) to profit from option time decay. We continue to suggest investing in a classic covered call position here. That said, with today's extremely low VIX, there is not much room to profit from option time decay right now. Buying the April $120 put options on CVX at $5.80 a contract to hedge your long position in the name seems to be a better deal than CVX covered calls right now.
Summary:
In conclusion, the environmental argument and the "flooded oil market" argument against owning Chevron or other oil major shares here has some merit, but I don't see real change ahead for the global energy markets until the end of the decade. For now, CVX owners have the Fed blowing a QE wind into their mast, sailing full speed ahead into absolute alpha territory. While we are cautious on the overall markets, look for cheap stocks like CVX to add to your long ledger in both bull and bear markets.
Disclosure: I have no positions in any stocks mentioned, and no plans to initiate any positions within the next 72 hours. I wrote this article myself, and it expresses my own opinions. I am not receiving compensation for it (other than from Seeking Alpha). I have no business relationship with any company whose stock is mentioned in this article.