Much has been written about Johnson & Johnson (NYSE:JNJ) this week since the release of its 4th quarter earnings on Tuesday January 22, 2013. Many of the articles advance a negative outlook, given management's full year 2013 earnings estimates that missed Wall Street's forecasts, along with the liability the company faces with the class action lawsuits associated with its metal hip implants, which it pulled from the market in 2010, as well as the blemish on the company from other product recalls and tarnished image due to some failed factory inspections. Finally, some investors simply think the company has become too big and spread too thin across its many product lines.
But here's the thing: due to its size and the vast scope of its business, the company IS large enough to absorb costs and charges to earnings from product liability issues and perhaps most importantly, a new management team is in place to restore luster to the Johnson & Johnson brand image, and stop the repetitive product recalls that plagued the company during the last CEO's tenure.
4th Quarter Earning Highlights and 2013 Earnings Forecast
Johnson & Johnson reported a significant increase in 4th quarter profits compared to a year ago. But management's 2013 forecast fell short of Wall Street expectations. The maker of prescription drugs, consumer health products and medical devices reported net income of more than $2.5 billion or 91 cents a share up sharply from $218 million or 8 cents a share in 2011 4th quarter.
The company took a one-time $800 million charges against earnings for litigation. Without the charges, earnings in the 4th quarter would have exceeded $3.38 billion or $1.19 per share… beating the Wall Street consensus estimate by 2 cents a share.
Management's estimate of full-year 2013 earnings ranges from $5.35 to $5.45 a share… short of Wall Street estimates of $5.49.
Expensive Litigation and Charges to Future Earnings
No doubt about it, the trial getting underway today (January 25, 2013) in Los Angeles carries significant financial risk to the company. Johnson & Johnson faces a total of 10,100 lawsuits as of September 2012, according to regulatory filings. The company has offered $200,000 per petitioner to settle the lawsuits, which would cost the company $2 billion dollars if most plaintiffs accept the terms. The company so far has set aside $800 million to cover costs associated with the litigation.
According to The Wall Street Journal, the devices in question -- artificial hip sockets and balls known as the articular surface replacement, or ASR, system -- were made by J&J's DePuy Orthopedics unit.
New Management… A Brighter Future
Alex Gorsky became the new CEO of Johnson & Johnson in April 2012, replacing William Weldon whose tenure as CEO was marred by product recalls and manufacturing problems that tried the patience of many JNJ investors and kept the stock price in a narrow trading range. Gorsky had been a vice chairman on the company's executive committee and managed the medical device business for the company. Under Gorsky's management, medical devices and diagnostics became the largest part of Johnson & Johnson's business based on revenue.
Gorsky started with the company in 1988 as a pharmaceutical sales representative. He left the company in 2004 to run the U. S. pharmaceutical business for Swiss drug maker Novartis and returned in 2008. The 52-year-old Gorsky is hard-charging, well-qualified and "gifted" operationally, according to Barclays Capital analyst Charles "Tony" Butler. Over the past 6 months, Gorsky has been able to build his team of managers across the spectrum of the company.
Leadership matters… and if Gorsky can return the company to a focus on operational excellence, the best days may still be ahead for Johnson & Johnson.
Johnson & Johnson Profile -- Fast Facts:
250 operating companies in 60 countries
Sells products into 200 countries
"Touch" one billion customers around the world every day
Employees approximately 129,000 people
In business for more than 126 years
The world's sixth-largest consumer health company
The world's largest and most diverse medical devices and diagnostics company
The world's fifth largest biologics company
The world's eighth largest pharmaceuticals company
70% of its revenue comes from the number 1 or 2 global leadership positions in respective markets.
29 consecutive years of adjusted earnings increases
Headquartered in New Brunswick, New Jersey
Growth Drivers
A significant growth driver for the company is its global reach. Currently, 55% of the total Johnson & Johnson business comes from outside the United States, and this has been a continuous growth trend for the past 15 years.
The company's strategic plan includes growth through complimentary bolt-on acquisitions, creating additional value through innovation, extending its global reach into underserved geographic areas and pursuing growth drivers by what the company calls its "Leadership Imperatives": Connect, Shape, Lead and Deliver.
Dividend "King"
Johnson & Johnson has been paying dividends continuously since 1944. This is an impressive record -- but not nearly as impressive as the fact that the company has increased its dividend each and every year for the last 50 straight years. This is a milestone achieved by only 14 companies out of the universe of publicly traded companies in the United States. No guarantees, but with a 50-year record, it is very likely the company will go for 51 consecutive years of dividend increases… then 55 years, then 60 years, and so on. This is a jewel of a stock for income-oriented investors due to its ever-increasing dividend payments. Over the past 5 years, the dividend growth rate has averaged 8.14%. Total return, including dividends, over the past 12 months is 16.7%. Over 5 years, total return is 30.7%.
Without including dividends, the Johnson & Johnson return has lagged the S&P 500 over the past year by a couple of points, as indicated in this chart. Note a real divergence from the S&P 500 in the months leading up to a CEO change.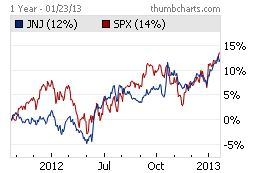 Conclusions
Johnson & Johnson may be an appropriate selection for income-oriented investors and retirees like me. No guarantees, but given the track record of 50 consecutive years of dividend increases, I have a lot of confidence in the company's potential to continue paying out ever-increasing dividends.
The leadership change at the top of the company and in some of its operating units comes at an opportune time. Experienced, relatively young, and aggressive leadership can make a real difference in manufacturing accountability, which may help end the embarrassing and image-damaging string of product recalls and help restore luster to this gem of a company. Prudent and patient investors may wish to wait for a stock price pullback before purchasing Johnson & Johnson, as the company has hit another 52 week high with its closing price on January 25, 2013 of $73.92.
Disclosure: I am long JNJ. I wrote this article myself, and it expresses my own opinions. I am not receiving compensation for it (other than from Seeking Alpha). I have no business relationship with any company whose stock is mentioned in this article.
Additional disclosure: I am not a professional investment advisor, just an individual handling his own account with his own money. You should do your own due diligence before investing your own funds.