Volatility-linked exchange traded products such as iPath S&P 500 VIX Short Term Futures ETN (NYSEARCA:VXX) bounced a little on Thursday after grinding down to fresh all-time lows to start the year. Some equity investors appeared to be hedging in the options market Thursday after the S&P 500 briefly rose above the key 1,500 mark.
The CBOE Volatility Index, or VIX, is hovering near a five year-low. However, one option trader believes that the VIX and related exchange traded funds are not really that low.
Adam Warner, an options trader and contributor to Schaeffer's Investment Research, points out that the current VIX reading is "not as silly low as meets the eye" when you compare it to the 10-day realized volatility in the S&P 500.
"Options certainly are cheap at these levels," Warner wrote, referring to contracts on the CBOE index. "It's just not some magical, fade-able moment here."
On Tuesday, the so-called realized volatility for the SPDR S&P 500 ETF (NYSEARCA:SPY) dropped to 5.09, the lowest since August, reports David Wilson for Bloomberg.
The VIX is known as Wall Street's fear gauge, and rises when investors are seeking protection in S&P 500 options. Specifically, the VIX reflects volatility expectations for the next month.
The iPath S&P 500 VIX Short Term Futures ETN was up 5% in afternoon trading as the S&P 500 erased its earlier gains. The volatility ETN has been hitting new all-time lows over the past two weeks.
Other volatility ETFs include VelocityShares VIX Short-Term ETN (NASDAQ:VIIX), VelocityShares Daily 2x VIX Short-Term ETN (NASDAQ:TVIX), ProShares Ultra VIX Short-Term Futures (NYSEARCA:UVXY) and ProShares VIX Short-Term Futures ETF (NYSEARCA:VIXY).
The products, which fell sharply in 2012, are designed to track VIX futures contracts rather than the spot price.
On the other hand, inverse funds like the VelocityShares Daily Inverse VIX Short-Term ETN (NASDAQ:XIV) are performing well on the heightened complacency in the markets.
iPath S&P 500 VIX Short Term Futures ETN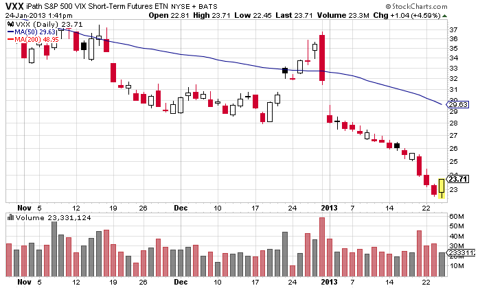 Max Chen contributed to this article.
Disclosure: I am long SPY. I wrote this article myself, and it expresses my own opinions. I am not receiving compensation for it. I have no business relationship with any company whose stock is mentioned in this article.