Background
Over the last few months, I have located and summarized research papers that used historical data to show that dividend growth stocks and low-beta stocks have outperformed the overall market over the long run. The research in the former article specifically identified dividend growth as the primary driver of returns, while the latter made the case to avoid higher-beta stocks. To put this research to the test, I decided to create a model portfolio of stocks with strong dividend growth rates [DGR] and low beta. This portfolio will be tracked along with my other models as I continue my effort to identify sub-groups of dividend growth stocks that offer superior total returns. While my focus is total return, income investors may find the 3.4% portfolio yield attractive, particularly given the high historical average DGR of around 20% across 1-yr, 3-yr, 5-yr, and 10-yr time periods.
The Screening Process
The screening process relies on David Fish's CCC list, so as always, a big thank you to him for putting it together each month! I tried to make the process as objective as possible; readers should be able to replicate the results. The number in brackets indicates the number of stocks remaining after each filter step.
I began with the December 31, 2012 CCC list [458 stocks in total]. While my focus is on total return, I do prefer to hold a stock that provides me a reasonable dividend. Given the 1% CD rates available today, I set the threshold for this portfolio at 1.75% yield, removing stocks with a yield below this level. [357]
Next, I sorted the remaining list by beta. Since the portfolio will focus on low-beta holdings, I sought to remove the higher-beta stocks from the list. I didn't want to be too restrictive, as there are more filters to be applied and I wanted to have all sectors represented. Also, the final portfolio will be weighted by inverse beta, so having a few relatively higher-beta stocks in it would not be a big problem. Ultimately, I chose a beta of 1.10 as the cut-off and removed stocks with betas above this level. This is approximately the top quintile cutoff, which research showed to be the lowest performers. In the future, I'll just remove the top 20%. [275]
The other main driver for this portfolio is strong DGR. I focused on the 1-yr and 3-yr DGRs, setting a minimum level of 7.5% for each. This factor eliminated over half of the remaining stocks, but now we have the ones with strong, recent dividend growth. [110]
While historical dividend growth shows commitment to distributing income to shareholders, future dividend growth will depend on a combination of earnings growth and payout ratios. If I removed the payout values for about 13 MLPs and REITs from the data, the remaining stocks had an average payout ratio of around 46%. So on average, this group can afford to keep increasing their dividend in the short-term, even with low earnings growth. As this portfolio will be rebalanced annually, this is enough to satisfy me on that metric. But, why settle for low earnings growth? I set a minimum estimated 5-yr earnings growth rate of 6% to weed out those with low, negative, or unavailable earnings projections. [89]
Lastly, I removed 3 stocks that were overdue for a dividend increase. In the CCC list, the dividend dates of these stocks are colored red. [86]
Screened Group Characteristics
The 86 stocks that survived the screening process had an average yield of 3.15%, and 1-yr, 3-yr, and 5-yr DGRs of 16.4%, 15.7%, and 17.8% respectively. For comparison, the entire CCC universe had an average yield of 3.22%, and DGRs around 10% on average.
Next, I sorted the list by industry type and added a column for the sector, as I use a formula to determine how many stocks to purchase in each sector. Note that I am not using the sector field provided in the CCC list. I used the 10-sector Global Industry Classification Standard [GICS], which is what Schwab research uses. After classifying each stock, I re-sorted the list by sector. The table below shows the group characteristics.

Click to enlarge
I calculated the number of stocks for each sector based on representation and inverse beta weighting for each sector. Not surprisingly, relative to the S&P 500 (NYSEARCA:SPY), the group was heavy on consumer staple and utility stocks. The inverse beta weighting methodology also increased the representation of materials, telecom, and utilities. While the average sector weightings vary a bit, the final portfolio is almost equally weighted except for consumer staples, due to rounding; I can't put 3.5 stocks in a sector. If I increased the total holdings, we would see a little more variation, but I have found 30-stock portfolios to be effective so far, and will stick with that number.
Stock Selection
To decide which stocks to select from the screened list, I added 6 columns [Yield Rank, 3-yr DGR, 1-yr DGR, 1-yr DGR > 3-yr DGR, 2013 EPS growth, and PEG] and assigned point values to help me compare the stocks. The 1-yr vs. 3-yr DGR gave up to 2 bonus points if the 1-yr DGR was close or greater than the 3-yr DGR average. I also looked at the Payout ratio, but not as part of the ranking formula. The scores were summed with the yield factor being double weighted. The stocks were then sorted by sector and ranked by this score.
| | | | | | |
| --- | --- | --- | --- | --- | --- |
| | 4 pts | 3 pts | 2 pts | 1 pt | 0 pts |
| Yield | >=5% | 4% to <5% | 3% to <4% | 2% to <3% | <2% |
| DGR 3-yr | >25% | >20% to 25% | >15% to 20% | >10% to 15% | <10% |
| DGR 1-yr | >25% | >20% to 25% | >15% to 20% | >10% to 15% | <10% |
| DGR 1-yr > DGR 3-yr | | | 1-yr DGR >= 3-yr DGR | 1-yr DGR within 2 points of 3-yr DGR | 1-yr DGR + 2% is not >= 3-yr DGR |
| Next Year Projected EPS | >=20% | >=16% to <20% | >=12% to <16% | >=8% to <12% | <8% |
| PEG | <=0.9 | >0.9 to <=1.1 | >1.1 to <=1.3 | >1.3 to <=1.5 | >1.5 |
Here is a brief rationale for using these factors:
Since dividend growth was found to be a primary driver of returns by the research, the first two metrics give more points for having higher DGRs. We would expect the DGR to fall as a firm matures and its yield and payout rise. The third factor compares the 1-yr and 3-yr DGRs, and awards bonus points for stocks whose 1-yr DGR is close to or higher than the 3-yr average.
Dividend growth is ultimately dependent on higher earnings. Since the portfolio will be rebalanced annually, I focused on the 1-yr EPS projections instead of the 5-yr. The 1-yr EPS projection should have better vision anyway.
PEG is used as a valuation metric, as it compares the stock's PE to its earnings growth rate. If they are equal, the PEG = 1.0. A lower PEG suggests the stock is a value, as its growth rate exceeds its PE.
I sorted each sector's stocks by ranking score and proceeded to select stocks from each sector, starting with those that had the highest score. If the payout score was less than 2 [payout > 60%], I verified that operational cash flow covered the dividend at least 3 of the last 4 quarters and removed the stock if it did not pass that test. Before final acceptance, I checked whether the stock's performance was 20% below the S&P's for four consecutive weeks ["-20% stop-loss rule"] since its last dividend increase. If so, the stock was removed from consideration. I repeated this process until the quota for that sector was reached. The final list of 30 stocks is presented in the picture below.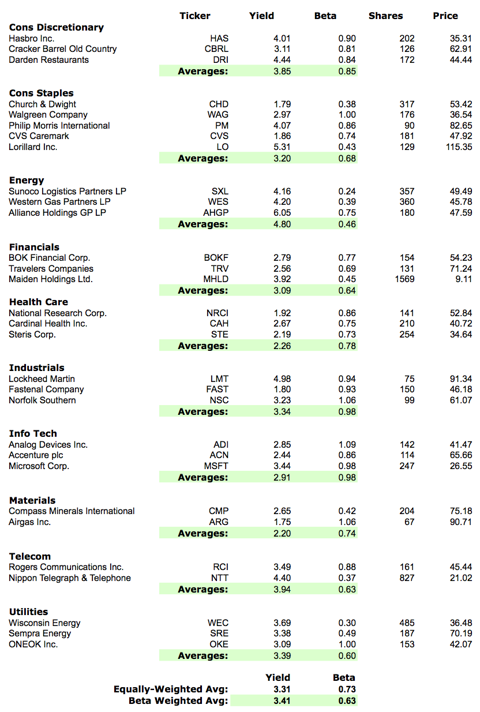 Click to enlarge
Unlike my other model portfolios, which are equally weighted in terms of funds per holding, I used an inverse beta weighting for this portfolio. Essentially, I calculated the inverse beta [1/beta] for each stock, summed these values, and then determined the percentage for each stock. Because of the range of betas, this caused some stocks to receive a 9% allocation, which I considered to be too much. Therefore, I limited the inverse beta values to a maximum of 2.75, which equated to a 5.9% allocation. Around 6 of the 30 stocks are near this limit; the lowest allocation is 2.0%. Note that the listed costs do not include an $8.95 commission for each trade that was factored into the final purchase prices. I provided the costs so readers can see the weightings; prices are from December 28, 2012.
The inverse beta weighting methodology improved the portfolio's average yield from 3.31% to 3.41%, and lowered its beta from 0.73 to 0.63, as compared to an equally weighted 30-stock portfolio with the same stocks. The equally weighted average 1-, 3-, and 5-yr DGRs are quite high for this portfolio at 21.7%, 20.4%, and 20.7% respectively. This is about double the DGRs for the entire CCC list and about 4 to 5 points higher than the DGRs for the screened low-beta, high-DGR universe. We have truly selected the higher DGR stocks. In addition, the average 1-yr EPS estimate was 14.5%. These stocks show strong potential earnings growth and a strong history of raising dividends significantly. Do I expect the DGR to stay at 20%? No, but even if it falls a little, it appears likely to average over 15%. I will have to track this over the next year.
Portfolio Mix
In the rebalance for the DG-HYLP (high yield, low payout) model, I included a Yield-Payout matrix that showed most stocks concentrating in the high-yield/low-to-medium payout region of the table. For comparison, the DG-LowBetaHighDGR stocks mostly occupy the high/medium-yield and low-to-medium payout regions, providing pretty good income levels and room for continued growth. A few of the high payout stocks are barely over the 60% cutoff that I used, so there are only around 5 truly high payout stocks in the group, and this is not unexpected for tobacco stocks and MLPs. The 9 company names in italics belong to one or more of my other DG model portfolios.
High Payout (>60%)

Medium Payout
(45% to 60%)

Low Payout
(< 45%)

Low Yield
(< 2.1%)

Fastenal (NASDAQ:FAST) - 61%

National Research (NRCI)

Church & Dwight (NYSE:CHD)

CVS (NYSE:CVS)

Airgas (ARG)

Medium Yield
(2.1% to 3.5%)

Compass Minerals (NYSE:CMP) - 65%

Sempra Energy (NYSE:SRE) - 68%

ONEOK (NYSE:OKE) - 80%

Cracker Barrel (NASDAQ:CBRL)

Walgreens (WAG)

Analog Devices (NYSE:ADI)

Microsoft (NASDAQ:MSFT)

Rogers Comm (NYSE:RCI)

High Yield (3.5%+)

Philip Morris Intl (NYSE:PM) - 68%

Lorillard (NYSE:LO) - 74%

Alliance Holdings LP (NASDAQ:AHGP) - 88%

Hasbro (NASDAQ:HAS)

Darden Restaurants (NYSE:DRI)

Sunoco Logistics LP (NYSE:SXL)

Western Gas LP (NYSE:WES)

Lockheed Martin (NYSE:LMT)

Wisconsin Energy (NYSE:WEC)

Maiden Holdings (NASDAQ:MHLD)

NTT (NYSE:NTT)
Next Steps
I have created a $300,000 virtual portfolio with the DG-LowBetaHighDGR holdings as of the closing prices on December 28, 2012. I rolled back the start date by a week so that I could have full year data for 2013. I will continue to track this portfolio and report on its performance relative to the S&P , S&P Dividend ETF (NYSEARCA:SDY), and the other DG model portfolios. I may also compare its total return to the S&P Low Volatility ETF (NYSEARCA:SPLV). The next full rebalance will occur in January 2014, unless there are major market movements that necessitate the need for action. If any stocks cut their dividend, get bought out, or exhibit the -20% stop-loss rule, they will be removed and replaced with another stock from the same sector based on the screening process.
I welcome feedback on this screening and selection process, as I continue to refine it based on comments, observations, and new learning. I hope SA members find the process and the recommended list useful for identifying potential candidates for their portfolios. I view this work as action research, an attempt to test out the recommendations from prior research and the comments that followed from it.
Disclosure: I am long WAG, SRE, MSFT, LO. I wrote this article myself, and it expresses my own opinions. I am not receiving compensation for it (other than from Seeking Alpha). I have no business relationship with any company whose stock is mentioned in this article.