Friday's market sentiment was driven by extreme greed with Fear & Greed Index at 94, which increased from the previous close of 92. As reported by CBOE, the total put/call ratio was 0.88 for the day. The index put/call ratio was 0.95, and the equity put/call ratio was 0.64. The CBOE volatility index (VIX) put/call ratio was 0.46. In the following, the top stock had been identified through our daily options scanning process, with the scanning criteria where the daily call volume ratio was above 5.00 (2x of the average call volume) with a call volume above 20,000.
| | | | |
| --- | --- | --- | --- |
| Name (Ticker) | Call Volume | Average Call Volume | Daily Volume Ratio |
| ConocoPhillips (NYSE:COP) | 43,387 | 4,256 | 10.19 |
Source: Schaeffer's Research
Unusual option activities can be an indicator or precursor of a major movement for the underlying stock. This article will try to identify the bullish factors for ConocoPhillips.
ConocoPhillips
ConocoPhillips operates as an integrated energy company. ConocoPhillips explores for, produces, transports and markets crude oil, natural gas, natural gas liquids, liquefied natural gas and bitumen on a worldwide basis. Its business is organized into Exploration and Production, Midstream, Refining and Marketing, LUKOIL Investment, Chemicals, and Emerging Businesses segments. COP closed at $61.06 with 1.08% gain on January 25, 2013. COP had been trading in the range of $50.62-$78.29 in the past 52 weeks.
Bullish Factors
Restarting China's largest offshore oilfield. In September 2011, the oil field in northern Bohai Bay was shut down due to the oil spill. The National Development and Reform Commission had now approved an overall development plan for the oilfield, one of several steps necessary to restart production, as reported on January 11, 2013 by Reuters. ConocoPhillips owns a 49 percent stake in the 168,000 barrel-per-day oilfield and acts as operator.
Refocusing on exploration and growth. ConocoPhillips is selling some oilfields in North Dakota and Montana to Denbury Resources Inc. for $1.05B. The deal will help ConocoPhillips in optimizing its portfolio to meet its growth and dividend targets. It will also help in financing its capital expenditure commitments over the next three years. The assets in question here are a part of its overall asset divestiture program. This will help the company in achieving its target production growth rate of 3-5% per year. The company has an annual capital expenditure target of $15 billion for the next three years. It also aims to pay a dividend yield of 4.5% to investors. ConocoPhillips continues to refocus as more divesting deals are progressing, as reported, "It also invited bids for a partial stake sale in its Canadian oil sands assets, and was reported to have received a $5 billion bid from an Indian consortium led by ONGC. It has also agreed to sell its Algerian business unit to Indonesian state-owned oil and gas company Pertamina for $1.75 billion. The deal is expected to be closed in mid-2013. Its Nigerian oil fields will be sold for $1.8 billion to Oando Energy Resources, which aims to become one of Nigeria's top oil explorers and producers."
COP had its "buy" rating restated by Societe Generale with a $68.00 target price on January 25, 2013. Analysts at Zacks reiterated a "neutral" rating with a $63.00 price target on January 24, 2013. JPMorgan Chase also reiterated an "overweight" rating on COPY with a $64.00 price target on January 15, 2013. Lastly, Barclays Capital reiterated an "equalweight" rating on COP with a $62.00 price target on January 9, 2013.
Technically, the MACD (12, 26, 9) is showing a bullish trend with diverging MACD difference. The momentum indicator, RSI (14), is showing a strong bullish momentum at 68.13. COP is currently trading above its 50-day MA of $57.89 and 200-day MA of $55.39. The next resistance is $61.15, the R2 pivot point, as seen from the chart below.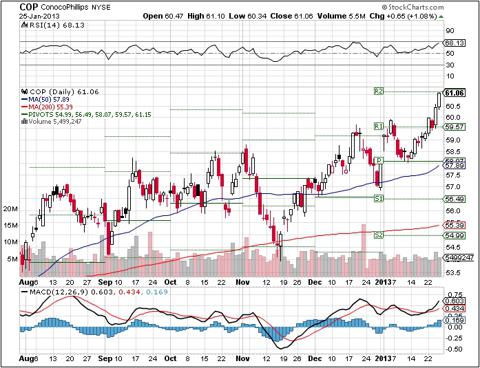 Source: StockCharts.com
Key Stats and Valuation
COP has an enterprise value of $96.95B with a market cap of $74.12B. COP has a total cash of $1.27B and a total debt of $24.89B. COP generates an operating cash flow of $15.86B with a levered free cash flow of $4.29B. COP has lower revenue growth (3 year average) of 0.7, as compared to the industry average of 1.6. COP has lower operating margin of 9.1%, ttm, and net margin of 4.2%, ttm, comparing to the averages of 14.4% and 8.1%, ttm, respectively. COP also generates lower ROE of 18.4, as compared to the industry average of 19.2. COP's P/E of 7.4 is lower than the industry average of 10.2 but higher than COP's 5 year average of 7.1. COP has a forward P/E of 9.4, which is lower than S&P 500's average of 13.3.
Earnings
Analysts, on average, are estimating an EPS of $1.42 with revenue of $13.31B for the current quarter ending in December, 2012. Analysts are expecting an EPS of $5.84 with revenue of $92.83B for fiscal 2012. In the previous quarter, profit fell 31.3% to $1.8B from $2.62B the year earlier. Analysts are expecting a 30.2% drop in earnings comparing to a year ago. COP is expected to release the earnings on January 30, 2013.
Reviewing Options
The most active call was Mar. 15, 2013 call at the strike price of $62.50 with a volume of 57,104 and an open interest of 328. The implied volatility is 11.5, and the chance of breakeven is 22.69. The historical volatility for COP is 15.19 for 1 month, 14.14 for 3 months, and 30.90 for 1 year.
For long-term bullish investors, it will not hurt to wait until the earnings release to establish the long-term position after the recent run-up. A credit put spread of May 18, 2013 $50/$55 can be reviewed if COP falls back toward $57/$58 range.
Note: All numbers/prices are quoted from the closing of January 25, 2013 with the data provided from Barron's, Morningstar, Schaeffer's Investment Research, Inc., Google Finance, and Yahoo! Finance. Investors and traders are recommended to do their own due diligence and research before making any trading/investing decisions.
Disclosure: I have no positions in any stocks mentioned, and no plans to initiate any positions within the next 72 hours. I wrote this article myself, and it expresses my own opinions. I am not receiving compensation for it (other than from Seeking Alpha). I have no business relationship with any company whose stock is mentioned in this article.