January isn't even over, yet I think I have already arrived at the perfect description for the year: 2013, the year that the shorts were crushed.
Now, don't get me wrong, I think that short-sellers play a very important role. I also think that they tend to be the smartest guys in the business. With that said, there have already been some very high profile melt-ups that have buried shorts early in the year:
I don't know about you, but I would be happy with those returns, earned in less than a month, for an entire year!
Ego Arbitrage
For one of my clients, we usually are cautious regarding heavily shorted stocks. At a minimum, we make sure that we understand the short thesis. This is becoming a lot easier! For many reasons, shorts have become much more public and promotional about their positions these days, and this is a great opportunity for us to benefit from what I call "Ego Arbitrage." Take for instance the duel on CNBC on Friday between HLF long Carl Icahn and short Bill Ackman. The small investor has a front-row seat for "The Smartest Billionaire!"
It's not just television, but it's in other media too, including even Seeking Alpha among financial portals. These "smart" guys are more than willing to share their best thinking, and let the cards play out. It's not just these well-known investors, but many short-sellers looking to build a name (as well as potentially profit from their ideas) are using social media and the internet to "get the word out." I am talking about things like Citron on Intuitive Surgical (NASDAQ:ISRG) or StreetSweeper on Cyberonics (NASDAQ:CYBX). This presents a "free-rider" opportunity for all.
How Can We Make Money?
I think that the recent melt-ups signal a trend that will play out the rest of the year and am suggesting that it's worth our time to investigate crowded shorts for a potential trade. I tend to shy away from battle-ground stocks, as I often feel as though I can't get an edge, but I am emboldened by some of the recent melt-ups enough to take a more proactive approach. With this in mind, I ran a screen to capture heavily shorted names. Here is what I did, using Baseline:
Russell 3000 member
Short-interest > 30% (66 companies)
Market Cap > $1 billion (28 companies)
Up less than 10% YTD (17 companies)
Here is what came back: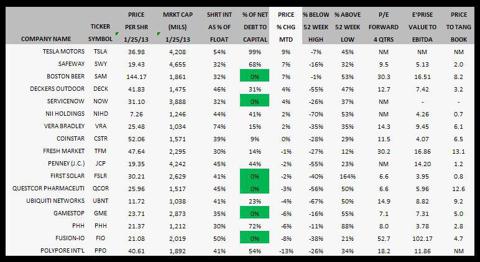 While I am sharing the entire list, and I certainly encourage a discussion on all of them, I want to focus on two where I have some conviction that a long position may be justified. Before I go on, please note that I have included several additional data, including net debt to capital. When looking at short-interest, it's important to realize that the presence of convertible debt can distort it, as often some of the shares sold short are a hedge for the holder of the convert.
Coinstar (NASDAQ:CSTR)
This one seems so simple to me that I am afraid I may be missing something. In case you aren't familiar with the company, which originally began as a coin-counting kiosk operator (and still milks that cash-cow), it is now really Redbox, the ubiquitous DVD rental company. The stock is very cheap by any measure, but it could be a disaster if DVD rentals go away quickly, as many project.
If you are interested in a well-expressed short perspective, you should check out "The Coinstar Value trap." I have a more bullish view. First, I should point out that I think that Wall Street analysts and many buy-side analysts have a somewhat narrow perspective. After all, they can easily afford to sit on their couch and pay market prices for streaming video, and they mistakenly assume that this is the same for the rest of the country. So, my bullish view is centered on the notion of the fat tail for physical DVDs.
There's a lot more to the company - it's a consumer brand. They have done a great job in improving the customer experience over the past few years (says a happy customer!). They now have something like 40mm email addresses. There are six internal initiatives and two joint ventures that will hopefully extend upon their kiosk expertise, including Rubi, which is being launched now. Rubi is a partnership with Starbucks (NASDAQ:SBUX), with the kiosk delivering a premium cup of Seattle's Best coffee for $1.
The company took out its DVD kiosk rival, NCR, with an acquisition last year that added lots of new grocery store customers. They are also rolling out an extension of Redbox, with tickets to local events (for just $1 convenience fee). This is an exciting market to me. Perhaps most interesting is their Redbox Instant, a 35% owned JV with Verizon (NYSE:VZ). For $8 per month, subscribers get 4 new rentals per month from the Redbox and unlimited streaming content from the library. I just received my free trial yesterday and look forward to learning more, but this is a much less risky proposition than the way Netflix is doing it. I expect that consumers will find it to be a great value.
The market reacted negatively to a recent management change, with the CFO scheduled to assume the role of CEO at the end of Q1. I actually really like the selection of Scott Di Valerio and think that this was not the "surprise" that some suggested. He has already moved very quickly to bring in a key new senior executive who will assume a lot of his current operational responsibilities. This continues a trend of very successful outsiders joining the company over the past few years.
I added CSTR to my watchlist earlier this month and am contemplating adding it to my Top 20 Model Portfolio. I think that the stock could trade back towards its all-time high set last summer and maintain a one-year target of 67.5, which is based on 12X the 5.63 that analysts project for 2014 (which is up about 21% from projected 2012 EPS of 4.65). While I have no way of knowing if any of my blog subscribers acted on my advice on Friday, I did recommend a short-term trade when the stock was offered at 48.82 with a two-week (or earlier) objective of 54.74. The company reports Q4 on 2/7, and it has already guided that its sales were in line with prior forecasts.
One final point: This is a winner chart, not some beaten up loser. The stock is cheap, the fundamentals a bit questionable, at least on the surface, but a solid chart: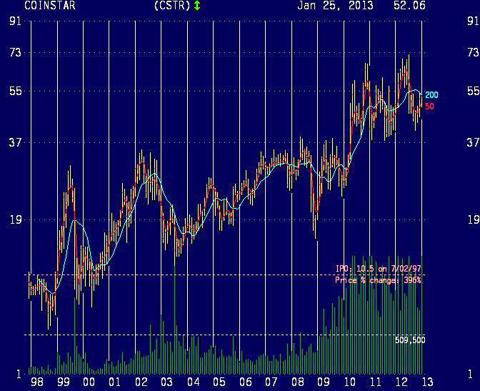 J.C. Penney (NYSE:JCP)
What a wild story this has been. Legendary retailer Ron Johnson's arrival was greeted enthusiastically, but the former Target and Apple exec has been somewhat slower than many had hoped in terms of executing a transformation. I think that there are a lot of concerns about the balance sheet here, but they are likely unwarranted. While sales have been shrinking rapidly as the company changes its go-to-market strategy and evolves towards its boutique within a store approach, there isn't likely to be a cash crunch. There are no debt payments due until 2015. The company has a big inventory that was likely purged during the holiday season. Aqua Research shared a bullish perspective on Seeking Alpha in November that addresses the concerns.
I think that his strategy makes a lot of sense, but these types of transformations take time. As you can see in the chart below, the stock has been cut in half from a year ago: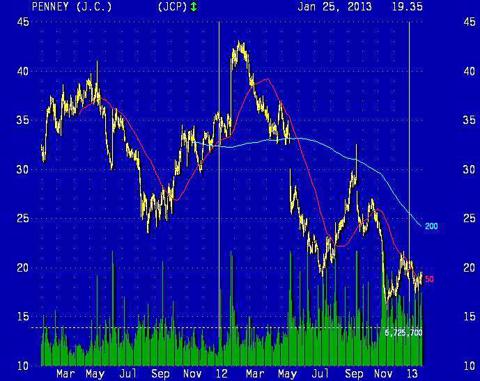 Johnson's arrival was announced in June 2011 when the stock was near 30. It shot up towards 36 but sold off in a weak market that summer. As you can see, the stock is quite volatile and has acted poorly, but it looks like the 15.69 low in November may be a good one. I don't have an official estimate here, but if the stock just gets back to where it was when he started, that's more than 50% higher! The way to think about it is likely to assume lower sales than it has had historically but better margins. For what it's worth, the consensus for 2014 (FY15) is $1.02, but the company earned almost $5 per share in FY08. Oh, by the way, Johnson certainly wants to get the stock higher, as he purchased $50mm of warrants (29.92) when he joined.
While I have shared my thinking on just 2 of the 17 names, it's really because I am familiar with those stories and less so with balance. I have done some work on ServiceNow (NYSE:NOW) and find the stock to be very expensive (10X 2013 projected sales) but with exceptional management and seemingly strong fundamentals. For a different view, there has been a very vocal short, Kerrisdale Capital, and Adam Gefvert shared his negative views as well.
For those interested in NII Holdings (NASDAQ:NIHD), Jonathan Verenger shared an extremely bullish outlook in a "Pro" article that will come off embargo on 1/28. His rationale is that the company could be worth more than 5X the current price based on a "sum of the parts" analysis that values spectrum assets, cellphone towers and other assets at $13.7 billion and then subtracts out all liabilities.
So, if I am right, some of these 17 stocks could get squeezed due to being heavily shorted. I have called out CSTR and JCP, both of which I think reflect too much pessimism. I used 30% short-interest as a minimum, but one can lower the threshold to 20% and identify many more potential opportunities.
Disclosure: I have no positions in any stocks mentioned, and no plans to initiate any positions within the next 72 hours. I wrote this article myself, and it expresses my own opinions. I am not receiving compensation for it (other than from Seeking Alpha). I have no business relationship with any company whose stock is mentioned in this article.