As a producer of renewable oils, Solazyme (SZYM) is often connotated (seemingly to its own detriment) with the production of biofuels. Yet the company has developed a novel biotechnology platform that has revolutionized the way oils can be derived and controlled. As a subsequent result, it has managed to not only influence the biofuel industry but is currently laying down the foundation with its partner companies to significantly disrupt the food industry as well.
In order to manufacture its oils, Solazyme utilizes microalgae in a closed fermentation process. Unlike most algae companies which utilize the Sun and carbon dioxide as their primary inputs, Solazyme realized early on that it was far more cost-efficient and effective to use a fixed carbon source such as sugar. It was known that a few strands of algae were capable of being grown heterotrophically using organic substrates in the absence of sunlight. In the process of gaining control over the types of oil profiles being produced having created a biological "tool kit," Solazyme soon stumbled across the fact that their oil-producing algae could be used for more than mere biofuel production. As CEO Jonathan Wolfson states in the video found here, the company could be used to "help expand the amount of food on the planet."
Recently, the company closed on a convertible notes offer thereby raising $119.4 million. The company now stands adequately funded for the development of already announced projects. Previously, it was stated that Solazyme and its joint venture partner Bunge (BG) had proposed an expansion of its joint venture agreement to include the development of 300,000 metric tons [MT] of capacity up from the initial 100,000 MT facility now under construction. Additionally, the company is now collaborating with Archer-Daniels-Midland Company (ADM) to operate out of their Clinton, Iowa facility in a deal which could facilitate an additional 100,000 MT of capacity solely attributable to Solazyme.
The Next Anticipated Project
Yet a more immediate project that has been somewhat overshadowed by the magnitude of these larger developments comes from a less discussed arrangement found in Solazyme Roquette Nutritionals [SRN], a joint venture partnership with Solazyme and private starch company Roquette Freres. The 50-50 joint venture is well underway with a 'Phase 1' 300 MT plant already operating and providing commercial samples to major food manufacturers. As stated in my other article found here, it is believed that future customers would include large food manufacturers such as Kraft (KRFT), Hershey (HSY), General Mills (GIS), and even Sears (SHLD). Much anticipated remains the 'Phase 2' expansion of the facility to 5,000 MT which is expected to complete construction in Q2 of 2013.

In a recent interview with SRN Vice President Matt Patrick by Food Navigator-USA found here, it appears that the construction of the Phase 2 facility remains on schedule. He states that the company expects operations to possibly begin "in the middle to Q3 of this year." More importantly, a 'Phase 3' facility which is anticipated to support 50,000 MT of additional capacity appears to be on course as anticipated. This is deduced as Patrick is noted as saying that a third facility is in the engineering phase.
What makes this particular joint venture worthy of highlighting is the fact that Solazyme is essentially obtaining a 50% stake in what is likely to amount to an additional 55,000 MT of capacity. Most surprisingly, the cost to Solazyme is a zero-capital commitment for the 5,000 MT facility along with debt & equity financing for the 50,000 MT Phase 3 facility. This is a significant contribution on behalf of Roquette when one considers that Solazyme's 100,000 MT facility in Brazil is expected to cost around $146 million and the company's 1,800 MT facility in Illinois was funded by a $22 million grant by the Department of Energy.
Why Provide A "Free" Manufacturing Facility?
But what is it about a small company like Solazyme that warrants such a large indirect investment by Roquette? The answer inherently lies in the innovative food product, and more specifically the process needed to create that product, that the company brings to the table. SRN's product brand of Almagine focuses on providing superior nutritional benefits through a food source that has yet to be adequately explored. Solazyme's fermented algae carries unique properties that make it an ideal food source able to be implemented in everything from baked goods, to beverages, to dressings, and even to frozen goods like ice cream.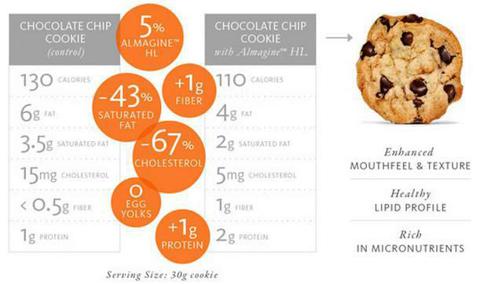 Most importantly, Solazyme's algae and related manufacturing process capitalize on valuable trends in the food industry. Almagine is non-allergenic and vegan. It's a sustainable food source and its not genetically modified. Above all, its taste is bland, it has no distinctive odor, its color represents that of flour, its able to be mixed with a variety of products, and it is on par or is cheaper to produce than its alternatives. Combine this with the brand's comparative benefits and the future is clear.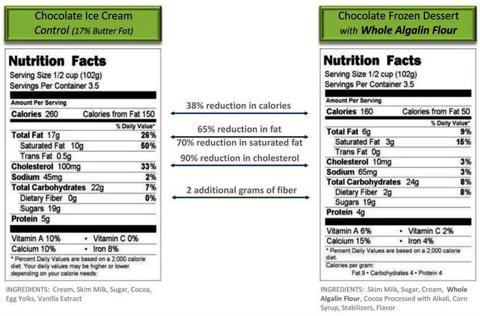 As shown on the company's website found here, Almagine's market range is immense. Almagine HL is a natural whole ingredient that can conventionally be used to replace unhealthy eggs and butter while simultaneously preserving the richness of flavor derived from the algae's healthy oils. On the other hand, Almagine HP is a high protein product opening the door to a new food source away from the predominant markets of soy and dairy, two products with related allergies.
The Right Trend At The Right Time
Why any of this matters for Solazyme is that it highlights the untapped potential that the company still has in regards to the food industry alone. Almagine represents the first product brand produced by SRN and yet it's impact could significantly alter the way food is developed, produced, and consumed. I attempt to address this concept in my article found here as it pertains to global trends for food prices and meat demand in particular.
This is already being played out when we consider the rising costs of animal feed along with meat and dairy prices. Fluctuations in price due to weather were witnessed in the recent drought disaster felt across the nation. Artificial prices also have a toll to pay. Just weeks ago, Congress narrowly averted a doubling of milk prices to $7/gallon, which represents the true cost of milk were it not to be subsidized in order to be kept at an artificially low price.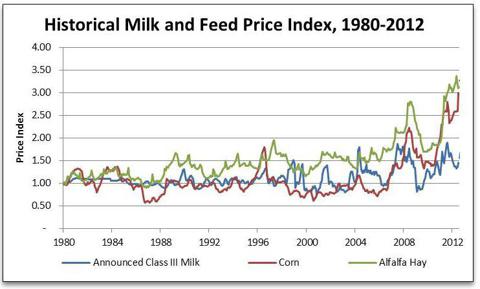 While a non-GMO product like Almagine can cost-effectively substitute milk, eggs, and butter, what remains yet to be seen is the impact the tailored food oils can have. Yet the demand is clearly there. The expansion with Bunge also added the inclusion of "certain tailored food oils for sale in Brazil" according to the announced agreement. Additionally, ADM's arrangement with Solazyme will entail tailored algal oils that will be sold "primarily to the industrial and nutritional markets in North America."
This is worthy of consideration when we reflect on the fact that the company has already previously announced the development of three uniquely tailored oils that can have a large impact on food-related applications. An oil with a high oleic profile that eliminates polyunsaturated fats and an oil with the highest level of myristic acid can be read about in my article found here. Both of these accomplishments represent feats unable to be accomplished by other companies to date. The additional announcement of a cocoa butter replicate can serve to be beneficial for a company like Hershey, Kraft, or even ADM. Each of these companies have cocoa-related applications which are ultimately subject to risks and costs related to geography and weather.
Above all of the technological potential, one of the most important underlying trends that is also serving to the benefit of Solazyme now is the falling price of sugar around the world. As one of the largest input costs, sugar's outlook plays a pivotal role in the outlook of the company. Bloomberg announced today that the largest U.S. sugar output seen in the past decade is in part due to farmers using more genetically modified seeds to increase yields in sugar beets. More relevant, Brazilian sugar supply is also expected to increase due to heavy rains and higher yielding varieties according to another Bloomberg article found here. The trend is expected to continue into the 2014-2015 harvest as well.
Conclusion
As it now stands, Solazyme is a company priced with a market capitalization of $453 million. The company appears to be reaching undervalued prices when merely taking into consideration that it just increased its cash and cash equivalents by an additional $119 million. Considering the company had roughly $167 million in cash and cash equivalents last quarter, the new total provides more than enough capital for the company to grow as it brings online its large manufacturing facilities through its relationships with Bunge, ADM, and Roquette.
Through each of these partnerships, there is a common trend that can be seen throughout when it comes to the market of food and nutritionals. The "free" facility from Roquette and the expansion into tailored food oils by Bunge both remain indicative that expectations are growing for Solazyme's potential impact when it comes to food-related applications. Whether it be through non-GMO or tailored oil means, Solazyme's food applications are primed to address a wide market through the commercial introduction of a food source that has long been overlooked. Though often associated merely with biofuels, the current relationship structure of Solazyme should be indicative to investors that food applications are about to play a large part in the company's future.
Disclosure: I am long SZYM, BG. I wrote this article myself, and it expresses my own opinions. I am not receiving compensation for it (other than from Seeking Alpha). I have no business relationship with any company whose stock is mentioned in this article.