One of 2012's biggest stories was the bankruptcy of Hostess Brands, the company that is well-known for Twinkies. As Tallahassee, in Zombieland said:
"There's a box of Twinkies in that grocery store. Not just any box of Twinkies, the last box of Twinkies that anyone will enjoy in the whole universe. Believe it or not, Twinkies have an expiration date. Some day very soon, Life's little Twinkie gauge is gonna go... empty."
Perhaps the movie actually foreshadowed the eventual downfall of Hostess Brands. Unlike in Zombieland, Twinkies are not completely gone but the company that used to produce them is. Hostess Brands filed for Chapter 11 bankruptcy on January 10, 2012. Chapter 11 bankruptcy means that the company will undergo bankruptcy in a process to reorganize the company. However, on November 21, 2012, management decided to change this Chapter 11 bankruptcy to Chapter 7. This results in a complete liquidation of the company as it will no longer operate. On record at filing, Hostess had $1.172B in liabilities and only $143.74M assets (Source: Capital IQ). Thus, the bidding wars have begun…
Hostess produced mainly the unhealthy snacks. Given the health-trend, Hostess struggled with sales in recent years. There is still demand for these items, especially in lower income areas where consumers do not necessarily care about nutrition. The lower income consumer bracket is where a company like Wal-Mart (NYSE:WMT) excells in. WMT is where lower income consumers typically go to get all of their products. This way, they spend less money on gas and can get all of their consumables at once. Consumers are facing higher unemployment than average, lower disposable income, and higher taxes. This will only benefit retailers like WMT who accounted for 16.3% of Hostess' revenue in FY2008.
This left the following brands up for sale (Source: Interstate Bakeries 10-K 2008):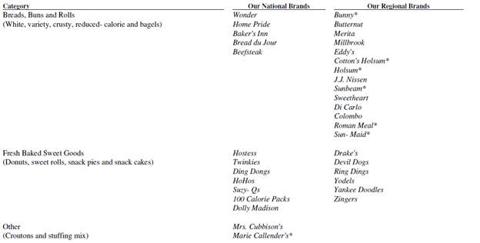 According to Hostess' management, the bidding process that was run by bankers at Perella Weinberg Partners drew 169 prospective buyers. Companies appear to value the brands that Hostess had. The notable ones are the National Brands listed above, including Wonder, Home Pride, Beefsteak, Hostess, Twinkies, Ding Dongs, and HoHos. The question remains: Who are the likely candidates to buy the brands?
Flowers Foods (NYSE:FLO):
Many who have been following the story, know that Flowers Foods bought many of Hostess' bread brands. These brands include Wonder, Butternut, Home Pride, Merita, Beefsteak, and Nature's Pride. The deal was valued at $390M. This will add to FLO's brands of Cobblestone Mill, Nature's Own, and Tastykake. Due to the similarities in the products, FLO expects this to immediately help earnings. By adding these additional brands, FLO made itself an even bigger player in the bread and bakery market. The market had already factored in FLO acquiring the brands, as evidenced by its stock price prior to the transaction (Source: Capital IQ):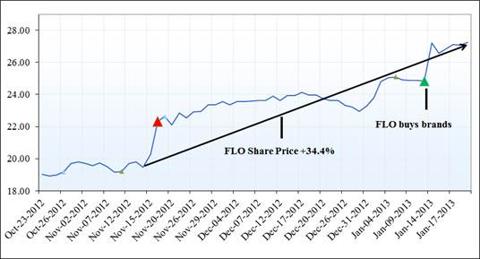 Potential Buyers:
As mentioned previously, Hostess had offers from 169 prospective buyers. Upon running a screen for consumer staples companies, companies with less than 50% debt/capital, non-organic focused, and low revenue growth, the results are as follows (Source: Capital IQ):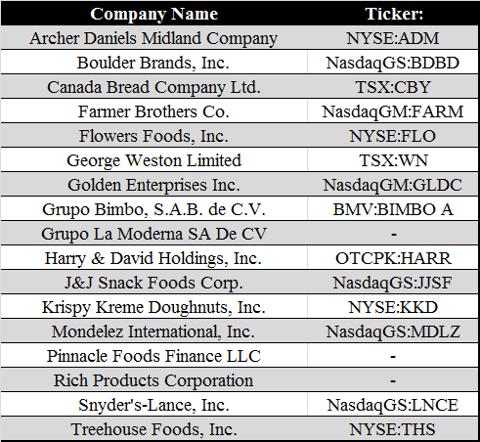 The list above makes sense from a supply chain perspective due to the companies' product offerings and potential synergies. Grupo La Moderna, Pinnacle Foods, and Rich Products are private-corporations. Some of these companies are in Mexico and Canada, as Hostess did have exposure to North America. By expanding into an area like Mexico, the brands could experience higher growth and have lower costs due to the lower cost of labor if manufacturing moved there.
The list is incomplete though as many other firms were rumored to be in the mix for various reasons. This list includes:

Probable Buyers:
No one can really predict what will happen with the brands. There are too many bidders and too many variables to really determine what will happen and at what price. The market likes the companies that acquire the brands of Hostess based on the reaction to FLO's acquisition. The seven most likely 'bidders' for the remaining brands are:
1. Flowers Foods
Flowers Foods produces and markets bakery products in the US (Source: Capital IQ). Flowers did just acquire a few of the brands for $390M, beating out Grupo Bimbo for Hostess' top bread brands. However, it still could be in the mix to acquire a few of the remaining assets. This would mainly be focused on the Breads, Buns, and Rolls segment. FLO has been issuing debt over the last 5 years and currently has Debt/Capital of 41.2%. Revenue has grown at a decent pace, and with low rates for financing, FLO could continue its acquisition spree (Source: Capital IQ):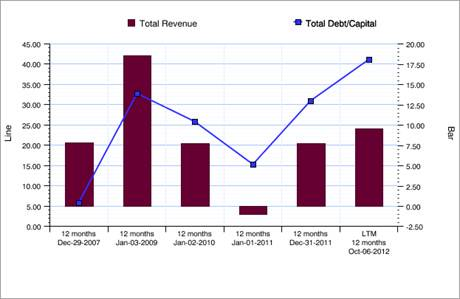 The challenge for FLO would be getting the proper capitalization without overstretching itself. Hostess was a direct competitor and by capturing its brands for pennies on the dollar, FLO could benefit long-term.
2. George Weston Limited
George Weston is a food manufacturer and distributor in Canada primarily. Its Weston Foods segment produces fresh, frozen, and specialty bakery products. This segment also supplies well-known Girl Scout cookies. From a supply chain perspective, it would make sense for WN to be in the running for these brands. Although it would make sense for the company to do so, there are others on that are more likely. About 3% of revenue does come from the United States, which is a much bigger demographic than Canada. George Weston also holds rights for select Hostess' brands in Canada. It could use a shot of growth as it has only had flat to low-single digit growth over the past few years (Source: Capital IQ):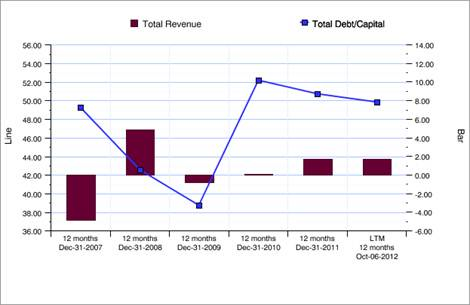 Given that it is a Canadian company, it could face tougher regulation and have a harder time with supply chain synergies. However, it already has rights in Canada for some of Hostess' former brands. This could provide it with an entry opportunity into the US to spur growth. The problem may be the higher debt levels it currently has.
3. Grupo Bimbo
Grupo Bimbo manufactures, distributes, and sells bakery, confectionery, and other processed foods. It has 8,000 products under 174 brands. It already generates 39% of its revenue from the US. Mexico is 47% of its revenue, and Central and South America is 14% of revenue. As mentioned before, it was a lead bidder for Hostess' main breads. FLO beat its bid out. That doesn't mean BIMBO is out for the count though. It is clear the company wants new brands, especially with exposure to the US. Given its large manufacturing in the bakery business already ($9.59B in sales in FY2011), new brands should immediately impact the company. Due to its high exposure in Mexico, Grupo Bimbo has had fast growth. It is riskier to take on additional debt to finance a new acquisition but it could pay off long-term. In 2009, despite the global concerns, it acquired Weston Foods and Bestfoods Baking Company for $2.5B and $2.4B, respectively (Source: Capital IQ). BIMBO could use another injection of growth as earnings have slowed, despite strong revenue growth. I would not count BIMBO out from acquiring any of the brands left,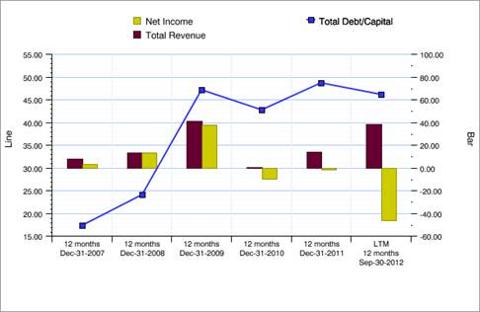 The challenge it will face is entering the US market. It is one of the two most mentioned bidders (FLO being the other) for Hostess' brands. The company really needs to take the strong revenue growth it has and make it more profitable. It could divest some of the weaker brands to raise money for Hostess' brands. Hostess' brands could prove more profitable, especially if the company brings manufacturing down into Mexico where labor is cheaper and pensions don't exist.
4. Golden Enterprises, Inc. (NASDAQ:GLDC)
Golden Enterprises subsidy, Golden Flake Snack Foods, Incorporated, produces snack products mainly in the southeastern US. Its products are mainly potato chips, pretzels, crackers, and nuts. GLDC could pick up some of the lower snack brands to try to sweeten its offerings. It is only a $42M market cap company. However, it only has ~21% debt and has slowing revenue growth. This would be a time for management to acquire another brand to strengthen its portfolio and pick-up growth. Its markets are in the poorer segments of the United States. By adding a brand of Hostess, it could do two things: expand its geographic reach and obtain a value brand to target poorer level consumers (Source: Capital IQ):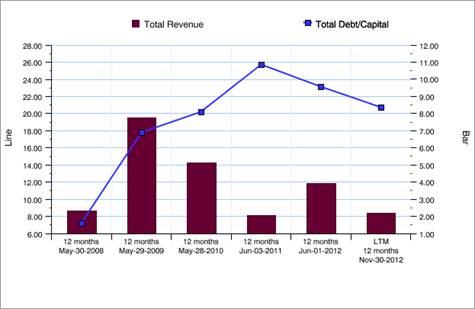 GLDC has the ability to expand. It has adequately grown revenues but really lacks a catalyst to keep them going. This could prove detrimental to the long-term stability of this company. It will need to infuse better brands into its pipeline.
5. Canada Bread Company
Canada Bread Company makes fresh and frozen bakery products, specialty breads, and pastas in Canada and the US. It has two segments: Fresh Bakery and Frozen Bakery. It is also a subsidiary of food giant, Maple Leaf Foods Inc. With a solid distribution system in place with Maple Leaf Foods, CBY could benefit from additional exposure to the US market. It gets roughly 76% of its revenue from Canada and 1.2% from the US. Revenue growth since 2008 has been abysmal. Debt/Capital is close to an all-time low, and cash represents 9% of assets (has roughly $88.6M in cash alone). CBY seems like a choice for some of the lower snacks or rolls products (Source: Capital IQ):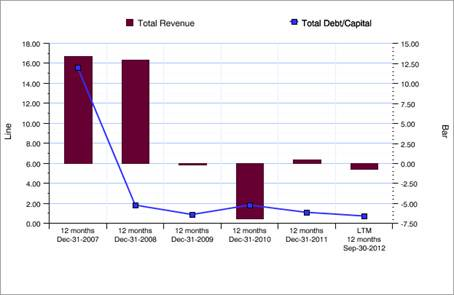 Canada Bread Company could acquire some of the Hostess' brands given the synergies it would create and potential boost to a very weak revenue line. With low debt for this subsidiary of Maple Leaf Foods, the parent company may consider buying some of the brands for higher brand recognition in the US. It could be a way for the company to leap into the higher populated US. This could in turn lead to greater growth for the company. The problem it will face is going across borders.
6. PE Firm Buyout: Apollo Global Management LLC (NYSE:APO) with C. Dean Metropoulous & Co
With any of the brands left, a private-equity firm buyout seems the most likely. In this article, the author referenced these two firms coming together for most of the leftovers. Hurst Capital is another possibility according to the article. The brands that could be acquired by APO & Metropoulous are Twinkies, HoHos, DingDongs, and Dolly Madison Zingers. These are what Hostess is known for. It would not be surprising for a PE firm buyout given the uncertainty of demand and high risk surrounding it. With low interest rates and the potential risk/reward, this situation is what PE firms look for. This is the most likely scenario, whether its APO, Metropoulous, Hurst, Silver Point, Monarch Alternative Capital, or a combination of any of them.
7. Bakers Fund with Gordian Group LLC
Many readers would give the dark-horse prize to WMT or Kroger (NYSE:KR). It would make sense for these two firms to buy some of the brands to make 'in-house' possibilities. The two super-retail giants certainly can buy any brand with the cash it has. WMT and KR have gross profit margins of 24.9% and 21.1%, respectively. Hostess supported a 47.2% gross margin in FY 2008, meaning that this could add value for WMT or KR. WMT was Hostess' biggest customer, and with lower income families shopping there, it could result in WMT being the dark-horse.
However, the ultimate dark-horse lies with the union and a PE firm. The Bakery & Confectionery Union & Industry International Pension Fund (Bakers Fund) and investment banking firm, Gordian Group LLC, could launch a takeover of some of the brands. The Bakers Fund would be most interested in doing this in order to maintain employment and pension benefits. The pension benefits were what really dragged down Hostess itself. This would leave the company semi-back where it was… struggling with pensions.
Disclosure: I have no positions in any stocks mentioned, and no plans to initiate any positions within the next 72 hours. I wrote this article myself, and it expresses my own opinions. I am not receiving compensation for it (other than from Seeking Alpha). I have no business relationship with any company whose stock is mentioned in this article.