Western Union (NYSE:WU) is still struggling to recover from its abrupt fall after its Q3 earnings release. The reason for the fall was that WU announced that it's going to implement price cuts in various corridors due to market share losses to competitors. In addition, there was a big blow in Mexico, where WU closed 7,000 Vringo locations for compliance reasons. Vringo is WU's local low-cost brand.
(click to enlarge)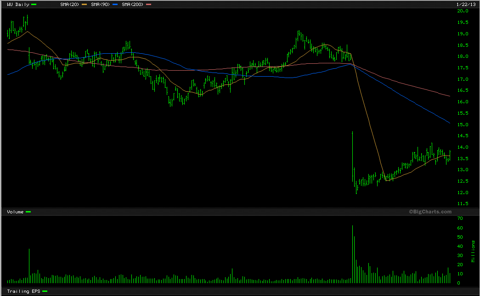 Click to enlarge(Source: BigCharts.com)
However, I have already addressed the fears for structural damage to WU's moat in a previous article, where I also presented a worst case scenario for Western Union's earnings in 2013.
Building on that, I will show you that Western Union can use share buybacks to increase its earnings per share at least 5% annually, even if its actual earnings stay the same.
Take a look at the following chart. Western Union has been consistently buying back its shares since 2008. In fact, every year, it reduces its shares by an average rate of 5%. Additionally, it produces enough free cash flow to easily buy back 10% or more of its shares, given its current price level.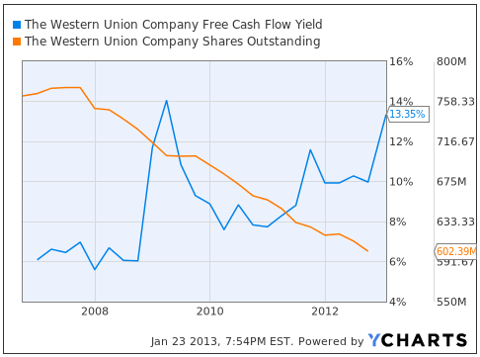 Click to enlarge
Why should we care? This annual reduction provides a guaranteed 5% boost on its EPS every year. That means that even at a zero growth scenario, Western Union will still experience 5% EPS growth. This happens because its actual earnings are spread over an ever-decreasing number of shares outstanding.
Furthermore, it seems that WU's management is perfectly willing to exploit the cheapness of its stock buy back stock in large amounts. From the transcript of Western Union's presentation at the Citi Financial Technology Conference (emphasis added):
Hikmet Ersek, President and CEO

[...] And we also, the confidence of the business, the confidence of the board, confidence of the management this year, we recently announced another $550 million repurchase with Q3 earnings which gives us $750 million authorization together for the next few months and believe me, our stock is undervalued. I don't think it belongs here where it should be and Scott and I am going to be active on the market once the window opens. We just filed our 10-Q and once the window is open, we're going to be very active on the market accelerating our stock buyback. [...]
That $750 million represents 9% of Western Union's shares outstanding, assuming an average execution price of $14 per share. That means that Western Union's shares will be reduced from 602 million as of September 30, 2012 to 550 million by the end of 2013.
Management's guidance for 2013 implies a net income of $772 million, which is $1.40 per share, given WU's stock reduction I just mentioned. That means that WU has a forward 2013 P/E ratio just below 10.
Furthermore, given that Western Union is able to meet the following requirements, we can treat its buyback program as a long-term source of EPS growth.
Requirement 1
Western Union must keep its actual dollar earnings at least stable in the long run.
However, due to inflation, its more likely for Western Union to do even better than that. Inflation increases the nominal amount of money in circulation, leading to higher amounts used and thus transferred over time.
Requirement 2
Western Union must keep buying back its shares at a long-term average 5% annual pace.
Western Union has no reason to stop buying back its stock, except in the case it rises to sky-high levels, which is what we want to happen anyway.
Requirement 3
Western Union must exercise in full its buyback program for 2013 in order for our $1.40 EPS estimate to prove accurate.
Its management has emphasized that it will deliver on this. And there is no reason to doubt them, as they proven to be committed to buying back stock many times in the last several years.
Requirement 4
Western Union's earnings will stabilize after their projected fall into 2013.
This is highly likely, since Western Union has implemented many initiatives for gaining back market share in 2013 and as they start to pay off, Western Union will enjoy stronger revenues in 2014 and stronger earnings as well.
I believe that all these highly conservative requirements will be met, and WU will enjoy a long-term 5% boost for its EPS growth. Thus, I believe it should trade at a 15 P/E multiple. Given our estimate for $1.40 EPS in 2013, the stock's fair value is $21, and 50% higher than the current price ($13.53 as of this writing).
Disclosure: I have no positions in any stocks mentioned, but may initiate a long position in WU over the next 72 hours. I wrote this article myself, and it expresses my own opinions. I am not receiving compensation for it (other than from Seeking Alpha). I have no business relationship with any company whose stock is mentioned in this article.