"There is nothing more powerful than an idea whose time has come." - Victor Hugo (February 26, 1802 - May 22, 1885) French writer of the 19th century who authored Les Miserables
If you happened to own Netflix (NASDAQ:NFLX) before it released its quarterly earnings report, you've experienced the exhilaration of a stock whose time has come. With perfect hindsight we look back over the past two years and see it rise, fall and rise again.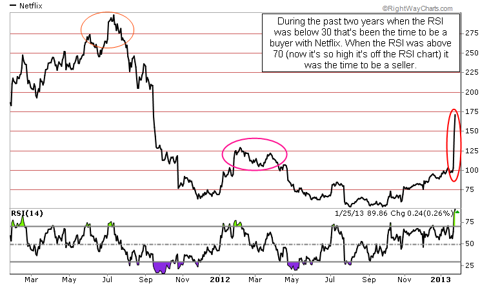 The Relative Strength Indicator is included above. Values below 30 and above 70 are typically taken as oversold and overbought, respectively. A strengthening RSI indicates that gains are tending to dominate losses. Once the RSI climbs above 70, however, the sustainability of the gains is called into question.
But this time, we are told by a billionaire activist investor, who has accumulated around 10% of NFLX stock, it's different. Carl Icahn evidently believes NFLX stock could keep going higher, that according to a recent Bloomberg article.
"While down from the July 2011 record high of $298.73, Netflix has more than doubled since the investor disclosed his holdings on Oct. 31 [2012]", the article mentioned. It also lays claim to the notion that investors may be expecting the same reaction from Coinstar (NASDAQ:CSTR).
Though not a head-to-head competitor, the owner of the Redbox DVD rental kiosks has joined forces with Verizon (NYSE:VZ). Together they offer a Redbox Instant streaming service that some investors think will work well. CSTR benefited from Netflix's gain again on Friday, January 25th, rising 6.9 percent to $52.06 for the largest one-day gain since August 16th.
If CSTR can beat the Street's earnings estimates when it reports quarterly results on February 7th, investors may give it a "Netflix Effect" and drive shares through the roof. "They [investors] also may be looking for improved performance in 2013," analyst Eric Wold said.
"Analysts are forecasting 76 cents a share in fourth-quarter profit, down from $1 a year earlier, the average of six estimates compiled by Bloomberg."
Keep a close eye on Coinstar and high-flyer Amazon (NASDAQ:AMZN), which reports on Tuesday, January 29th. AMZN shares are acting the way Apple (NASDAQ:AAPL) used to. The stock hit a 52-week high Friday, moving up nearly 4% and hitting an intra-day high of $284.72. That gives it a trailing PE ratio of (are you sitting down?) of 3,380.83. I thought the dot.com bubble burst a long time ago? Its forward (1-year) projected PE is dizzying 164!
Let's look at the 2-year price chart of AMZN along with its RSI. Whether it makes any sense to even a trader is questionable, but like it or not, AMZN is a stock whose time has come.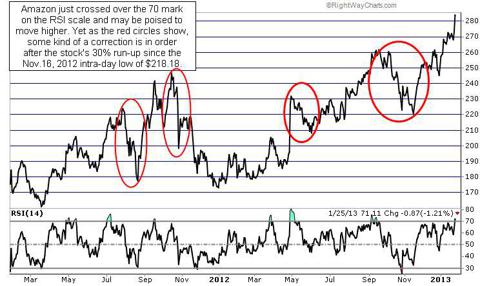 Stocks Whose Time is About to Come
This may include companies that Apple may have synergies with or has done business with and could be purchased with Apple's gargantuan cash hoard. Skyworks Solutions (NASDAQ:SWKS) which reports earnings on January 30th and profitably manufactures technology that Apple and other mobile device providers need is one possibility.
SWKS has no debt, over $300 million in total cash, and a takeover-affordable market cap of a little over $4 billion. Its forward (1-year) PE is just above 8 and its 5-year expected PEG ratio is a stunningly low 0.65. This may be a company whose time is getting closer.
There are also tiny companies like Cimatron Ltd. (NASDAQ:CIMT) whose earnings last quarter soared by over 7,000%, has almost no debt and over $12 million in cash (most recent quarter). This Israeli software company services the automotive, aerospace, medical, consumer plastics, electronics, and a slew of other industries.
CIMT distributes its products directly, as well as through a network of independent resellers in Europe, Israel, the Far East, and North America. It pays a generous dividend and the stock jumped 19% on January 25th. Apparently its time is just about here.
In spite of the frustrating underperformance of the precious metals sector, it appears we may be very close to a turnaround there. Stansberry Investment Research editor Jeff Clark who writes The S&A Pro Trader had the following prescient comments on Jan. 24th:
"The Market Vectors Gold Miners Fund (NYSEARCA:GDX) dropped nearly 3% - an outrageous downside on a day when the S&P 500 rallied to a new five-year high. And the BPGDM dropped well below 30 again. Take a look...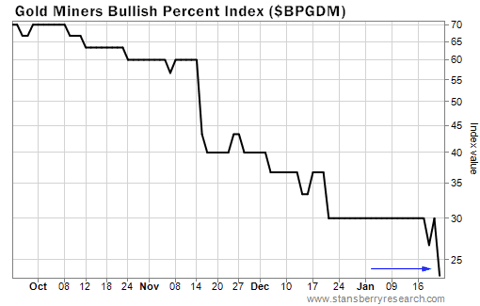 "There's no question gold stocks are oversold. They've been in the process of hammering out a bottom for the past several weeks. When they finally do enter the next rally phase, we'll have a chance to make some huge gains in the gold sector. But it's still a little too early."
So watch GDX and some of its better quality, undervalued components like Newmont Mining (NYSE:NEM), Yamana Gold (NYSE:AUY) and mid-tier producers like Eldorado Gold (NYSE:EGO). When these companies finally kick into rally mode we're likely to experience some explosive upside moves.
"Markets can remain irrational longer than you can remain solvent" said the late economist John Maynard Keynes. With the recent action in shares of companies like Netflix, Amazon and Apple, we're seeing powerful examples of what can happen to stocks whose time has come or departed, whether it's rational or it isn't.
By the way, one of these days Apple itself will be oversold. At some point, we're likely to hear unexpected news or rumors that will cause this once-upon-a-time bellwether to rise from the ashes and rebound. Will you be ready when Apple's time has come again? I hope so.
Remember, it wasn't long ago that Netflix was trading for $55-a-share and devalued. Carefully reexamine the charts of companies like NFLX and be prepared to buy the next surprising "Phoenix-bird" that soars above the clouds to the amazement of the ill-prepared. There are few things more profitable than a stock whose time has come.
Disclosure: I am long AAPL, AUY, EGO, GDX, NEM. I wrote this article myself, and it expresses my own opinions. I am not receiving compensation for it (other than from Seeking Alpha). I have no business relationship with any company whose stock is mentioned in this article.