Introduction
Caterpillar (NYSE:CAT) has been put under a lot of scrutiny due to the accounting scandal from its integration of Siwei. The accounting scandal resulted in a $580 Million impairment charge. Despite the impairment charge I remain optimistic on the forward looking prospects of the stock.
Qualitative Analysis
Source: Information pertaining to Caterpillar came from the shareholder annual report, dealer statistics, and year in review
The company builds machinery and power systems, while providing financing/leases for its products. The company offers a unique portfolio of capital goods that includes: mining equipment, diesel and natural gas engines, industrial gas turbines, construction equipment, and etc.
On January 18 2013, the company had announced that it made a noncash impairment charge of $580M ($0.87/share). This non-cash impairment charge occurred because the managers operating the Siwei division had deliberately recorded revenue that did not exist. This resulted in a minor sell-off in the stock. The negative effect from the accounting scandal should not be significant. According to Trefis, "Caterpillar does not anticipate any significant losses arising out of this mismanagement beyond the fourth quarter of 2012. Further, the company says that despite this scam, the acquisition of ERA Mining is well aligned with its growth strategy in China and that it will maintain the Siwei brand."
With losses being limited to the 4th quarter of 2012, I remain optimistic on the long-term growth prospects of the company. The accounting fraud can be seen as good news because it proves Caterpillar's ability to detect accounting discrepancies and report it in a timely manner. As a result investors will have further confidence in Caterpillar's accounting practices in its foreign business divisions. This further solidifies the confidence I have in Caterpillar.
The damage done by the accounting scandal is rather limited, and as a result I have lowered my 2013 price target from $110.49 to $108 per share. The future remains bright.

Click to enlarge
Caterpillar remains strong in the United States. According to its machine retail statistics (above chart) Caterpillar was able to generate 24% growth in its North America division, whereas the Asia Pacific division contributed 13% growth (2012 year-to-date). Based on this data, Siwei really won't have that much of an impact on Caterpillar's growth. Furthermore Caterpillar's growth strategy has yet to fully unfold, and by finding out about the accounting scandal sooner rather than later, the company is well-positioned to grow in China.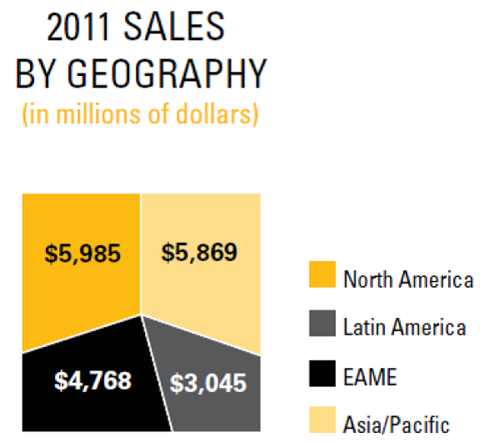 Click to enlarge
Caterpillar remains heavily diversified from a locational demographic perspective. The Asia/Pacific currently represents 30% of the company's revenues. This implies that all of the uncertainty around the stock is way over-stated. The Asia/Pacific division which represents less than 30% of the company's revenues will not significantly affect earnings; therefore any fear-mongering by the press is clearly unnecessary and unwarranted. This means that I clearly disagree with Selerity Research. On January 24th Selerity Research stated that, "Caterpillar is vulnerable to any missteps, particularly on forward guidance." In sharp contrast I believe that Caterpillar will be able to maintain forward guidance due to it being globally diversified.
Caterpillar's primary growth initiative is the Chinese market. Caterpillar estimates that the list of infrastructure needs that will need to be fulfilled by 2025 is going to be enormous. It expects the urban population in China to reach 350 million people, with an estimated 600,000 miles of road, 170 mass transit systems, and 97 new airports projected to be built by 2025. These types of infrastructure projects are going to require Caterpillar products. The greatest strategic imperative for Caterpillar is to "win in China." Caterpillar will continue to grow its presence in China, making this a growth investment with international exposure.
Caterpillar operates at economies of scale and is able to produce goods at prices that local competitors may not be able to compete at. Caterpillar also has ownership of unique intellectual property making it well-positioned in foreign markets. The elasticity for mechanical engineering products and instrument engineering products ranges from 1.39 to 1.10. This means that buyers of these types of products are prince sensitive and will react more adversely to changes in price. Since Caterpillar operates at economies of scale, Caterpillar is able to lock-out competitors by offering lower prices. Buyers are sensitive to pricing; they will buy a Caterpillar product over the products of other competitors, because Caterpillar products are likely to be cheaper.
Caterpillar competes for market share with companies like: Deere & Company (NYSE:DE), Kubota (KUB), Fastenal (NASDAQ:FAST), CNH Global (NYSE:CNH), Joy Global (NYSE:JOY), AGCO (NYSE:AGCO), among many others.
Technical Analysis
After my initial article on Caterpillar, Caterpillar stock has been able to stage a strong rally. The stock recently corrected due to an accounting scandal involving Siwei which is a company that it had acquired in order to more fully expand into China.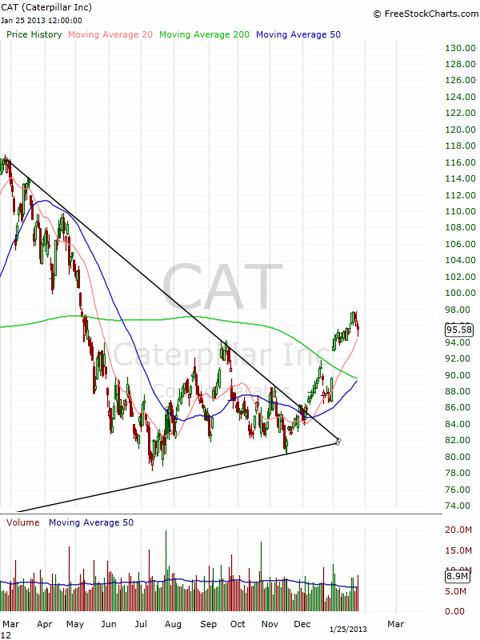 Click to enlarge
Source: Chart from freestockcharts.com
The stock is trading above the 20-, 50-, and 200-Day Moving Average. This implies that the stock is in an up-trend. A break above a triangle formation usually implies a strong move in the direction the triangle formation is broken. The stock is likely to trend higher going into 2013. The recent drop in the price of the stock had more to do with an accounting issue. This recent accounting issue will not have a significant impact on the fundamentals of the stock going forward. Therefore I remain optimistic on the technical chart set-up going into 2013.
Notable support is $69.00, $81.00, and $92.50 per share. Notable resistance is $110.00, $116.00, and $125.00 per share.
Street Assessment
Analysts on a consensus basis have very reasonable expectations for the company going forward.
| | | | | |
| --- | --- | --- | --- | --- |
| Growth Est | CAT | Industry | Sector | S&P 500 |
| Current Qtr. | -26.70% | 12.10% | 3.00% | 7.50% |
| Next Qtr. | -24.10% | 22.40% | 92.10% | 17.20% |
| This Year | 23.20% | 38.20% | 32.60% | 6.60% |
| Next Year | -6.40% | 12.50% | -25.90% | 13.00% |
| Past 5 Years (per annum) | 16.66% | N/A | N/A | N/A |
| Next 5 Years (per annum) | 14.00% | 14.12% | 13.75% | 8.52% |
| Price/Earnings (avg. for comparison categories) | 10.48 | 17.7 | 14.27 | 15.15 |
| PEG Ratio (avg. for comparison categories) | 0.75 | 0.97 | 0.91 | 4.2 |
Source: Table and data from Yahoo Finance
Analysts on a consensus basis have a 5-year average growth rate forecast of 14% (based on the above table).
| | | | | |
| --- | --- | --- | --- | --- |
| Earnings History | 11-Dec | 12-Mar | 12-Jun | 12-Sep |
| EPS Est | 1.73 | 2.13 | 2.28 | 2.22 |
| EPS Actual | 2.32 | 2.37 | 2.54 | 2.54 |
| Difference | 0.59 | 0.24 | 0.26 | 0.32 |
| Surprise % | 34.10% | 11.30% | 11.40% | 14.40% |
Source: Table and data from Yahoo Finance
The average surprise percentage is 17.8% above analyst forecasted earnings over the past four quarters (based on the above table).
Forecast and History
| | | |
| --- | --- | --- |
| Year | Basic EPS | P/E Multiple |
| 2003 | $ 1.59 | 52.21 |
| 2004 | $ 2.97 | 32.83 |
| 2005 | $ 4.21 | 13.72 |
| 2006 | $ 5.37 | 11.42 |
| 2007 | $ 5.55 | 13.07 |
| 2008 | $ 5.83 | 7.666 |
| 2009 | $ 1.45 | 39.3 |
| 2010 | $ 4.28 | 21.88 |
| 2011 | $ 7.64 | 11.86 |
| 2012 | $ 9.13 | 9.51 |
Source: Table created by Alex Cho, data from shareholder annual report, and price history is from Yahoo Finance.
The EPS figure shows that throughout the 2003-2008 period, the company was able to grow earnings. In 2009 top line revenue dropped by $20 billion over previous year this resulted in a low EPS figure of $1.45 for 2009. The company is cyclical and is affected by macroeconomic events. After the great recession the company was able to recover earnings throughout the 2010-2012 period.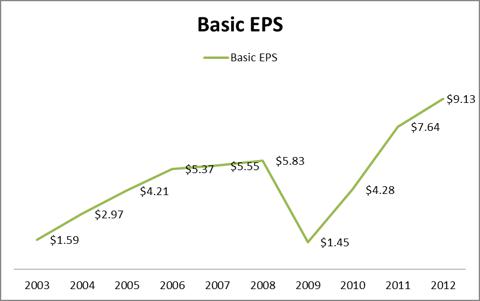 Click to enlarge
Source: Table created by Alex Cho, data from shareholder annual report
So as long as emerging market demand continues to improve, the company will generate reasonable returns over a 5-year time span based on the forecast below.

Click to enlarge
Source: Forecast and table by Alex Cho
By 2018 I anticipate the company to generate $18.32 in earnings per share. This is because of earnings growth, improving global outlook, and cost cutting.
The forecast is proprietary, and below is a non-linear chart indicating the price of the stock over the next 5-years.

Click to enlarge
Source: Forecast and chart by Alex Cho
Below is a price chart incorporating the past 10 years and the next 6 years. Detailing 16 years in pricing based on my forecast and price history on December 31st of each year.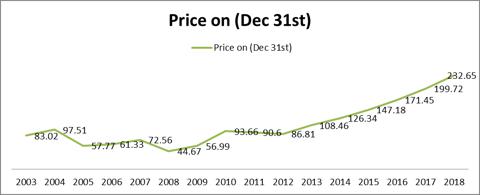 Click to enlarge
Source: Forecast and chart created by Alex Cho, data from shareholder annual report, and price history is from Yahoo Finance.
Investment Strategy
CAT currently trades at $95.58. I have a price forecast of $108.46 for December 31st 2013. The stock should fetch a higher valuation based on its growth and historical valuation.
Short Term
Over the next twelve months, the stock is likely to appreciate from $95.58 to $108.46 per share. This implies 13.4% upside from current levels. The technical analysis indicates a trend reversal. While the previously mentioned price forecast using fundamental analysis further supports the assessment.
Investors should buy CAT at $95.58 and sell at $110.49 in order to pocket short-term gains of 13.4% in 2013.
Long Term
The company is a great investment for the long-term. I anticipate CAT to deliver upon the price and earnings forecast despite the risk factors (missing analyst expectations). CAT's primary upside catalyst is international expansion, the urbanization of the middle class, and cost cutting. I anticipate the company to deliver upon my forecasted price target of $232.65 by 2018. This implies a return of 143% by 2018. When factoring back in the dividends (based on the table below) the company will generate a combined return of 161.26%. This rate of return comes with high-risk (5-year beta of 1.9).
| | | |
| --- | --- | --- |
| Year | Dividend Yield @ $95.58 per share | Cumulative Total |
| 2012 | 2.18 | 2.18 |
| 2013 | 2.39 | 2.39 |
| 2014 | 2.62 | 5.01 |
| 2015 | 2.87 | 7.88 |
| 2016 | 3.15 | 11.03 |
| 2017 | 3.45 | 14.48 |
| 2018 | 3.78 | 18.26 |
Source: Forecast and table by Alex Cho, dividend data from shareholder annual report
A higher yielding investment opportunity albeit having higher risk is to buy the Jan 17, 2015 calls at the $100.00 strike. The call premiums trade at $10.47. The price forecast for the end of 2014 is $126.34. The rate of return if the calls expire at $126.34 is 151.58%. The option will break-even when the stock trades at $110.47.
CAT has a market capitalization of $62.5 billion; the added liquidity makes this an investment opportunity appropriate for larger institutions that require added liquidity.
Conclusion
I remain optimistic on Caterpillar; the recent noise should not discourage investors who are investing into the long-term growth prospects of the company, and the world economy.
The conclusion remains simple: buy Caterpillar.
Disclosure: I have no positions in any stocks mentioned, and no plans to initiate any positions within the next 72 hours. I wrote this article myself, and it expresses my own opinions. I am not receiving compensation for it (other than from Seeking Alpha). I have no business relationship with any company whose stock is mentioned in this article.