Petrosonic Energy, Inc. (OTCPK:PSON) has followed the 5 basic steps for a shell set up for insider enrichment.
#1) Business taken public with no revenues.
#2) Seed shareholders given shares for next to nothing
#3) Change in control
#4) Name and symbol change
#5) Forward split while all the shares were insider owned
History
Petrosonic Energy, Inc. was originally Bearing Minerals Exploration Inc. They filed a SB-1 to go public on December 19, 2008. Conrad C. Lysiak was the attorney helping with the SB-1 filing (see below)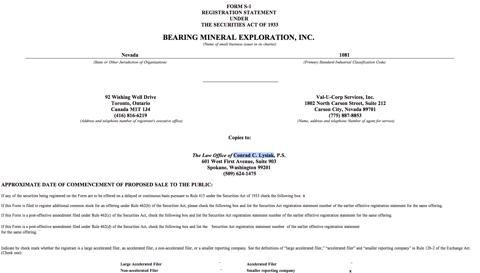 Conrad Lysiak has also been the attorney assisting in taking companies public like Great Wall Builders Ltd. (OTCPK:GWBU) and Nova Mining Corp. (NVMN.OB) that was also set up for insider enrichment. They both saw huge promotions followed by a huge dumps take a look for yourself.
GWBU - Heavily promoted in May/June 2012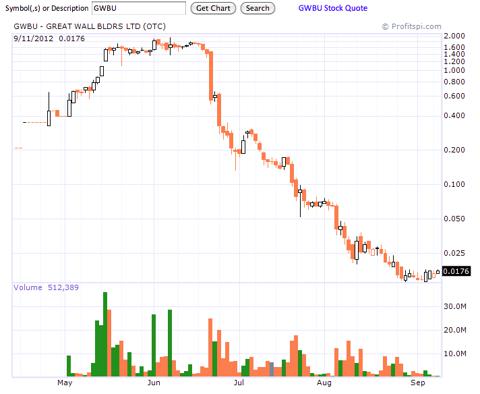 NVMN - Pumped July/August 2012 followed by the dump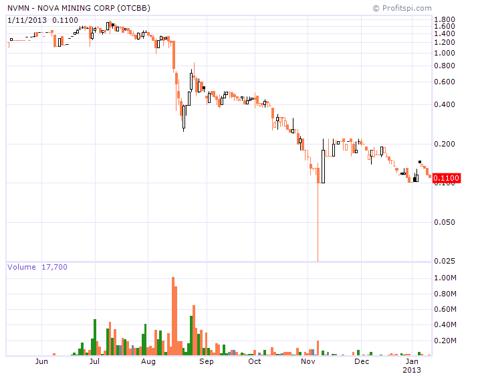 Now let's get back to Petrosonic Energy, Inc.
History/Seed Shareholders
Gerhard Schlombs was given 3,300,000 shares for $3,300.

On September 19, 2008, 23 investors got 2,590,000 shares for $25,900 (.01/share)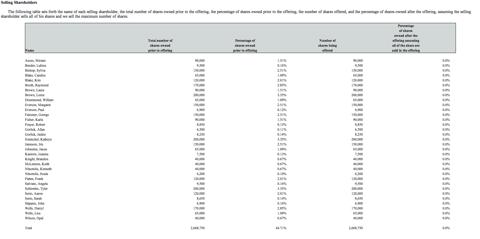 On October 6, 2008, 10 investors got 78,750 shares of common stock for $11,813 (.15/share)
Years went by and Bearing Minerals Exploration cash went as well. By February 2012, Bearing Minerals only had $372.
Change of Control
On March 19, 2012, Gerhard Schlombs resigned and appointed Art Agolli to take over.
First thing Art Agolli did was on April 17, 2012, Bearing Minerals Exploration entered into an agreement and issued 1,777,778 restricted shares of its common stock to Mr. Agolli in consideration of the right, title and interest in and to the letter of intent between Mr. Agolli and one of his other companies Sonoro Energy Ltd.
Forward Split and Name Change
On May 16, 2012, a forward split of 11:25 went into effect as well as a name change from Bearing Mineral Exploration to Petrosonic Energy, Inc. New ticker symbol became PSON.

The new share count now looks like this:
Gerhard Schlombs

owns

14,625,000 shares
Art Agolli

owns

20,000,003 shares
23 seed share

holders

own 29,137,500 free trading shares at $.00089/share
10 seed share

holders

own 885,937 free trading shares at .013/share
Those 29,137,500 free trading shares here at .89 are worth $25,932,375, not bad considering they only paid $25,900 for them.
Petrosonic Energy has followed all the steps for a company set up purposely to enrich the insiders. However, what is the missing piece? Remember you can't sell your shares if no one is interested and the stock hardly trades. This is where the stock promotion comes into play.
See how there was no interest prior to September where promotion started. Then a breather and now another promotion.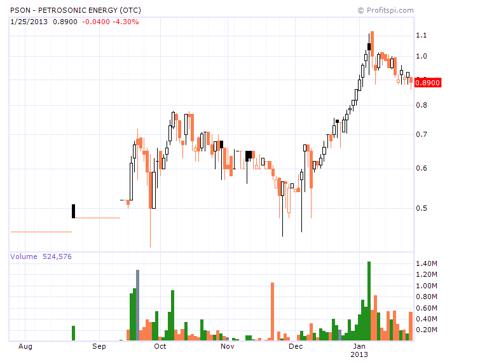 Promotion/Promoter
Here comes Tobin Smith notorious stock promoter…
Go here to see the Petrosonic Energy, Inc. mailer: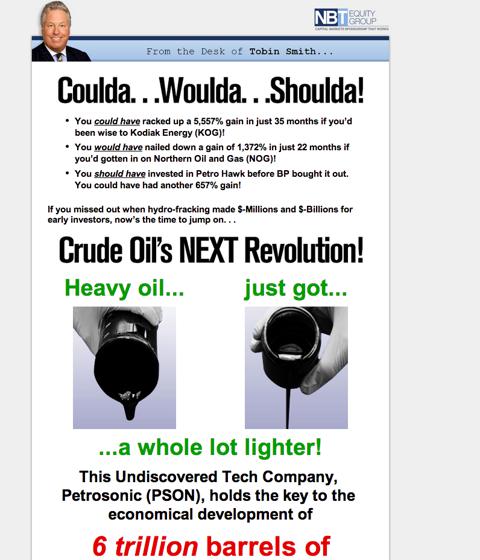 Let's take a look at the most important part of the mailer the disclaimer.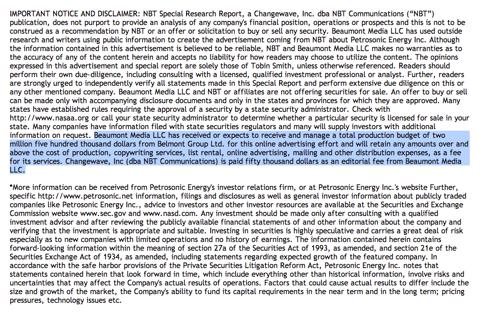 "Beaumont Media LLC has received or expects to receive and manage a total production budget of two million five thousand dollars from Belmonth Group Ltd. For this online advertising effort and will retain any amounts over and above the cost of production, copywriting services, list rental, online advertising, mailing and other distribution expenses, as a fee for its services. Changewave, Inc (dba NBT Communications) is paid fifty thousand dollars as an editorial fee from Beaumont Media LLC."
They are in charge of $2,500,000 budget and were compensated 50,000 to send out mailers to bring interest so insider's can bank on naïve investors.
Let's take a look at some of Tobin Smith/NBT Communications picks and their performance.
BoldFace Group Inc. (OTCPK:BLBK)
The report on their website has a ridiculous $1.50 short-term target price target. The promotion is taking place this month you can see exactly where it started by spotting the uptick in volume.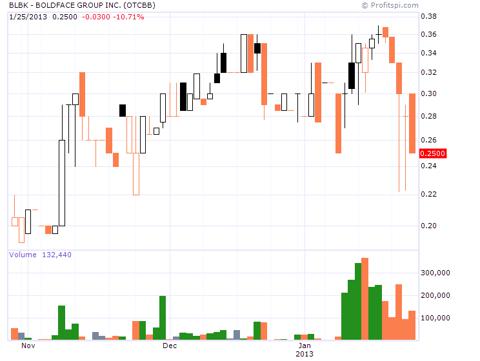 Seems like someone is selling their shares… Investors getting burned as insiders are profiting.
$1,500,000 budget. Did fairly well before being dumped. However, during this time period a lot of paid promotions were doing well before being dumped. The naïve investors still got burned bad on this.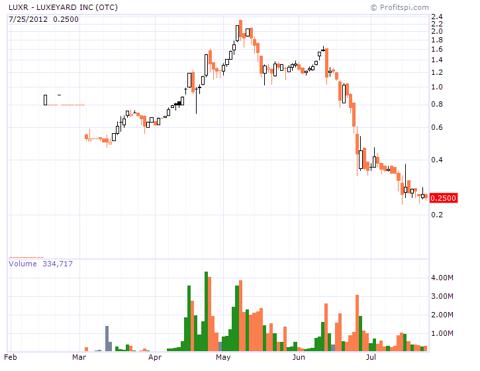 XcelMobility Inc. (OTCPK:XCLL)
Promotion started around Feb 2012. Look at that terrible long term performance… Another example of naïve investors getting crushed on a Tobin Smith pick.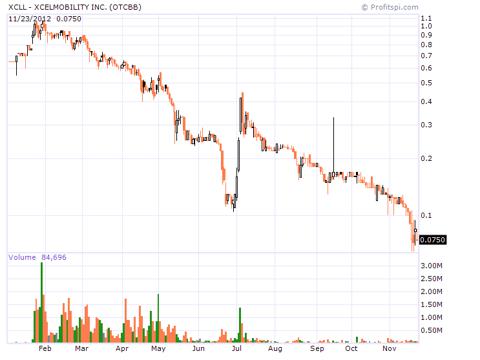 Circle Star Energy Corp. (OTCPK:CRCL)
$1,145,000 budget. This is just another prime example of the insiders banking and naïve investors getting crushed by taking Tobin Smith advice.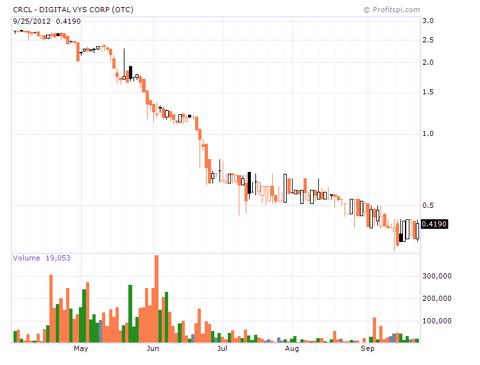 Petrosonic Energy Inc. will end up just like these picks have after the insiders start to unload.
It seems that Tobin Smith is good at one thing, losing money for investors. However, he is the insiders' best friend because they can't turn their shares into cash without him. My recommendation to all is to always be skeptical of someone who is pitching a stock to you. More often than not it is not for your benefit. Remember to read all disclaimers on these mailers and emails and the truth is buried in tiny lettering at the bottom.
Petrosonic Energy Inc. is just like any company Tobin Smith promotes, set up for insider enrichment. Those who were naïve enough to invest in Petrosonic Energy Inc. may want to reconsider their investment and take the chance to sell while the promotion is still ongoing before it dumps.
You have been warned.
Disclosure: I am short OTCPK:PSON. I wrote this article myself, and it expresses my own opinions. I am not receiving compensation for it (other than from Seeking Alpha). I have no business relationship with any company whose stock is mentioned in this article.