Wireless carrier and cable provider AT&T (NYSE:T) announced satisfactory fourth-quarter results Thursday afternoon. Revenue grew just 0.2% year-over-year to $32.6 billion, which was stronger than the consensus had anticipated. Earnings, adjusted for significant expenses, jumped 10% year-over-year to $0.44 per share, slightly below consensus expectations.
Perhaps the most significant read-through from the quarter came from AT&T's iPhone (NASDAQ:AAPL) activations. The company activated approximately 10.2 million smartphones during the fourth quarter. Out of those 10.2 million phones, 8.6 million were iPhones, or 84.3% of total smartphones. The activations might suggest the iPhone is gaining popularity in the US. Contrary to the mainstream spin, Apple is doing quite well in the smartphone space.
Solid data growth continues to drive higher ARPUs (average revenue per user), but as we saw earlier this week, the company trails Verizon (NYSE:VZ), which we believe is the premier wireless service in the US. AT&T also tends to have less heavy data users, so we believe the ARPU differential might not narrow too much. Churn also remains above that of Verizon, declining just 2 basis points to 1.19%.
Still, wireless (shown below) remains a key revenue driver for AT&T's business strategy, as it gobbles up additional spectrum and improves its network quality (Image Source: T Earnings Presentation).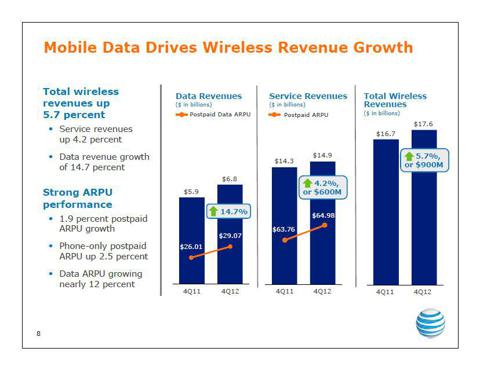 AT&T's legacy wireline business keeps plugging along, though revenue growth actually accelerated compared to past periods, as the image shows. Without question, we expect wireless to be much more important to the firm's future, but having a solid, cash generator to help grow the rest of the business is never a bad thing.
The company was a cash-flow machine in 2012, generating $19.4 billion in free cash flow during the year, though the company anticipates that number will fall in 2013. AT&T will be investing heavily in its 4G LTE network in 2013, which we think is a fantastic move for the long-term health of the business. The company also predicts wireless margin expansion, which is possible considering the continued growth in data usage as well as growth in the smartphone plan mix.
Overall, we like the future of the wireless industry thanks to increasing consolidation and strong data consumption growth, but we think shares of AT&T look fairly valued. Although we're not predicting a cut in its dividend anytime soon, we aren't too bullish on the firm's dividend growth profile at this time (due to its heavy debt burden), so we won't be adding the name to the portfolio of our Dividend Growth Newsletter.
Disclosure: I have no positions in any stocks mentioned, and no plans to initiate any positions within the next 72 hours. I wrote this article myself, and it expresses my own opinions. I am not receiving compensation for it (other than from Seeking Alpha). I have no business relationship with any company whose stock is mentioned in this article.
Additional disclosure: AAPL is included in the portfolio of our Best Ideas Newsletter.