After sputtering along for the past few years, consumer product giant Procter & Gamble (NYSE:PG) has returned to solid growth, reporting strong second-quarter results for its 2013 fiscal year Friday. Revenue rose 3% year-over-year to $22.2 billion, handily beating consensus expectations. Earnings growth was also fantastic, with core earnings per share jumping 12% compared to the year-ago period to $1.22, a stark advance from its prior lackluster growth (Image Source: P&G Earnings Presentation).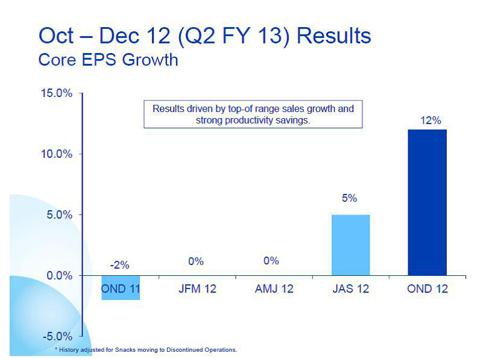 The firm's gross margin in the quarter expanded 80 basis points year-over-year to 50.9% as the company benefits from relatively flat cost inflation and incremental price increases. SG&A grew about 2% year-over-year, but the cost item remained flat as a percentage of sales. Since P&G lapped a quarter in which it took a large goodwill impairment charge, the firm's operating margin increased 800 basis points year-over-year to 20.3%, helping deliver the impressive earnings growth.
On a segment basis, beauty and grooming continued to be a solid performer, with sales of beauty products growing 3% and grooming sales increasing 2%. It seems as though European consumers have continued to trade down in the razor-blade market, as the EU deals with varying economic growth rates. We think this segment will return to solid GDP-like growth in Europe when economic conditions improve.
Oral care is driving expansion in P&G's health care products segment, where organic sales increased 4% year-over-year. However, supply-chain investments and marketing spending weighed on profitability in the segment, which declined 5%.
The fabric and home care segment, thanks to demand for batteries and improved pricing, was the company's standout performer. After-tax earnings jumped 21% year-over-year, even though organic sales only increased 3% year-over-year. Commodity price increases were not nearly material enough to weigh on earnings, but the company did attribute some of the strength in the segment to Hurricane Sandy. This could set up a difficult comparison during fiscal year 2014, but we think the company's market share gains suggest its brands are strengthening regardless.
Baby and family care also posted fantastic results, despite losing a small amount of global market share. The company's increased exposure to developing markets with strong growth rates could help the firm offset the impact of declining birth rates in developed nations. Further, birth rates may continue to decline, but because population growth has been strong, the absolute number of babies looks poised to continue growing (3 billion families having 1 baby exceeds 1 billion families having 2 babies). After-tax earnings jumped 18%, suggesting the company's brands are having little trouble resonating with consumers. We like the long-term growth profile of the segment.
Overall, we saw fantastic profitability growth at P&G thanks to its cost-savings initiatives and solid price increases. P&G boosted its share repurchase range to $5-$6 billion (was $4-$6 billion). Reported earnings per share are expected to increase 10% to 17% year-over-year during the fiscal third quarter (ends March), while core EPS is anticipated at +/- 3%. The company's valuation continues to look attractive at current levels, and we continue to hold steady with our position in the portfolio of our Dividend Growth Newsletter.
Disclosure: I have no positions in any stocks mentioned, and no plans to initiate any positions within the next 72 hours. I wrote this article myself, and it expresses my own opinions. I am not receiving compensation for it (other than from Seeking Alpha). I have no business relationship with any company whose stock is mentioned in this article.
Additional disclosure: PG is included in the portfolio of our Dividend Growth Newsletter.