Wednesday afternoon, DVD rental and video streaming service Netflix (NASDAQ:NFLX) reported much better than anticipated fourth-quarter results. Revenue increased 13% year-over-year to $945 million, easily exceeding consensus expectations. Earnings surprised materially to the upside, coming in at a positive $0.13 per share compared to a projected loss of $0.12. Our followers remember our tremendous call on Netflix, where we predicted its fall without valuation initiation note on July 2011 (it was trading at roughly $250 per share). Interestingly, our valuation in that same note pegged it just a few bucks higher than where it is today.
Talk about the benefits of a discounted cash-flow process, no? In any case, the big shock during the quarter was the sequential acceleration in the streaming business, both internationally and domestically. Domestic subscriber additions during the quarter jumped 77% sequentially, to 2.05 million. Given the breadth and depth of its TV lineup, this shouldn't be the surprise that it turned out to be. Netflix is quickly becoming a relatively strong substitute for cable due to its incredible amount of content, significantly lower price-point, and the flexibility of consumption possible as a result of its on-demand nature. Plus, unlike network TV, consumers do not have to deal with advertisements, significantly reducing the time required for watching full shows. However, CEO Reed Hastings added some fairly bearish commentary with respect to the company's long-term future.
In terms of domestic competition, TV Everywhere, including HBO GO, continues to improve, and linear TV distributors clearly see the benefit of offering Internet TV. This competition for viewing time will increase over the next several years, as we have long predicted, as consumers come to expect Internet TV on demand viewing for all their video entertainment.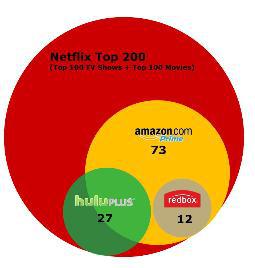 We think the above statement couldn't be more negative for Netflix's future. Cable has been so profitable during the past few decades because there was little competition to bid up content costs. However, with more entities moving into the TV space, content costs will likely continue to rise, forcing Netflix to dig deeper into its coffers to acquire exclusive content. Exclusivity is one of Netflix's competitive advantages (shown above), and it will cost the company a pretty penny to maintain it. It's certainly possible that the company could be forced to raise capital or join forces with a deep-pocketed firm in the future.
International subscriber growth was just as impressive, as the company added 1.81 million new subscribers during the quarter, a 162% sequential increase. International streaming revenue jumped 248% year-over-year to $101 million, though the segment continues to lose money. Given the incredible value proposition of the service to the consumer, we think international streaming is in the early innings of a long growth phase.
The domestic DVD business appears to be bottoming, with only 0.38 million subscriber losses during the quarter. While Netflix is working toward decreasing the service, some consumers are sticky enough that it doesn't appear they will leave. The segment earned $128 million on $254 million of revenue -- over a 50% contribution margin. The cash flow generated from this business remains pivotal to paying for content and investing in the international business.
Still, not everything is perfect at the company, as it is now burning cash ($52 million during the quarter). Rising content costs, as well as costs associated with the firm developing its own content, should keep free cash flow negative going forward -- which is obviously a problem. Until this figure improves, or shows the potential to improve, we remain fairly cautious on owning the company.
Guidance for the first quarter of 2013 was also better than anticipated (shown below). However, we don't think it justifies a 40%+ move in the company's share price (which is what the stock is doing today).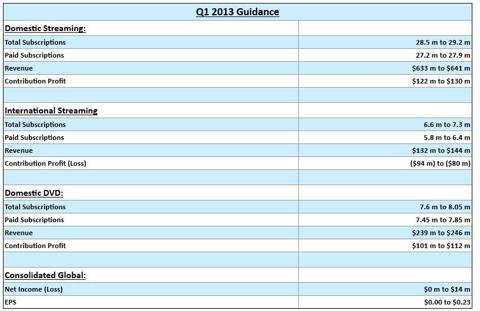 Overall, we thought Netflix's quarter was incredibly strong on the subscription side, and normally, we'd be ecstatic about a sticky business adding lots of subscribers and generating tons of highly-profitable marginal revenue. Unfortunately, the cost side of the equation is becoming more challenging for the company, so we're not jumping headfirst into the name in our Best Ideas Newsletter portfolio.
Disclosure: I have no positions in any stocks mentioned, and no plans to initiate any positions within the next 72 hours. I wrote this article myself, and it expresses my own opinions. I am not receiving compensation for it (other than from Seeking Alpha). I have no business relationship with any company whose stock is mentioned in this article.