This is a follow up to a previous article I wrote making the fundamental case for Deckers Outdoor (NASDAQ:DECK) and how the stock gets to $70/share. For the purpose of this brief article, I will be shifting tracks (pun intended) and focusing on the technical, while not going too far off track as to ignore the fundamentals. The bottom line is that I believe the Deckers train has left the station, and the next stop will be $50-60/share. Here is why. (Disclosure: I do not consider myself a master technician and therefore, will keep this analysis simple.)
Massive Wedge
Since shares of the company bottomed in late October following a disappointing earnings release, a massive wedge has been forming as the stock has experienced lower highs and higher lows. Below is the one-year daily chart of Deckers Outdoor, which clearly shows the wedge pattern formation. What this chart also shows is the breakout that occurred on Friday (1/25) as shares breached the $41/share level of resistance and quickly picked up momentum to close just shy of $42/share.
Also of note is the increase in volume that accompanied the breakout. While volume of 3.1 million is not earth-shattering by any means, I believe the steady increase in volume since shares fell to $37/share on 1/23 to be a sign of steady accumulation/short covering. I also believe that the low volume experienced when shares hit $37/share to be a sign that shorts are getting tired and the weak-handed longs are disappearing.
The result of this breakout should be a clear and quick run to the 200-DMA, which currently stands at $44.36/share. Deckers has already reclaimed the 30- and 50-DMA, both of which are trending upward. This is widely considered a sign of positive momentum and should be areas of support going forward.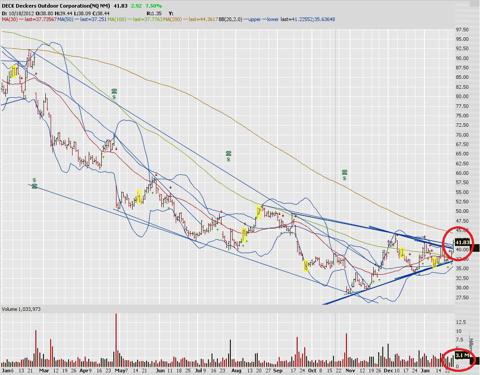 Source: TD Ameritrade (Think or Swim)
The Fibs Filling the Gap
Should shares of Deckers break through the 200-DMA, the next stop would be $60/share and would represent a 50% retracement from the one-year high of $92.50/share. Strengthening the case for this technical price target is that $60/share also represents a partial gap fill from the heavy volume, large gap down experienced in April 2012. The only hiccup I see would be around $50/share, which represents previous areas of support and resistance experienced in April-June 2012 and August 2012.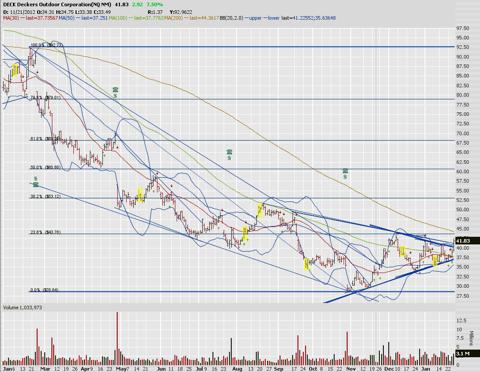 Source: TD Ameritrade (Think or Swim)
Old School P&F
The Point and Figure chart of Deckers is also confirming this bullish technical backdrop. The downfall to P&F analysis is that the price targets established from this analysis tend to over reach on both the downside and upside. This is evident by the $73/share price objective set in the chart below. From this chart, one can also see how $50/share will likely be a level of resistance as designated by the downward trending red line.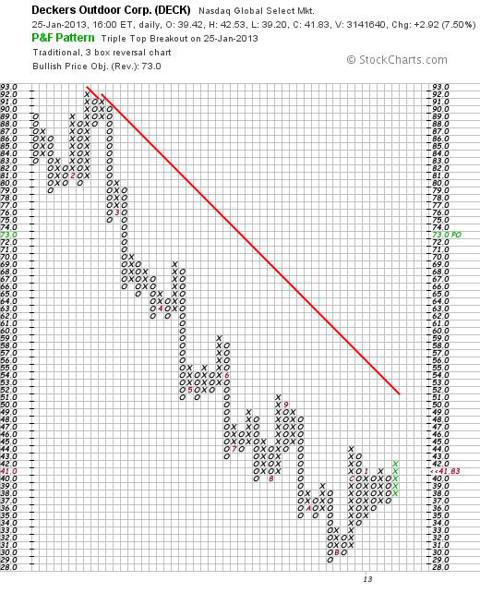 Source: StockCharts
Fundamental Snapshot
My base case model has Deckers growing sales and earnings at 10% per year for the next 10 years. While I recognize that 10 years is a long time to forecast, it is more or less for valuation purposes related to a discounted cash flow valuation. This growth estimate is a far cry from the 36% growth experienced over the last 10 years and is likely too conservative, but I believe it is a practical assumption for a base case. Gross margins are expected to stabilize to 49% over this period, while operating margins are expected to fluctuate around 19%. I calculated the cost of equity to be 10.4% (using CAPM and a beta of 1.4), and estimated a terminal growth rate of 3.5%. This analysis results in an equity value of $3.1 billion, or $82/per share.
To adjust for the sensitivities inherent in a DCF valuation, I also conducted a EV/EBITDA and P/E multiple valuation. The base case model has 2013 EBITDA of $316 million. Applying a 7x EV/EBITDA multiple yields an enterprise value of $2.2 billion, or a fair value estimate of $58/per share. Applying a 15x earnings multiple to 2013 adjusted earnings per share of $4.70 results in a fair value estimate of $71/per share.
Bear Case Valuation
My bear case model has revenues declining by -2% per year over the next 10 years. Further, an increase in sales and marketing costs as well as input costs will eat into gross and operating margins, and result in earnings declining by -6% per year over the same period. This is the ultimate worst-case scenario, and the DCF valuation suggests a target price of $32/per share. Applying a 4x EV/EBITDA multiple on 2013 estimated EBITDA of $257 million results in a fair value estimate of $27/per share. Applying a 8x P/E multiple on 2013 adjusted earnings per share of $3.81 results in a fair value estimate of $30/per share.
Bull Case Valuation
My bull case model has revenues and earnings growing at 15% per year over the next 10 years. Over this period, gross margins are expected to increase slightly to 50% and operating margins to inch higher to 20%. The DCF valuation suggests a fair value of $117/per share. Applying a 8x EV/EBITDA multiple to 2013 estimated EBITDA of $353 million results in a fair value estimate of $74/per share. Applying a 20x P/E multiple on 2013 adjusted earnings per share of $5.27 results in a fair value estimate of $105/per share.
Conclusion
Combining fundamentals with technical analysis can be useful, especially when determining proper entry and/or exit points. Fundamental analysis based on the above analysis and my previous article suggests that shares of Deckers are worth $70/share. While I believe this price target is valid in the long run, technical analysis is suggesting that $50-60/share is more reasonable in the short- intermediate-term. If this analysis proves correct, investors will be rewarded with a 20-40% return.
However, given the 40%+ level of short interest, it is highly probable that a squeeze could send shares toward the higher end of the predicted range. If I am wrong and the recent strength is simply another head fake by Mr. Market, then a break down back to $27-30/share is in the cards. However, I am betting on the former, and believe that Friday's price action was equivalent to a train conductor's last call of "All Aboard!"
Disclosure: I am long DECK. I wrote this article myself, and it expresses my own opinions. I am not receiving compensation for it (other than from Seeking Alpha). I have no business relationship with any company whose stock is mentioned in this article.