The Bank of New York Mellon Corp. (NYSE:BK) is a fairly large financial institution; the company maintains an Aa3 credit rating. The company was downgraded by Moody's (NYSE:MCO) last March.
Today, the secondary bond market lists a set of 2017 BNY Mellon bonds with a very impressive 5.28% yield. The only problem is, the listing appears to be totally erroneous.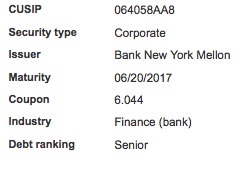 *BNY Mellon bond listing, showing 6.044% coupon
I am on the constant lookout for bonds that offer yield, and bonds that offer quality. Upon narrowing my search for top-rated investment grade Corp. bonds, the BNY Mellon bonds stood out. Here is the exact listing, between two Goldman Sachs (NYSE:GS) bonds as they appear on the secondary market:
| | | | |
| --- | --- | --- | --- |
| | credit rating | coupon | price / yield |
| Goldman Sachs Grp Inc MTN Be Fr 6% 2041, Survivor Option, Mnthly Cpn (cusip: 38141ET90) call protected | A3/A- | 6.000 | 110.49 / 5.28% |
| Bank New York Mellon Corp Sr Nt 1.969% 2017, (cusip: 064058AA8) ** This appears to be an erroneous listing ** | Aa3/A+ | 6.044 | 102.94 / 5.28% |
| Goldman Sachs Grp Inc MTN Be Fr 5.75%0 2041, Survivor Option, Mnthly Cpn (cusip: 38141EW62) call protected | A3/A- | 5.750 | 107.00 / 5.27% |
I have added a note on the BNY bonds, that the listing appears to be an error.
Some investors rely on listings; some trade at a fast pace, and errors like these can certainly trip up an investor. Notice the Goldman bonds mature in the 2040s, and are rated less than BNY Mellon. It would be great to find 2017 bonds rated Aa3 that yield over 5%, however, these do not.
I actually picked up the phone to make arrangements to buy these bonds today. While cross referencing the bond's cusip on another trading platform, I noticed this:
| | | | |
| --- | --- | --- | --- |
| recent trades | price | yield | buy / sell |
| 01/25/2013 | 102.974 | 1.27% | customer buy |
| 01/25/2013 | 103.254 | 1.20% | customer buy |
| 01/25/2013 | 102.814 | 1.30% | customer buy |
Unlike the former listing, which shows a 5.28% yield, the recent trades show a 1.2% yield. That is a big difference.
BNY Mellon's prospectus, filed with the SEC, clarifies how the mistake was made:
interest rate: 6.044% per annum from and including December 20, 2011, to but excluding May 21, 2012; thereafter 1.969% per annum...

interest payment dates: Semi-annually on each June 20 and December 20, commencing on June 20, 2012, and ending on the maturity date...

re-offer yield: 1.872%
I believe the false BNY Mellon listing may have been recently added, because this is the first time I have seen it. What most likely happened is the person who transcribed the coupon mistakenly wrote 6.044%, instead of realizing these bonds have a 1.969% coupon after May 21, 2012.
All That Glitters May Be Goldman
In this case, all that glitters is not gold; conversely, the Goldman bonds actually yield over 5%. However, investors should know many Goldman Sachs Corp. bonds are trading at premiums, so you could see an immediate loss of $25 per bond, or so. In order to avoid an unintended loss, check the bond's recent trading. (Note the TRACE trade activity is showing the false BNY Mellon yield, though.)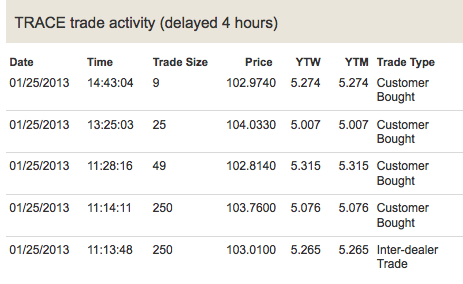 *TRACE trade activity for BNY Mellon 2017 bonds, showing 5.2% yield
A brokerage's fixed income desk uses the same listings that customers use. Some traders are much less experienced with bonds, and an investor would tend to allocate much more to an Aa3 rated bond with a 2017 maturity, if they thought the yield was over 5%.
Whereas a broker looking at the correct listing would see the true 1.2% yield, a broker looking at an incorrect listing would see the 5.2% yield. Only if the broker thoroughly reviews the 1.969% coupon would they see that something is amiss. This may seem obvious, however, many times traders quote a yield and price, and do not regularly double-check the coupon with the investor.
So trader beware. The best thing to do is to search the bond's cusip, find the prospectus and make sure you have the facts. Use an alternate bond trading platform (preferably one that sources listings from a different entity) to double check call features, special features, recent prices, current yields, debt ranking and issuer events.
If you have any thoughts on BNY Mellon's debt or bond listing accuracy, please leave a comment.
Disclosure: I am long BK and long Goldman Corp. bonds. I wrote this article myself, and it expresses my own opinions. I am not receiving compensation for it (other than from Seeking Alpha). I have no business relationship with any company whose stock is mentioned in this article.
Additional disclosure: This article is not a recommendation to buy or sell (especially not based on erroneous listings), please consult a financial adviser, and be sure to confirm details with prospectuses.