Shares of Herbalife (NYSE:HLF) have declined by 22.9% over the past 12 months, primarily driven by investors' criticism on the company's multi-level marketing. At $43.59 per share, the stock has recently recovered significantly from its 52-week low of $24.24 reached in December 2012, and offers a dividend yield of 2.8%. Despite the recent price recovery, I believe the stock is still trading at a considerably discounted level, which represents a great opportunity to accumulate shares. In this article, I will elaborate on my valuation analysis that supports my opinion.
From a relative valuation standpoint, Herbalife's valuation is significantly undervalued based on the company's solid financial performance relative to its peers' (see comparable analysis chart below). Sell-side analysts on average predict the firm's revenue, EBITDA, and EPS to grow at decent CAGRs of 10.7%, 10.9%, and 14.0%, respectively, over the current and next years. Those consensus estimates are fairly comparable to the averages of 6.7%, 10.0%, and 26.7%, respectively, for a group consisting of Herbalife's primary networking marketing peers. The market expects Herbalife to experience a flat EBITDA margin performance over the same period, compared to the peer average expansion of 1.1%. On the profit side, most of Herbalife's profitability and capital return metrics are markedly above the par. The company's debt level is fairly in line with the group as reflected by its higher debt to capitalization ratio, but lower debt to EBITDA rate. In terms of liquidity, Herbalife's free cash flow margin is slightly above the peer average. Due to the robust profitability, the company was able to maintain a healthy interest coverage ratio. Both the firm's current and quick ratios are only slightly below the par, reflecting a somewhat healthy balance sheet performance.

Click to enlarge
To summarize the financial comparisons, Herbalife's superior profitability and solid liquidity position should be the primary support to the stock valuation. Given the company's in-line growth potential, I believe the stock's fair value should trade at least on par with the peer-average level. Nevertheless, Herbalife's current valuations at 6.1x forward EBITDA, 9.4x forward EPS, and 0.6x PEG together represent an average discount of 33.1% to the peer-average trading multiples, suggesting a discounted valuation level relative to the fundamentals (see chart above).
Moreover, Herbalife's current forward P/E multiple of 9.4x is trading at 34.2% discount to the same multiple of the S&P 500 Index, which stands at 14.3x now (see chart below). I believe the trading multiple discount is exaggerated, provided that 1) Herbalife's long-term estimated earnings growth rate of 15.1% is substantially above the average estimate of 8.2% for the S&P 500 companies; 2) the company has been able to maintain stable profitability and capital return margins over the past few years and its capital return metrics, including ROE and ROIC, substantially outperform the market averages (see charts below); and 3) the stock's dividend yield of 2.8% is slightly above the market average of 2.2%.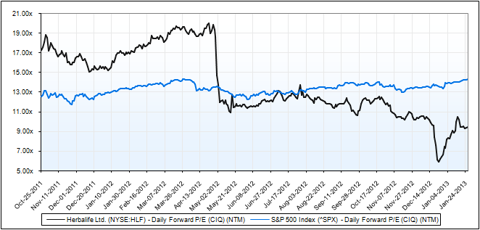 Click to enlarge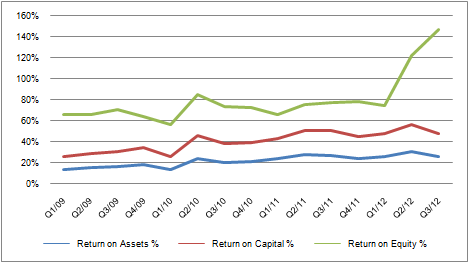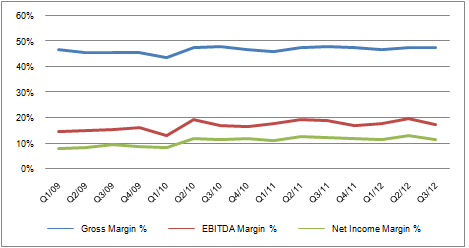 To support my view, I also performed a DCF analysis, which incorporates the market's consensus revenue and EBITDA estimates for fiscal 2013 and 2014 (see DCF chart below). The purpose of this analysis is not aimed to estimate the fair stock value, but to test the various assumptions embedded in the current share price and gauge the margin of safety on the valuation. The revenue growth rate from fiscal 2015 to the terminal year is estimated to gradually decline to 1.5% in the terminal year for conservatism. The EBITDA margin over the same period is assumed to be constant at 17.9%, which equals to the market's estimated average margin between fiscal 2012 and 2014. Other free cash flow related items, including depreciation and amortization, tax expense, capital expenditure, and net working capital investment are projected based on their historical ratios relative to the total revenue, as those ratios have been trending steadily over time.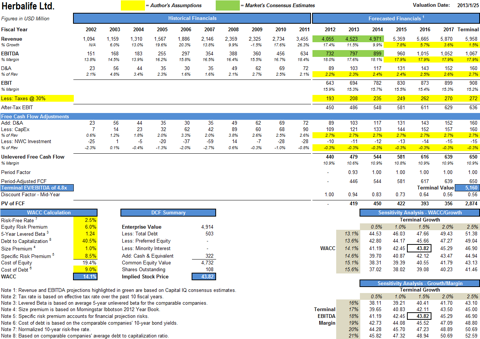 Click to enlarge
As such, based on the significantly conservative assumptions such as a WACC of 14.1%, a terminal growth rate of 1.5%, and an implied terminal EV/EBITDA multiple of 4.8x (currently at 6.1x as mentioned earlier), the model yields a stock value of $43.82, which is close to the current share price at $43.59. To test the margin of safety, the sensitivity tables suggest that an assumption combination of 0.5% terminal growth rate and 15.6% WACC would drag down the stock value to $37.02, and that a mix of 0.5% terminal growth rate and 15.9% terminal EBITDA margin would result in a stock price of $38.11. Both scenarios represent an average downside of just 13.8% from the current share price without considering the 2.8% dividend income.
On the qualitative side, Herbalife has recently raised its Q4 and 2012 full-year EPS guidance, which exceeds analysts' average estimate. Wedbush's research analyst, Rommel Dionisio, wrote in a recent research note (sourced from Thomson One, Equity Research):
"Despite allegations and questions in recent months by short sellers about its very business model being a pyramid scheme, Herbalife displayed in Q4 an impressive ability of its core business to shrug off such accusations and continue strong fundamental momentum. Historically, there had been some precedent for a multi-level marketing company seeing deterioration in recruiting trends following similar public accusations (USANA in early 2008). However, in this case, we believe that with Herbalife's more well-established global brand presence, combined with its broader diversification of revenues (only 20% in the U.S.), the company's strong fundamental momentum should continue unimpeded in 2013."
Aside from Wedbush, Canaccord Genuity and Barclays have also recently reiterated their buy ratings on the stock (Source: Thomson One, Equity Research).
Bottom line, despite the negative market sentiment on the stock, Herbalife's fundamentals remain intact. In light of the discounted valuation and the ample margin of safety supported by the solid financial fundamentals, Herbalife should deserve a buy rating.
The comparable analysis and DCF charts are created by the author. All other charts are sourced from Capital IQ, and all historical and consensus estimated financial data in the article and the chart is sourced from Capital IQ unless otherwise noted.
Disclosure: I have no positions in any stocks mentioned, but may initiate a long position in HLF over the next 72 hours. I wrote this article myself, and it expresses my own opinions. I am not receiving compensation for it (other than from Seeking Alpha). I have no business relationship with any company whose stock is mentioned in this article.