3M Co. (NYSE:MMM), part of the S&P 500 and the Dow Jones Industrial Average, is a diversified technology and manufacturing company that operates in six business segments: industrial transportation; healthcare; consumer and office; safety, security and protection services; display and graphics; and electro and communications. 3M had increased 11.66%, and closed at $100.59 on January 25, 2013 since our November publication of the article, "Stick To 3M And Buy At A Discount Through Options." This article will provide the new developments for 3M and review the current options strategy.
Earnings And Highlights
For the fourth quarter, 3M reported profit of $991M ($1.41 per share), up from $954M ($1.35 per share) a year ago. The profit was in-line with analysts' expectation. The reported revenue of $7.39B exceeded analysts polled by Thomson Reuters on revenue of $7.18B. The record quarterly sales were led by improved performance by almost all the segments, except the safety, security and protection services segment, which reported negative top-line growth. The company also reported solid sales across all geographic regions, except EMEA (Europe, Middle East and Africa).
3M said profits grew in its consumer and office business, which makes Scotch tape and Post-it notes, as well as in its healthcare unit. Profits fell in all four of its other divisions, which make things like industrial products and construction materials. 3M's CEO, Inge Thulin, is working on improving profitability at the underperforming units. 3M will merge its security and traffic-safety units, a shift that will result in the elimination about 300 jobs. 3M is ready to take actions to boost performance. For more on this, the earnings transcript for 3M's CEO discussion for Q4 2012 result can be accessed here.
Asia, which unexpectedly became a drag for U.S. companies as growth slowed last year, may help boost sales in 2013 and make up for a recession-plagued Western Europe. China's economic growth improved in Q4, with manufacturing expanding at the fastest pace in two years. Q4 sales in China without electronics were up around 10 percent year-over-year from 2011, partly due to stronger sales of health-care supplies. 3M's CFO, David Meline, stated, "China was a significant contributor with organic local currency sales growth of over 16%." Other industrial giants are seeing the same improvements in China, including General Electric (NYSE:GE), United Technologies (NYSE:UTX), and Honeywell (NYSE:HON). 3M followed GE and UTX with rising revenue.
S&P Capital IQ analyst Richard Tortoriello upgraded the company to Buy from Hold, seeing growth opportunities for 3M with a global economic upswing and expecting operating margins of 22% for 2013.
Key Stats And Valuation
3M has an enterprise value of $70.58M and a market cap of $69.60B. 3M has total cash of $4.53B, with total debt of $6.00B. 3M generates a strong cash flow with an operating cash flow of $5.30B and a levered free cash flow of $2.28B. By using Morningstar's data, 3M's key stats will be compared to its peers, including GE, UTX and HON. 3M has higher revenue growth of 5.4, compared to the industry average of -0.4. 3M has a higher operating margin of 21.6%, ttm, and net margin of 14.9%, ttm, comparing to the industry averages of 16.3% and 8.8%, ttm, respectively. 3M generates higher ROE of 25.5, compared to the industry average of 15.4.
3M has a P/E of 15.9, which is lower than the industry average of 18.1, but higher than 3M's 5 year average of 14.8. 3M has a forward P/E of 13.1, which is lower than the S&P 500's average of 13.3.
Technical Analysis
3M closed at $100.59 on January 25, 2013 with a 0.92% gain. The volume of 4.24M was 1.48x of the 30 day average volume of 2.86M. 3M had been trading in the range of $81.99-$100.87 in the past 52 weeks. 3M has a low beta of 0.87. The MACD (12, 26, 9) had been showing a bullish trend. The momentum indicator, RSI (14), is showing a strong bullish momentum at 80.46, where above 70 is considered overbought. 3M is currently trading above its 50-day MA of $93.23 and 200-day MA of $89.68, as seen from the chart below. 3M is very bullish, technically.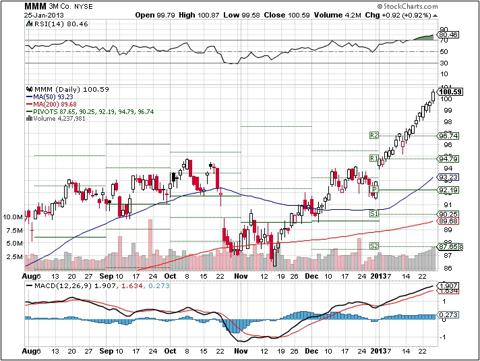 Source: StockCharts.com
Reviewing Options
The reviewed credit put spread of April 20, 2013 $75/$80 put could be closed with a 12.92% return on margin. For conservative, long-term bullish investors, a credit put spread of April 20, 2013 $85/$90 put can be reviewed if 3M pulls back in the range of $95/$96. For more aggressive investors, a credit put spread of April 20, 2013 $90/$92.5 can be reviewed for a maximum profit of 11.60% return on margin.
Note: All prices are quoted from the closing of January 25, 2013, and all calculations are before fees and expenses. Investors and traders are recommended to do their own due diligence and research before making any trading/investing decisions.
Disclosure: I have no positions in any stocks mentioned, and no plans to initiate any positions within the next 72 hours. I wrote this article myself, and it expresses my own opinions. I am not receiving compensation for it (other than from Seeking Alpha). I have no business relationship with any company whose stock is mentioned in this article.