Another week brought another round of new highs on many of the major equity indexes. Elsewhere, we saw strength in some areas, and weakness in others. The market is speaking to investors relatively clearly in the opening weeks of 2013. Let's break down the details.
Economy: It was a light week for economic data releases. Unemployment claims -both first time and continuing - came in lower than forecast. New and existing home sales for December were a little lighter than expected, but it was not a big miss, and December is not a highly significant month for the housing market. Conference Board leading indicators, many of which have already been released, were in line with forecast and showed expansion in December.
The coming week will bring a much more significant round of data, including Q4 GDP, December durable goods orders, and January ISM index and Chicago PMI. The FOMC meets, but not much is expected there in terms of market moving developments.
Stocks: Markets continued to push higher last week, confounding observers who believe they have come too far, too fast. Even the Apple (NASDAQ:AAPL) earnings disappointment, which pushed the shares down another 12% and dropped them from the top position in terms of market capitalization, could not stop the rally. Among the major indexes, the Dow Industrials led with an advance of 1.8% on the week, followed by the Russell 2000 and S&P 500. Even the NASDAQ Composite put in a gain, despite the drag created by Apple.
Nine of the ten S&P economic sectors posted gains, led by the consumer discretionary stocks with a move of 2%, as Netflix (NASDAQ:NFLX) surged 71% on a big earnings surprise. Also powering the sector were e-commerce heavyweights Amazon (NASDAQ:AMZN), and Priceline (NASDAQ:PCLN), and home improvement giants Home Depot (NYSE:HD) and Lowes (NYSE:LOW). The only sector to post a loss was tech, largely due to the Apple effect, and in spite of a strong move up by IBM on earnings.
International markets were more of a mixed picture, as only eight of our twelve major indexes posted gains. The weakness was seen in Asia, and in emerging markets generally, as Brazil, Hong Kong, Shanghai, and Seoul all posted losses for the week. European markets generally had a good week, while the Davos economic forum convened. One of the stronger major markets was London, where the FTSE gained 2% as PM David Cameron gave a speech in which he said he would put Britain's EU membership up for public referendum.
At this stage the market is really starting to look a bit extended, and the SPX began to churn a little after getting to the 1,500 level. As of Friday's close we have nearly 90% of its component stocks above their 200 day moving averages, which is nearly two standard deviations from a twenty week average of that number. This is a level which often marks reversals, though they are not necessarily dramatic. The NYSE summation index is also approaching two sigma. That does not mean a correction is imminent - we have seen the market continue to drift higher many times. However I do think the probability of some kind of short term correction in increasing.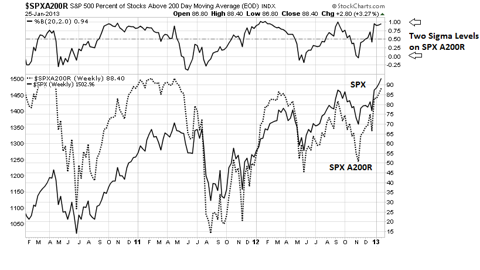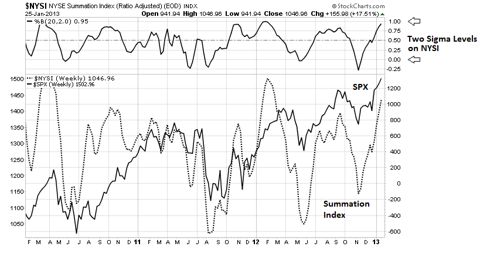 In the longer term, both corporate earnings and economic data suggest the U.S. economy continues to grow, so the stock rally doesn't seem odd to me at all. Some sectors and stocks are doing much better than others, but the participation in this move is broad based. One of the exercises I go through on a weekly basis in preparing this series of articles, is to go through charts of each stock in the S&P100 individually - yes, all 100 stocks (I review at about 160 charts on a weekly basis). Of course anything could go wrong at any time, but my experience tells me when this many blue chip charts look this healthy, we have a very investable market on our hands. Security selection, timing and patience are important, but I really do have a positive general outlook on the stock market.
Bonds: Treasury yields at the longer end of the curve moved up last week, with a pop on Friday. We still have a long bond above 3%, with the ten year continuing to move towards 2%. Ahead of the FOMC, Friday's closing yield on the benchmark ten year was the highest of any trading day since last May. A number of widely held T-bond funds sold off in response. On the corporate side, the Moody's BAA average yield was little changed over the last week, and remains lower than six months ago, but we still saw modest selling pressure in popular corporate bond funds as well. A number of muni funds were also off a bit.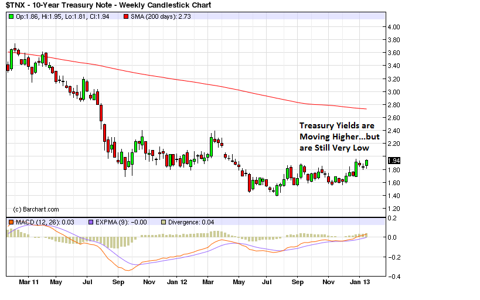 There does seem to be some rotation out of fixed income as the equity market advances, but I think the only investors who really stand to get hurt are those who bought bond funds at the extreme levels of the past 12 to 18 months. Those who bought funds earlier may see some of their paper gains erode, but the tradeoff is that they should start seeing slightly higher yields as rates advance and their funds re-invest in higher yielding new issues. The choice there is to take gains, accept any tax consequences, and re-balance, or sit tight and keep watch. We are for the most part following the latter approach in the income portfolio.
Commodities: WTI crude continued to rally early last week but stalled under $97 and appears to have put in a short term top. The March made a closing high on Tuesday, sold off Wednesday, and went sideways Thursday in choppy trading of over 1.5 million contracts. Natural gas sold off after hitting resistance above $1.60 once again. Gold also sold off as it approached $1,700 and violated the 200 day moving average. Silver on the other hand held above the 200 day and the $30 dollar level. The grains pulled back after a new year bounce. Overall the commodities showed a fair bit of weakness over the past few trading sessions, even as the dollar moved lower - which is significant.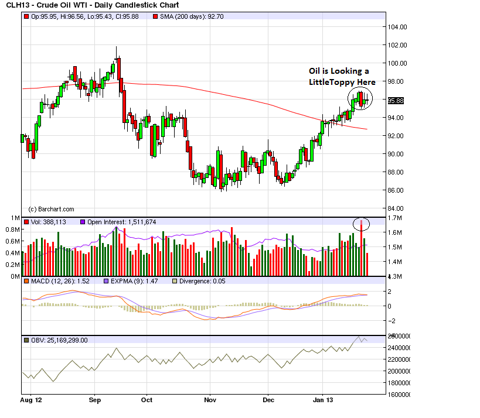 Currencies: The dollar index has settled into a narrow range between 79.5 and 80 over the last couple of weeks, and traded near the low end of that range into Friday's close as the euro moved back above $1.34. However the British pound, and the Aussie and Canadian dollars, all fell sharply against the greenback. Cable and the loonie have both broken down through their 200 day moving averages. This presents a divergent picture with the dollar showing weakness against the euro and related currencies like the Swiss franc, and strength against the other majors.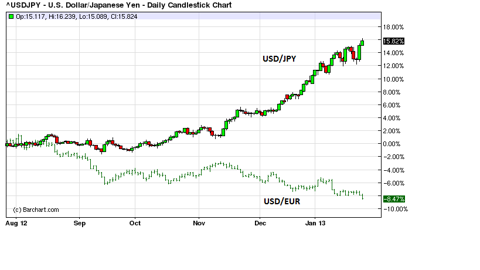 The Bank of Japan surprised last week by announcing that the asset purchase program designed to meet the 2% inflation target would not begin until 2014. The yen had fallen sharply in anticipation of an earlier launch, and the market initially reacted by pushing the yen back up. However by week's end it had fallen to a new low approaching 91 yen to the dollar. The market, it seems, has the BOJ's back. The other big mover of late, the Swiss franc, also pulled back against the euro early in the week, only to move back above 1.245 by the close. We still have an unsettled picture in the currencies.
Key Takeaways:
Some equity market indicators are giving overbought readings. Don't be surprised to see a short term correction soon. This doesn't change my bullish overall outlook; there is a lot to like in this stock market.
As bond yields continue to push higher, there is no need to over-react. We are just seeing them return to more realistic levels, and there is little need to fear inflation.
Commodities are weakening as the major currencies are still presenting some curious divergences.
Disclosure: I have no positions in any stocks mentioned, and no plans to initiate any positions within the next 72 hours. I wrote this article myself, and it expresses my own opinions. I am not receiving compensation for it (other than from Seeking Alpha). I have no business relationship with any company whose stock is mentioned in this article.