Retail investors are coming back into the market and most of the global elite from Davos are confident in stating the long financial crisis is finally over even if challenges remain. Partly as a result, the market is posting its best January since 1994. Ironically I think we are likely to see a repeat of 1994 for the rest of the year, a flat to slightly down market for the rest of the year and rising interest rates. That being said, an investor has to dance some while the music is still playing. Here are the five things I will be watching on Monday to start the trading week.
Will the Netflix rally hold?
Netflix (NASDAQ:NFLX) rallied more than 70% in the last three trading days of last week on a better than expected earnings report. I shorted the stock at the end of day Friday at $169.50 as the rally seemed overdone and a good portion was probably due to short covering given the huge short position in the stock. I have a stop in for $180. It is the first time I have been short the stock in over a year. After the rally, the stock sells for 62x forward earnings and has negligible cash flow. It can't raise prices and still faces escalating content costs as well as increasing competition from Amazon (NASDAQ:AMZN) and Coinstar (NASDAQ:CSTR). Carl Icahn also has a significant stake in the stock recently acquired, and I would not put it past him to take some money off the table after this explosive run up. Maybe Ackman will even go short the stock out of spite after their tiff Friday.
Will Apple's slide end this week?
The stock cratered last week despite a mixed earnings report. The market has had an impressive rally despite fighting the decline of the world's most valuable company (neck and neck now with Exxon (NYSE:XOM) to be accurate). Indexes would look even better if Apple (NASDAQ:AAPL) can arrest its slide. The stock is dirt cheap, but has been for some time. I will be interested in seeing if Doug Kass' take that some of this was caused by margin calls has validity. If Apple can build some demonstrable technical support this week, I will be tempted to add to my long position.
Will the violence in Egypt escalate?
Port Said erupted in violence this weekend as over 30 people were killed as riots erupted after the sentencing of 21 Port Said soccer fans to death for their roles in earlier deaths caused a riot. Given the all-out civil war in Syria, the lost cause in Afghanistan and 2013 already being the make or break year to stop Iranian uranium enrichment, the last thing the world and the markets needs is the Middle East's largest country by population descending into chaos. The Arab Spring descending into the Arab Winter is one of my five bold predictions for 2013.
When/where will the fiscal drag by the mini fiscal deal start to show up in economic reports?
According to Nouriel Roubini, "the current mini-deal on the fiscal cliff implies a significant amount of drag - about 1.4% of GDP - on an economy that has grown at barely a 2% rate over the last few quarters." I am particularly concerned about the approximate $120B hit to consumer spending the expiration of the payroll tax holiday will have. Given that the retail sector has outperformed the market over both the last year and the last month (See chart), I am underweight this area as this hit to consumer spending does not seem factored in at these levels.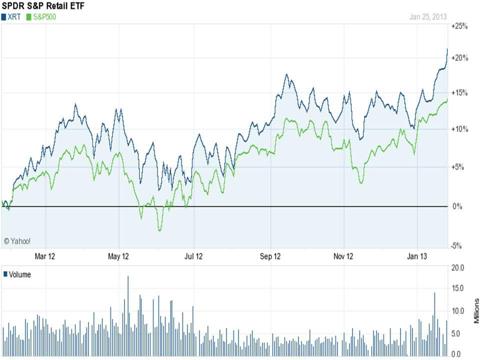 Is retail money coming back into the market a contrarian signal?
Retail money is coming back into equities for the first time in four years. And retail investor sentiment has doubled since Mid-November. Since the "dumb money" does not have a very good track record (See last days of internet boom, housing circa 2005), this is a worrying sign for me. I will be tracking to see if these flows continue. I will also be watching to see if bond yields continue to rise as investors migrate to equities. Again, my feeling is 2013 could look a lot like 1994 as interest rates rise throughout the rest of the year partly as a result of this migration and party due to the appearance of stagflation I expect before year-end. It is also why I have nothing allocated to bonds at this point in time.
Disclosure: I am short NFLX; long AAPL as well. I wrote this article myself, and it expresses my own opinions. I am not receiving compensation for it (other than from Seeking Alpha). I have no business relationship with any company whose stock is mentioned in this article.