Introduction
The Western Union Company (NYSE:WU) is a leader in global money movement and payment services, providing people and businesses with fast, reliable and convenient ways to send money and make payments around the world. Simply put, Western Union makes its money by charging fees to transfer money all over the world. The company currently has a dominant 18% market share, compared to 3% for its second-largest competitor, MoneyGram International (NYSE:MGI). Western Union's large size, and solid balance sheet gives it a strong economic moat. This allows it to easily match competitors' pricing pressures, and keep new businesses from forming. This year, the Consumer Financial Protection Bureau (CFPB) will be implementing a series of new regulations on the industry that will result in a supply of hefty costs for companies. These new regulations and pricing pressure from Western Union will expose competitors' weaknesses and ultimately prevent any company from trying to compete with Western Union.
Business Overview
Western Union derives about 81% of its revenues from its consumer-to-consumer segment, 10% from consumer-to-business segment, and 7% from its business-to-business segment. The company mainly earns its money by charging fees to transfer cash around the world, but also makes a large amount of money through foreign exchange fees. The majority of these revenues come from immigrants transferring money back to their families all around the world. Western Union recognizes the large potential from underserved adults. The company believes 2 billion migrants are underserved and don't even have a bank account. Western Union believes its 82% global brand awareness provides it with an excellent opportunity to take advantage of these untapped markets.
The company also boasts much stronger financial metrics than its largest competitor, MoneyGram.
| | | |
| --- | --- | --- |
| | Western Union | MoneyGram |
| ROIC | 28.24% | -1.37% |
| ROE | 135.89% | 19.33% |
| Operating Margin | 25.5% | 6.23% |
| Profit Margin | 21.85% | -5.2% |
| FCF Yield | 11% | 1.9% |
Recent Events
Western Union's stock price has recently been hammered after the company announced it lost 7,000 agents in Mexico because they didn't meet regulations, and because of lowered growth expectations. I don't believe these events quantified the stock's 30% drop. Here's why:
Growing Shareholder Value: The company recently announced a $750 million share buyback authorization, and a 25% increase in their dividend. Since the IPO, the company has retired 21% of its outstanding shares, and grown its dividend 3800%. Western Union has done an excellent job with enhancing shareholder value, and is poised to do so in the future.
Acquisitions: The company has made many notable acquisitions over the past few years. Western Union acquired its two largest agents in Europe, Travelex for its B2B segment, and eBillMe to expand their online segment. These acquisitions all provide excellent growth opportunities, and add significant value to the company.
Pricing Power: Last November, the company announced many competitors were offering similar services at lower fees in various locations. In response, the company announced it would begin making various pricing investments to stay competitive. Since then, Western Union's largest competitor, MoneyGram, has become unprofitable. The company's ability to withstand pricing pressures from other competitors gives it a strong, long-term competitive advantage.
Growing Online Segment: This quarter Western Union's e-commerce segment increased revenues by 38%. The company has done an excellent job expanding online, and has the power to out-price other small competitor's online.
Emerging Markets: In the recent earnings call, the company stated that more 2 billion adults in the world are underserved, and even 140 million businesses. The company believes there is excellent potential to expand into under-penetrated markets, and has begun to do so. Western Union currently has a 98% brand awareness in India. That means 1.17 billion citizens recognize the Western Union brand. I believe the company has plenty of opportunities to expand into markets that could utilize its services.
(Source: Western Union Q3 Earning's transcript)
Balance Sheet Strength
Western Union has a very strong balance sheet compared to MoneyGram. Let's take a look:

As you can see, Western Union has a very large cash holding, which keeps the company substantially liquid in case any new acquisitions or regulation costs arise. It also has a substantial amount of 'settlement assets' and goodwill. Its settlement assets are composed of cash, receivables, and various investment securities that the company is required to have, due to regulations. Western Union has $1.3 billion in investment securities that are primarily composed of highly-rated municipal, and state debt-securities. These regulations make sure companies have the proper amount of liquidity in case any transactions were disrupted, and customers lost their money. Here's a look at WU's settlement assets:

Besides being liquid enough to meet regulations, Western Union also has an additional $1.37 billion cash holding, and $3.2 billion in goodwill from acquisitions. These assets give the company the proper liquidity to maintain a healthy amount of debt. On the other hand, let's take a look at MoneyGram:

As you can see, MoneyGram has a much heftier debt load. The company is able to meet its 'payment service obligations', but lacks any other form of liquidity that is not required by law. In addition to its payment service obligations, the company has $1.08 billion in other debt, with no other form of liquidity to properly maintain it. With the company losing money the past couple of months, this 'other debt' puts the company in a much worse situation. Take a look at WU's growth in net income vs. MGI's: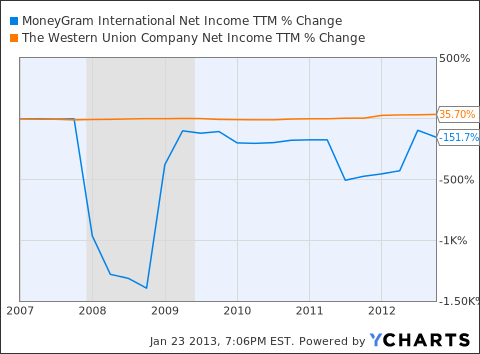 As you can see, Western Union's net income has continued to grow over the past five years, whereas MoneyGram is unable to stay profitable. MoneyGram's high leverage will make it much harder for the company to grow, and stay profitable. MoneyGram's total debt load is 6 times its market cap, compared to Western Union's one times market cap. These new regulations, and pricing pressure from Western Union can cause some serious damage in the upcoming future.
Conclusion
Western Union is simply too large for other competitors to stay profitable. The company has virtual monopolies in many areas of the world, and its excellent balance sheet allows it to endure regulation costs that other companies simply can't handle. With the new upcoming regulations early this year, it is only a matter of time before the balance sheet weakness of Western Union's competitors is exposed. At a P/E ratio of 6.8, Western Union is trading at one of its lowest multiples in the past ten years. With an FCF yield of 11% and a huge economic moat, Western Union is an excellent buy at this price.
Disclosure: I have no positions in any stocks mentioned, but may initiate a long position in WU over the next 72 hours. I wrote this article myself, and it expresses my own opinions. I am not receiving compensation for it (other than from Seeking Alpha). I have no business relationship with any company whose stock is mentioned in this article.