By: Brendan Gilmartin
Pfizer (NYSE:PFE) is scheduled to report Q4 2012 earnings before the opening bell on Tuesday, January 29. The shares recently climbed to a multi-year peak close to $27, the highest level in about five years. The numbers are typically released at 7:00 a.m. EST and could influence the broader market indices, including the Dow and S&P Index Futures.

Outliers & Strategy
Key measures:
Earnings Per Share: The consensus is $0.44, the lower end of analyst forecasts ($0.43 to $0.47). In order for Pfizer shares to push higher in reaction to earnings, look for Adjusted EPS to come in >$0.47. Results tend to closely mirror analyst estimates and a delta of $0.03 would be the minimum needed to push the shares higher. IF earnings were to come in <$0.44, Pfizer faces steep downside risk, given the recent run-up in the shares. (Source: Yahoo! Finance)
Revenues: Revenues are seen falling 14.0% to $14.40 bln.
Adjusted Earnings Per Share Guidance: Look for Pfizer to update the Street on its outlook for 2013. The consensus is currently at $2.29. Based on recent price action and the shares near a 5-year high, many are looking for Pfizer to perhaps guide at or above the Street estimate.
Revenues Guidance: The current estimate is $57.66 bln.

Pfizer is aggressively repurchasing shares, helping to drive the share price to a multi-year high. Last October, Pfizer authorized a new $10 billion share repurchase program pending completion of the sale of the Nutrition business to Nestlé.
Recent News
01/16: Jefferies & Co. reiterated a Buy rating and raised the price target on Pfizer from $27.00 to $31.00, according to a post on Benzinga.com. The move was part of a broader positive sector call on the pharmaceuticals.
12/31: J.P. Morgan reiterated an Overweight rating on Pfizer, according to a post on Benzinga.com, citing valuation, a strong dividend yield, a new product cycle, and the benefit of recent divestitures.
12/17: Pfizer declared a $0.24 first-quarter 2013 dividend, an increase of approximately 9%. The shares are now yielding 3.56%.
11/30: Pfizer Inc. announced that it has completed the sale of its Nutrition business to Nestlé for $11.85 billion in cash. As part of the sale, Pfizer declared its $10 billion share repurchase program is now effective upon the completion of the sale.
11/27: MKM Partners downgraded Pfizer from Buy to Neutral and reduced the price target from $29.00 to $25.00, according to a post on StreetInsider.com. The firm pointed out that Pfizer received six new drug approvals in 2012 and now sees a thinner pipeline for 2013 - 2017.

Technical Review
Pfizer shares recently pushed through long-term resistance near $25.75, en route to a new multi-year high. From here, previous resistance at $25.75 is now support if earnings disappoint, with further downside risk to $24.75. (Chart courtesy of StockCharts.com)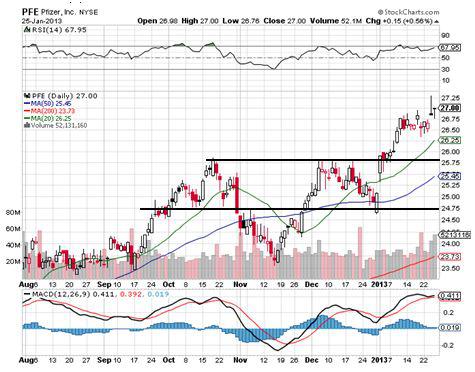 Summary
Pfizer shares have been rallying over the past several months, touching a 5-year high as the company returns money to shareholders through a rich dividend (3.44%) and a robust share buyback program forecast to total $10 bln in 2013. Pfizer is also benefiting from a deeper drug pipeline and mass restructuring efforts designed to streamline the entire organization. At a mere 11.8x forward earnings, Pfizer also remains attractive on a valuation basis. Against this positive backdrop, however, Pfizer is vulnerable to any missteps. Therefore, look for earnings and revenues above estimates and the company to reiterate guidance in order to lift the shares beyond the recent highs.
DISCLAIMER: By using this report, you acknowledge that Selerity, Inc. is in no way liable for losses or gains arising out of commentary, analysis, and or data in this report. Your investment decisions and recommendations are made entirely at your discretion. Selerity does not own securities in companies that they write about, is not an investment adviser, and the content contained herein is not an endorsement to buy or sell any securities. No content published as part of this report constitutes a recommendation that any particular investment, security, portfolio of securities, transaction or investment strategy is suitable for any specific person.
Disclosure: I have no positions in any stocks mentioned, and no plans to initiate any positions within the next 72 hours. I wrote this article myself, and it expresses my own opinions. I am not receiving compensation for it (other than from Seeking Alpha). I have no business relationship with any company whose stock is mentioned in this article.