3D printing technology is a very exciting space right now and the next big thing in the technology world. Indeed, investors' enthusiasm for 3D printing is reflected in the performance of shares of 3D Systems (NYSE:DDD), one of the two biggest players in the 3D printing arena.
In the last year, DDD shares have gained a whopping 266%. That's impressive by any standard. The other major player is Stratasys (NASDAQ:SSYS). Like 3D Systems, Stratasys has also been seeing significant interest from investors. Both companies are seen as long-term play in the 3D printing industry. The excitement over 3D printing technology has also sparked a rally in shares of Organovo Holdings (ONVO.PK), with the stock gaining nearly 100%.
All three companies are primarily focused on the 3D printing technology business. Another stock that is benefiting from investors' enthusiasm for 3D printing technology is Perceptron (NASDAQ:PRCP) stock. In the last month, Perceptron has surged nearly 50%. But Perceptron has nothing to do with 3D printing technology. The company does offer some 3D scanning solutions; however, it is a small part of its business. On its website, the company calls itself as a global non-contact vision and metrology company with 30 years of experience in laser-based technology and applications. It does mention offering the Helix 3D scanning solutions; however, it definitely has nothing to do with 3D printing.
Then why is the stock gaining momentum in recent weeks, despite no news? It would appear that Perceptron has been mistakenly grouped with companies such as 3D Systems and Stratasys, probably creating the illusion that PRCP is a player in 3D printing technology arena.
Having done some research, Perceptron is definitely not a player in the 3D printing technology arena. However, is the company any good? Is the recent rally justified? As I said, the rally appears to have been sparked by the false impression that PRCP has something to do with 3D printing. Of course, the rally is not justified. But that's merely my opinion, let's take a closer look at the company to see if this rally is justified and capable of sustaining itself.
Now that we have established the fact that Perceptron is not a 3D printing company and only offers some 3D scanning solutions, the big question is whether it is still worth investing in at these elevated levels? Based on what I found, I don't think so.
In its third quarter ended March 31, 2012, Perceptron had reported net sales of $20.3 million. The company's industrial business unit (IBU) posted sales of $19.2 million in the quarter, while the commercial products business unit ((NYSE:CBU)) posted sales of $1.1 million. The company sold substantially all of its assets in the commercial products business on August 30, 2012. So I will be just focusing on the industrial business unit.
For the quarter ended June 30, 2012, (PRCP's fourth quarter), the company's IBU division posted sales of $12.8 million, down from $19.2 million reported in the previous year. Sales from the IBU division in the first quarter ended September 30, 2012 was $12.1 million, yet another sequential decline. Declining revenue is certainly not a good sign when PRCP is being touted as a growth stock.
Earlier this month, Perceptron announced that it dismissed Grant Thornton LLP as its independent auditor and appointed BDO USA LLC as its new independent registered public accounting firm for the fiscal year ending June 30, 2013. While PRCP said that the decision to change auditors was not the result of any disagreement between the company and Grant Thornton on any matter of accounting principle or practice, financial statement disclosure, or auditing scope or procedure, something like this always raises an alarm.
As a teacher of swing trading I am always on the prowl for overlooked small caps to buy or hyped up small caps to short. Given what we know about the recent move on Perceptron, it's very difficult to believe the stock can sustain these levels.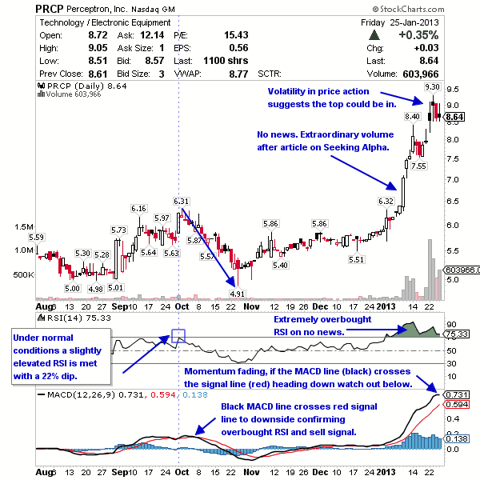 Disclosure: I am short PRCP. I wrote this article myself, and it expresses my own opinions. I am not receiving compensation for it. I have no business relationship with any company whose stock is mentioned in this article.