This year promises to be a very exciting time for Nokia's (NYSE:NOK) premium Lumia Phone range. By December 2013, Nokia will have not one premium flagship, but four (at least). Not only that, but the Lumia range will branch out into tablets. Each premium device will hit a specific market demographic and finally enable Nokia to achieve the breakeven figures it needs to make its Lumia range work.
Now, why four flagships instead of one? A one flagship strategy certainly has its merits, with the Apple (NASDAQ:AAPL) iPhone 5 being the most prominent example in offering to consumers a clear choice when they want a premium device. This strategy can counter-intuitively increase sales. Why? Firstly, because too many overlapping products can confuse customers who, afraid to make the wrong choice, make no choice at all. Secondly, linked to this, a consumer will often use price as a proxy for quality. Of course, all companies are aware of these simple academic theories. As we can see below, examining Nokia's current Lumia range, it at present has a different Lumia for each price point.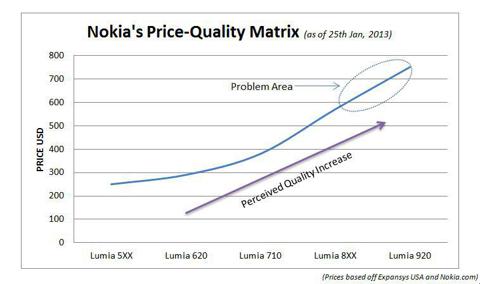 This linear approach creates a simple zero-sum equation for consumers: they examine their budget and pick the phone most closely aligned to it, or shop elsewhere. However, real life is a lot more complex than this. Homo Economicus is firmly only for economics textbooks. And the 'tyranny of choice' problem does not mean that products cannot be carefully targeted at different demographics.
At present Nokia has no offering for those who want premium phones with different features to the Lumia 920. So for example, if someone wishes for a smaller screen size, these consumers must select the Lumia 8XX range, which is not the most appropriate weapon for Nokia to bring against Apple's 4" iPhone 5. From the other angle, Nokia currently has no product for those looking for 5" plus phones, leaving the field clear for its Android competitors such as the Samsung (OTC:SSNLF) Galaxy Note to take full advantage. I'm just using these examples to give readers an idea of the demographics a single flagship strategy can miss out on.
Well, I believe this year, Nokia finally will address the yawning gaps in its premium range with the following four devices. None of these devices have been officially announced, but sufficient leaks and rumors suggest to me they are very real.
1. Nokia 'Catwalk'
| | |
| --- | --- |
| Product Description | Global Flagship Phone |
| Predicted Price Point | $650 - 750 |
| Target Demographic | Global Affluent |
| Nokia Target Sales (predicted) | 4 million per quarter |
The successor to the Lumia 920, this phone will switch to an aluminum body. I have a feeling that the 'catwalk' codename is a nod to the fact this phone will be rather svelte in size and weight compared to the comparatively pudgy Lumia 920. There is one target for this phone, it is a directly targeted iPhone killer. It won't sell more than Apple's ubiquitous device, but I have a feeling it will surprise many, many analysts. I think out of all its new flagships, this is most likely to hit Nokia's internal targets. This will be based on the accumulation of 2-3 years of concerted marketing efforts by Nokia gradually raising market awareness of the Lumia range's capabilities.
2. Nokia 'Eos'
| | |
| --- | --- |
| Product Description | Flagship Specialist Camera Phone |
| Predicted Price Point | $700 - $800 |
| Target Demographic | Amateur Photographers; heavy camera phone users |
| Nokia Target Sales (predicted) | 1 million per quarter |
Now this is where it gets interesting, the Eos will be a true product differentiator for Nokia. It will (probably) be the best mass market camera phone on the market. 2012's Symbian powered Nokia 808 had an incredible 41mpx camera resulting from 5 years of direct research and development. Its hardware, however, was held back by Nokia using orphaned software on the product. Now, the Eos using Windows Phone 8, will add a sixth year to that research heritage and I'm sure will become a headline stealer whenever phone cameras are compared.
3. Nokia 'Laser'
| | |
| --- | --- |
| Product Description | Flagship Verizon USA Phone |
| Predicted Price Point | $650 - $750 |
| Target Demographic | Top tier Verizon contract customers |
| Nokia Target Sales (predicted) | 1 million per quarter |
I like the idea of this a lot. Verizon's (NYSE:VZ) senior management contend (perhaps correctly) they are responsible for Android's success with their concerted marketing efforts. Now they want to repeat this with the Verizon specific Nokia 'Laser'. Rumor has it that Microsoft (NASDAQ:MSFT) and Verizon will jointly heavily market this in the USA. This may well be the phone which brings Nokia true smartphone success in the USA. Microsoft has shown its willing to commit advertising dollars where necessary by spending $1.8 billion globally on the Windows 8/RT/WP8. Likewise, I strongly suspect this launch will receive funding commensurate with its importance to Verizon, Nokia and Microsoft.
4. Nokia 'Windows RT' Tablet
| | |
| --- | --- |
| Product Description | Hybrid Tablet/Netbook running Windows RT (7-9 inches display) |
| Predicted Price Point | $400 - 600 |
| Target Demographic | Existing Affluent Nokia customers |
| Nokia Target Sales (predicted) | 1 million per quarter |
Now this is Nokia's real wild card. Even its detractors acknowledge that Nokia has a very distinctive design philosophy. It also has a history of making bold devices, just to test the water on occasion or to give its designers confidence for future successes. This device does worry me slightly though. The Windows RT operating system is a strange hybrid. It can neither run WP8 apps nor Windows 8 desktop programs. Rather it runs specialist Windows 8 apps. This immediately puts it at a disadvantage to Android and iOS users who can use the same apps on their tablets or phones. Or to laptop users who can use their same programs on their desktops also.
I do, however, think this product has a chance of succeeding if it is a beautiful piece of engineering at a competitive price point. It may not sell many, but it will raise the market's awareness of Nokia's tablet line, just like the Lumia 800 did for Nokia's phone range. Now, there is an even bigger 'if'. If Nokia succeeds in ensuring sufficient interoperability at the back end with its phone devices, it may be able to build this in its existing factories with sufficient ease to achieve economies of scale and to put it under the auspices of its smart devices division. If it does all this, CAPEX will be low enough for Nokia to even make money off this device off just 1 million sales per quarter.
Conclusions:
Nokia's target would be for the above 4 devices to achieve sales of 28 million per annum. Combined with sales from its mid-low range Lumia phones, this should push it over the 50 million mark. This will help it achieve sufficient economies of scale to gain a sustainable foothold in its highly competitive market and start returning juicy dividends once again.
Do I feel it will achieve this? Well going back to the original Price-Quality matrix, Nokia's position will have been utterly transformed. It will have turned its weakness into a strength, having 4 flagship products giving it a broader flagship portfolio than any of its competitors. And, ultimately that will help it drive its revenues up. 50 million sales in 2013 is highly unlikely, however, this is a long-term figure Nokia will definitely be aiming for.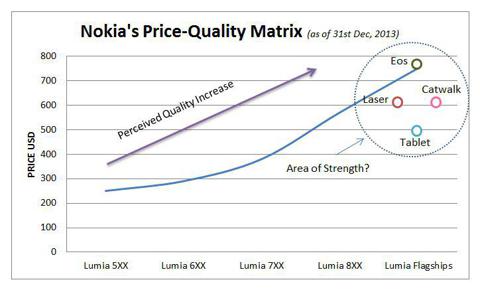 Whilst this piece may seem overly laudatory, I've discussed a specific piece of Nokia's strategy which I believe has a high likelihood of going well. In the next article I write, I want to touch upon what Nokia's alarming decline of feature phone sales in Q4 2012 and what that means for its future strategy.
Disclosure: I am long NOK. I wrote this article myself, and it expresses my own opinions. I am not receiving compensation for it (other than from Seeking Alpha). I have no business relationship with any company whose stock is mentioned in this article.