As we have seen, improved property fundamentals and compressing capitalization (CAP) rates have driven a strong rally in commercial real estate valuations. Conversely, stronger property valuations have translated to robust performance among many REITs, which outperformed the general equity markets over a 5-year holding period.
Cap rates for Class A assets have compressed across all major property sectors. Driven by historically low interest rates, the risk premium - or difference between cap rates and the 10-year Treasury yields - has reached an all-time high in most all asset sectors.
One way that REIT investors can determine the best property sector performance is to examine cap rates between product types and markets. By analyzing the valuation trends investors can find the REITs that are likely to produce the best risk adjusted returns.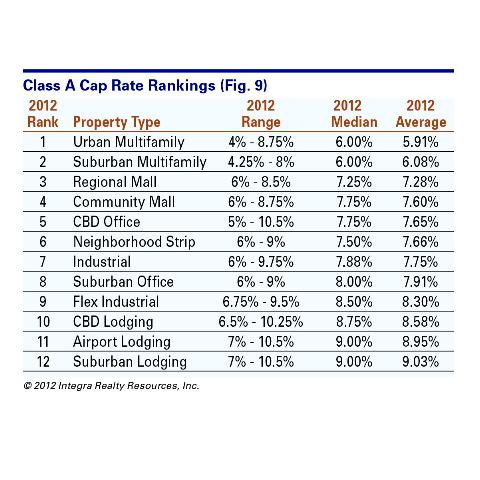 Retail REITs Offer a Compelling Value Proposition
In my opinion, the shopping center sector is one of the best investment categories to benefit from stable income and continued growth. The value proposition for the sector is similar to the bond-like attributes of the Triple-Net sector but the growth component is more rewarding since the smaller shopping center tenants increase rent annually.
As the IRR Viewpoint 2013 report explains:
After being one of the most hard hit sectors during the downturn, the retail property sector continued a strong recovery in 2012. Grocery anchored retail properties - especially infill urban locations - were one of the hottest investment assets across any real estate sector.
As the IRR Viewpoint snapshot below illustrates, the retail sector recovery is most evident when observing the above average transaction volumes in most major markets. Some of the best markets with the best expansion metrics include Austin, Long Island, Los Angeles, New York, Philadelphia, Phoenix, Portland, Salt Lake City, San Diego, and Washington DC.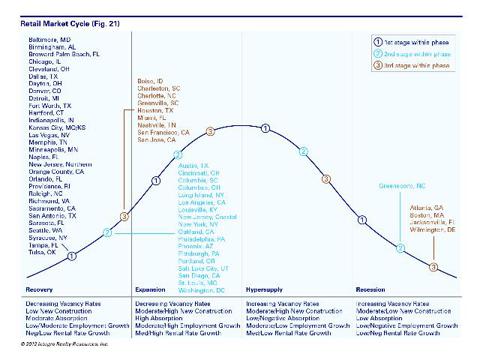 The Western region continues to have the lowest going-in cap rates as I have witnessed a few net lease transactions that have traded in the low 4s. Overall retail cap rates are approaching all-time lows, while risk premiums are exhibiting all-time highs (driven by low US Treasury yields).
The chart below (provided by IRR Viewpoint 2013) provides a terrific illustration of the window in which the retail risk premium has opened. The blue lines represent the 10 Year Treasury spread and as you can see, there is a risk premium of just under 6% (in 2012). This means that there is an extraordinary opportunity for investors to capitalize on the arbitrage (risk adjusted returns) driven by today's supply and demand fundamentals.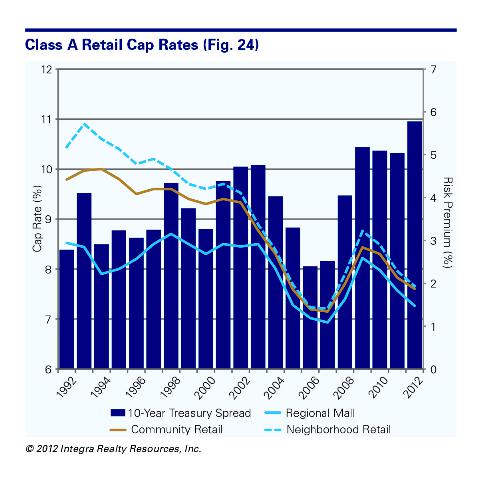 One way that REIT investors can identify the best opportunities is to filter out the most favorable markets. As I explained in a recent Forbes article (Picking an Intelligent REIT with an Ownership Orientation):
Certain things are true of all commercial properties; their value and profitability depend on property- specific issues, such as location, lease revenues, property expenses, occupancy rates, and tenant quality. It is important that REIT investors also understand property cycles and how they affect local economies. That knowledge or "owner orientation" is an essential element and the irreducible core of value investing.
Based on transaction volumes and average prices per square foot, Los Angeles, Chicago, Manhattan, DC, and Boston are deemed to be most attractive retail cities. Here is a snapshot of the Top 25 Markets by Transaction Volume (source: IRR):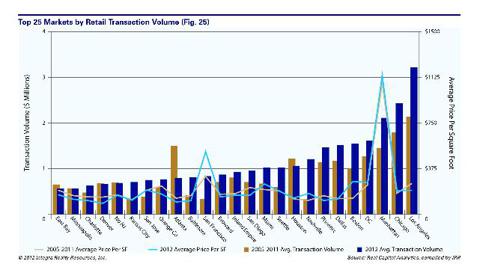 Picking Retail REITs with Strong Market Growth
As you can see below, I have prepared a chart that illustrates the geographic concentration for 13 REITs. This chart includes all REITs with the highest and second highest concentration of properties by state. By analyzing the REITs with the highest geographic concentration, I can determine whether there is an opportunity to invest in the REITs that have the best growth potential based upon the cyclical market conditions (as I previously discussed).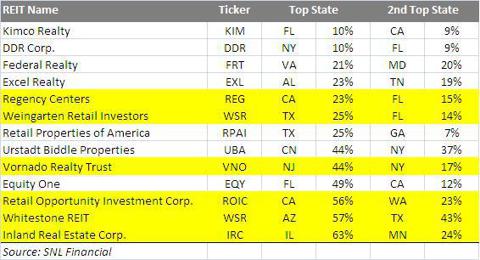 Of the 13 REITs screened, I highlighted 6 that appear to offer the most compelling market-level growth. Some of the REITs not highlighted, like Kimco Realty (NYSE:KIM) or DDR Corp. (NYSE:DDR), as they are not as concentrated since they offer more geographic diversification, thus muted by growth characteristics that you see with the more geographically concentrated REITs.
On the other hand, geographic exposure in a dying market can also be counterproductive and that is why I did not include Equity One (NYSE:EQY) or Urstadt Biddle (NYSE:UBA). Intelligent investors must be able to "acquire that necessary trace of wisdom" to spot properties located in markets "worthy of ownership".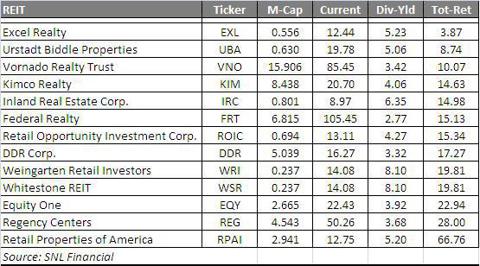 In previous articles I have written about the top 3 REITs with the highest geographic concentration. These REITs, Inland Real Estate Corp. (NYSE:IRC), Whitestone REIT (NYSEMKT:WSR), and Retail Opportunity Investment Corp. (NASDAQ:ROIC), are all highly concentrated retail REITs due to their strategically geographically-focused investments in markets with strong growth potential.
The Windy City REIT
As I wrote in a recent article:
Inland Real Estate Corporation is one of the Midwest's largest owners and operators of community, neighborhood, power and lifestyle shopping centers and single-tenant retail properties, with nearly $2 billion in asset acquisition value. The Oak Brook-based REIT owns interests in 150 properties totaling approximately 15 million square feet of space, many of which are grocery-anchored centers.
Approximately 60% of Inland's square footage is located in the Chicago metropolitan area (and northwest Indiana) and according to IRR Viewpoint, the Chicago market lost around 12.5% in value between 2009-2012. Conversely, IRR states that it will take 3 years for the Chicago market to balance valuations.
IRC has a current market cap of $801 million with shares trading at $8.97. The dividend yield is 6.35% and the P/FFO is 12.6. This could be a good buy as the Chicago-land market continues to recovery some of the wind lost from the Great Recession.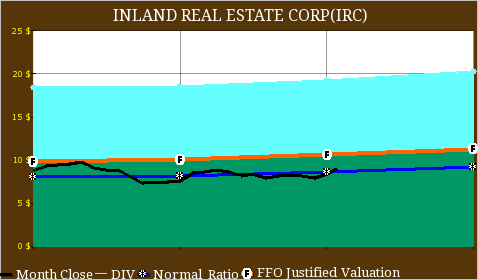 The Sharp Shoot'n REIT
As I wrote in a previous article:
Whitestone REIT seeks to expand its geographic diversification by strategically acquiring commercial properties in high-growth markets. The company's acquisition targets are located in densely populated, culturally diverse neighborhoods, primarily in and around Phoenix, Chicago, Dallas, San Antonio and Houston, five of the top 15 markets in the U.S. in terms of population growth.
Whitestone has around 47 properties (Q3-12) with the majority of the retail portfolio in Arizona (57%) and Texas (43%). The primary growth driver for Whitestone has been the company's strategy of acquiring shopping centers substantially below replacement cost. For example, Phoenix - a city hit hardest during the Great Recession - has a 2012 vacancy rate of 20% and commercial property values decreased by the same amount (20%).
However, according to IRR, Phoenix has forecasted value increases of around 10% from 2012-2014. In turn, Whitestone should see continued growth as the recovery in Phoenix (and Whitestone's home base of Houston) make the REIT's investment strategy promising for the next few years.
Whitestone has a P/FFO of 14.0 and the shares are trading at $14.08. The $237 million (market cap) REIT has a current dividend yield of 8.10%.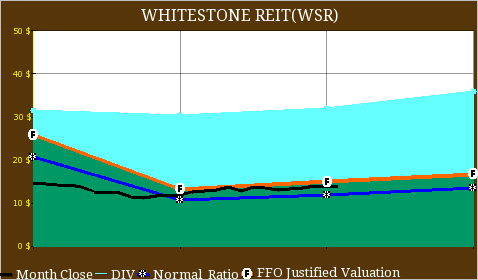 The West Coast REIT That Rocks
As I wrote in a previous article:
Well the stars have lined up perfectly for Retail Opportunity Investment Corp. , and the West Coast "sharp-shooting" REIT should "make the day" for any shareholder or potential investor. There appears to be considerable growth ahead for ROIC as Stuart Tanz (and his veteran gunslingers) has made great strides in building a West Coast shopping center portfolio differentiated by focused high-quality value-add opportunities.
ROIC has assembled a portfolio of shopping centers consisting of 38 properties (encompassing approximately 4.1 million square feet of gross leasable area), geographically diversified and balanced across the West Coast. 11 of the properties (27% of GLA) are located in the southern California (primarily Los Angeles and San Diego). 10 of the properties are located in the northern California region (28% of GLA), and 9 properties (23% of GLA) are located in the Portland area.
By selectively focusing on some of the best markets in the nation, ROIC has tremendous potential to ride out the wave of growth. Orange County, San Diego, Portland, Oakland, and Los Angeles are all exceptional markets that enjoy high absorption, high employment growth, and strong rental growth.
ROIC should continue to ride the wave of recovery. Shares are trading at $13.11 with a current market cap of $694 million. The current dividend yield is 4.27%.
I also like Vornado Realty Trust (NYSE:VNO), Weingarten Realty Investors (NYSE:WRI), and Regency Centers (NYSE:REG). All three REITs have exposure in stronger trade areas where I believe the prospects for growth are very good. Vornado has considerable retail inventory in New Jersey (44%) and New York (17%) and Regency and Weingarten have strong growth potential in California and Texas.
Picking the Most Intelligent Retail REITs
Although consumer spending has recovered from the Great Recession and is growing again, the growth rate is well below 20-year historical averages as consumer sentiment remains weak. This trend has contributed to investor preferences as the retail sector has shifted away from power centers to more resilient discretionary-based assets. These necessity-based anchored centers are less dependent on discretionary spending and favor grocery-anchored and need-based assets.
By utilizing market-based research, investors can benefit from the trends that drive growth and assist you by making the most intelligent REIT picks. As you continue your research it is important to consider other fundamentals such as vacancy rates, new product supply, employment growth, and inventory absorption. By researching these life cycle phases, investors can filter out the leading changes in market conditions and enable you to make the most intelligent REIT investments.

Source: Integra Realty Resources, SNL Financial
Disclosure: I have no positions in any stocks mentioned, and no plans to initiate any positions within the next 72 hours. I wrote this article myself, and it expresses my own opinions. I am not receiving compensation for it (other than from Seeking Alpha). I have no business relationship with any company whose stock is mentioned in this article.