Capital One Financial Corp. (NYSE:COF) offers a variety of financial products and services which include credit cards, business loans, auto loans, as well as consumer and commercial banking services. Capital One shares were trending higher in early 2013, and just recently reached around $62. However, after the company announced earnings, the stock took a big hit and it now trades around $56 per share. This appears to be a solid buying opportunity for a number of reasons. First, let's take a look at the earnings report which caused a significant selloff in the stock.
The company announced earnings of $1.41 per share for the fourth quarter. This was below consensus estimates of $1.58 per share. The quarter was impacted by higher loan loss provisions and higher operating expenses. These results were a short-term disappointment, but the pullback in the stock seems excessive, and it was exacerbated by some analysts cutting price targets. For example, analysts at Janney Capital cut the price target from $67 to $63 per share.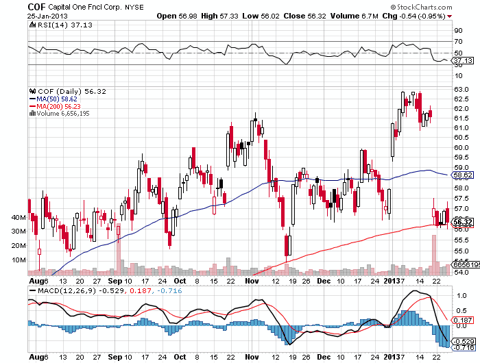 One reason to consider buying the stock now is because it is trading at the low end of its recent trading range and near a key support level (as shown on the chart) which is around $56, right around the 200-day moving average. This appears to be an area where plenty of investors are willing to buy and that means the stock might not have much downside left.
Capital One shares look undervalued when you consider that analysts expect the company to earn about $6.53 per share in 2013. That puts the price to earnings ratio near 8.5 times. This is a significant discount to the average stock in the S&P 500 Index (NYSEARCA:SPY), which now trades for about 15 times earnings. This stock also appears undervalued in terms of book value which is about $68.45 per share. Finally, Capital One looks cheap compared to other companies in this industry. For example, American Express (NYSE:AXP) is expected to earn $4.75 per share in 2013, (which is significantly less than estimates of $6.53 for Capital One) and it trades for over $59 per share.
With many of the major market averages trading near record highs, it's getting tougher to find value in this market. That is another reason why it makes sense to buy stocks that drop over short-term disappointments like an earnings miss, especially when the company has a solid business model like Capital One. With the economy showing signs of strength in housing and some improvement in the job market, this could lead to increased consumer and business demand for Capital One's financial products in the future and it could also lead to lower loan losses.
Here are some key points for COF:
Current share price: $56.32
The 52 week range is $44.30 to $62.92
Earnings estimates for 2013: $6.53 per share
Earnings estimates for 2014: $6.92 per share
Annual dividend: 20 cents per share which yields .4%
Data is sourced from Yahoo Finance. No guarantees or representations
are made. Hawkinvest is not a registered investment advisor and does
not provide specific investment advice. The information is for
informational purposes only. You should always consult a financial
advisor.
Disclosure: I have no positions in any stocks mentioned, and no plans to initiate any positions within the next 72 hours. I wrote this article myself, and it expresses my own opinions. I am not receiving compensation for it (other than from Seeking Alpha). I have no business relationship with any company whose stock is mentioned in this article.