U.S. equity REITs raised $59.41 billion in 2012, $26.49B of which was done through issuance of common equity.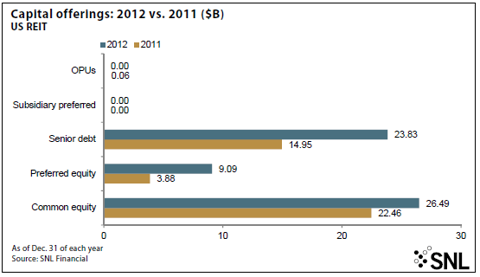 The pace is even more vigorous in 2013, with $2.55B already raised by January 11th, $795.7mm of which was through common issuance.
It is absolutely imperative for investors to know whether these offerings are accretive or dilutive to shareholders. This article will equip you with the tools to find out.
First, we will introduce the technique itself. Mathematical determination of FFO/share accretion comes down to whether the cap-rate on assets purchased with the capital raised is sufficient to overcome the FFO/share lost from share dilution. Essentially, an offering is accretive to FFO/share if and only if it falls above the line in the graph below.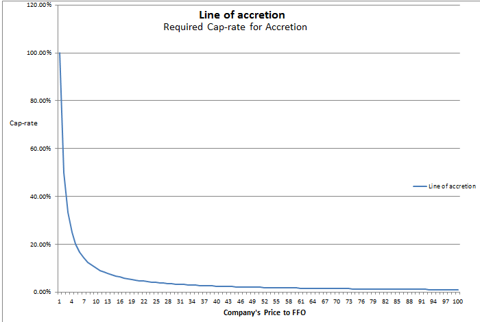 For example, if a company issues equity at a price that would equal a P/FFO of 20, it would have to achieve at least a 5% cap-rate on acquisitions. Equity issued at a P/FFO of 10 must get a 10% cap-rate and that issued at a multiple of 5 has to get a 20% cap-rate for accretion. It is quite simply an inverse curve.
Heavily valued companies should issue equity more frequently as the asset purchased can be accretive even with a mediocre cap-rate. Realty Income (NYSE:O) provides a perfect example of this. On January 22nd, it closed on the absorption of American Realty Capital Trust (formerly ARCT) at a price of 0.2874 shares of O + $0.35 per share of ARCT. This equated to a purchase price around $13.00/share of ARCT. Based on American Realty Capital's former FFO, we can establish a cap-rate of the acquisition at around 5.78%. Traditionally, 5.78% is a terrible cap-rate for a retail acquisition, but the tremendously expensive market price of the O shares used to buy it actually makes it accretive to FFO. In fact, the 22 P/FFO multiple of Realty Income means an acquisition funded with equity issuance only needs to have a cap-rate of 4.55% to be mathematically accretive to FFO.
Clearly this acquisition, despite being at a low cap-rate, was accretive to O's FFO/share. But how do we determine the magnitude of accretion? Take the former EROIC (earnings return on invested capital) + the spread in basis points between the former EROIC and the cap-rate multiplied by the acquisition volume relative to the new market cap. In the case of Realty Income, its EROIC was around 4.55%, making the spread between it and the acquisition 123bps. Acquisition volume was around $3B, or 38% of the $7.8B post-merger market cap. That's 4.55% + (123bps X $3B/$7.8B) = 5.02%. O gained about 47bps to its EROIC making it now trade at a multiple around 20 as opposed to 22. That is a material amount of accretion for an acquisition with an arguably poor cap-rate. Now that we have introduced the technique, let us use it to analyze equity issuance that is presently relevant, such as those which have happened in 2013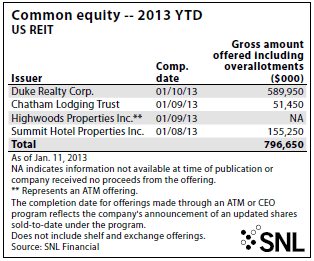 Duke Realty Corp. (NYSE:DRE)
On January 15th, Duke Realty closed on the offering of 41.4mm shares of common equity at a price of $14.25 for total proceeds around $590mm. The $14.25 price represents a 14.25 P/FFO which translates to a minimum cap-rate for accretion of 7.02. Proceeds from the offering went to redeem all 7.118mm shares of its 8.375% Series O preferred. It was redeemed at par value, so it can be considered an 8.375% cap-rate, which creates a spread of 134bps.
Most equity offerings have aspects to consider such as its effect on leverage or portfolio quality, but this was a straight up trade of common equity for preferred equity. As such it had no effect on debt-to-equity ratios or the portfolio, so we can definitively say that it was not just mathematically accretive to FFO/share, but overall beneficial to shareholders.
The time of the offering would have been an excellent entrance point into this industrial and medical office company, but the window has unfortunately closed. Its market price has risen a full 7% since the offering, effectively absorbing the boost to FFO in terms of value.
Summit Hotel Properties (NYSE:INN)
Summit had a fairly tricky situation to deal with. As one of the cheapest companies in the cheapest REIT sector, it issued undervalued equity. At an offering price of $9.00 it was sold at a price to FFO of 12.58, so accretion requires a cap-rate of at least 7.95%.
On 1/23/13, INN announced the acquisition of "the Hyatt Portfolio" which consisted of 3 hotels. The $36.1mm purchase price suggests an EBITDA yield of 10.5%-11.5% which for REIT hotels is functionally the cap-rate. Clearly this acquisition exceeded the line of accretion, but it is not yet enough to justify the offering. Since $155.250mm was raised and only $36.1mm used, it is still at a FFO/share deficit as compared to before the offering. That being said, the hotel industry is gaining momentum and Summit may be able to spend the rest accretively. If INN makes another strong cap-rate acquisition in the coming weeks without a change in market price, I believe it would be an excellent time to pick up some shares.
Chatham Lodging Trust (NYSE:CLDT) and Highwoods Properties Inc. (NYSE:HIW)
I group the analysis of these offerings together because they represent limitations to this analytical technique.
Highwoods offered equity through an at-the-market or ATM, such that the shares could be slowly bled out. Without a set offering price, we cannot precisely determine the requisite cap-rate for accretion.
In contrast, Chatham Lodging had an announced offering price and volume, but used the proceeds to make purchases of an undisclosed cap-rate. On January 8th, CLDT bought the Waterfront Hampton Inn in Portland, Maine for $28mm. It came with an adjacent parcel of land which Chatham believes will be of value for development or sale. Since this property was built in 2011, it does not have enough earnings precedence to even estimate a cap-rate. Jeff Fischer (Chatham's CEO) has a reputation as a skilled and discretionary acquirer, so I presume the acquisition was intelligent, but I would be hesitant to declare the offering as accretive to FFO/share until further information is disclosed.
So far, all of these equity issuances have been accretive or potentially so, and this is not by chance. It is the fiduciary duty of the company executives to ensure equity is only issued for good reason. However, there is the occasional offering that is dilutive to FFO/share, and these are the ones investors really need to avoid.
Senior Housing Properties (NYSE:SNH)
On 1/23/13, SNH priced the offering of 11.5mm shares of common equity at $23.80 for proceeds of around $273.7mm. I find two huge faults in this issuance: the low price at which it was issued and the lack of legitimate impetus to raise capital.
1) The issuance price:
At $23.80, these shares represent a price/FFO of 13.58 which demands a minimum cap-rate of 7.36% to be accretive. Companies generally do not issue undervalued equity with exceptions like Summit that issue cheap shares due to the truly spectacular cap-rate acquisition they are able to attain. Such cheap equity issuance requires a supreme outlet for capital which I do not think SNH has as will be shown in point 2.
2) No legitimate impetus for issuance:
Typical reasons that a company would raise equity are for acquisitions, extinguishment of debt, or redemption of a preferred. SNH does not seem to be positioned to do any of these. Its preferred was already redeemed early in 2012, and it has very little debt coming due in the near-term. Perhaps it is going to pay off expensive debt so as to save on interest payments? Well, here is the entirety of SNH's debt.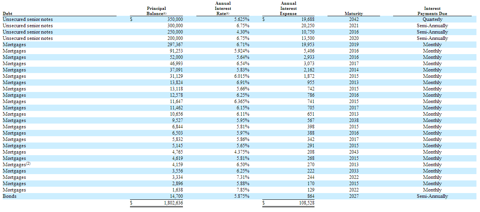 Only 1 item registers at an interest rate above the required accretive rate of 7.36%, and that's only $1.638mm. Clearly there is no way that SNH can use this offering to beneficially pay off debt.
Perhaps it has a sturdy acquisition pipeline for which it needed to raise the capital? Well, in the past 3 months, it has only made one acquisition. On December 3rd 2012, SNH purchased an MOB for around $9mm. $9mm does NOT require an equity issuance of $273mm and SNH has made no announcement of deals in the works.
I recognize that it is possible that SNH has a legitimate reason for this offering that simply has not been announced yet. But I find it far more likely that it is simply a method to increase the company size and consequently the management fee RMR is awarded. This issuance is not an isolated event, but rather a long trend of RMR diluting shareholder value.
| | | | | | | |
| --- | --- | --- | --- | --- | --- | --- |
| Year | 2007 | 2008 | 2009 | 2010 | 2011 | Present |
| FFO/share | $1.62 | $1.67 | $1.67 | $1.66 | $1.64 | $1.75* |
| Shares outstanding | 88.6mm | 114.4mm | 127.4mm | 141.9mm | 162.6mm | 188.1mm |
*LTM FFO
Since 2007, millions of shares have been dumped out every single year and FFO/share has remained stagnant, increasing only from $1.62 to $1.75.
In contrast, we can look at the FFO/share and shares outstanding over the same time period of a well-managed healthcare REIT, LTC Properties (NYSE:LTC)
| | | | | | | |
| --- | --- | --- | --- | --- | --- | --- |
| Year | 2007 | 2008 | 2009 | 2010 | 2011 | Present |
| FFO/share | $1.99 | $1.91 | $1.89 | $1.83 | $2.01 | $2.27* |
| Shares outstanding | 22.9mm | 23.1mm | 23.3mm | 26.3mm | 30.3mm | 30.5mm |
*TTM FFO
As the other pure-play healthcare REIT on the senior housing space, LTC is the most applicable competitor of SNH. Since fiscal year 2007, SNH's FFO per share has grown 8.02% while LTC gained 14.07%. Additionally, SNH's shares outstanding swelled 112.3%, while LTC only issued an additional 33.19%.
None of this evidence is sufficient to prove a breach of fiduciary duty and it is very possible that there is some undisclosed legitimate reason for the issuance. However, in my opinion, investors would be wise to stay far away from SNH's dilutive offerings.
Conclusion
As the economy progresses, equity issuance has become increasingly prevalent, and having the tools to analyze an offering provides investors with a unique advantage. In some cases there is no way to measure accretion until all information is disclosed. Numerous opportunities arise in which the market misjudges offerings and the investor with superior knowledge and skills can capitalize.
Disclaimer: This article is for informational purposes only. It is not a recommendation to buy or sell any security and is strictly the opinion of the writer.
Disclosure: I have no positions in any stocks mentioned, and no plans to initiate any positions within the next 72 hours. I wrote this article myself, and it expresses my own opinions. I am not receiving compensation for it (other than from Seeking Alpha). I have no business relationship with any company whose stock is mentioned in this article.