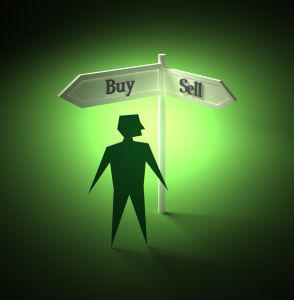 Cyberonics (NASDAQ:CYBX) just tanked, dropping 25% in eleven days, from its all-time high of $57+ to under $43. The apparent cause? Blowing The Whistle On Cyberonics - a short-seller report that criticizes the company on many levels, including fraud. While the company countered that the report was incorrect (Cyberonics Fights Back Against Short-Seller's Allegations), that rebuttal fell on deaf ears, and the stock closed the week near its low.
Because Cyberonics is one of my special growth holdings, I decided to tackle the ~9,000 word report. Based on my first findings, I decided to increase the position to 150% of normal, buying the additional shares ~$44-1/2. More analysis increased my confidence further, so I bought again late Friday ~$43, increasing the position to 200% of normal.
My view is that the report is overly focused on the dark side - i.e., what could go wrong will go wrong. Instead, I believe the stock likely will return to its fundamental-based growth status. Because the nature of short selling is fast turnover (drops tend to be over quickly), there is also the potential for a quick snapback. And, as we know with percentage arithmetic, the opposite of a 25% drop is a 33% gain.
What you should want to know
I expect you have three questions regarding a positive story in the light of Cyberonics' plummet and the short-seller report's litany of bad stuff.
First, why you should be interested in Cyberonics.
Second, what is my goal in owning CYBX?
Third, can that terrible short-seller report really be ignored?
ANSWER #1 - Why should you be interested in Cyberonics?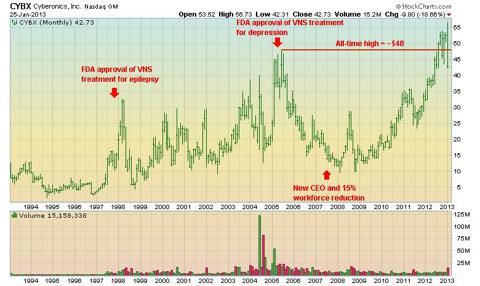 (Stock chart courtesy of StockCharts.com)
Cyberonics is a well-managed growth company in a specialized field that combines two hot areas: healthcare and technology. Currently the primary source of revenues is U.S. sales of its technology ("Vagus Nerve Stimulation" or "VNS"), used to treat epilepsy. Because the products are expensive and require surgical implantation, they are used for patients who get minimal or no relief from drug treatment. (The FDA VNS approval requires first attempting drug therapy.) Studies have shown that about 1/3 of patients fall into that "refractory" epilepsy group. Besides VNS, an alternative treatment is brain surgery (if there is a single, localized spot that can be removed).
Note: The above applies to patients 12 and over because early childhood epilepsy diminishes or disappears for many.
Note: Epilepsy is perhaps more widespread than realized. The CDC estimates that 2.2 million in the U.S. are affected by epilepsy. The Epilepsy Foundation observes that prevalence of epilepsy is greater than autism spectrum disorder, cerebral palsy, multiple sclerosis and Parkinson's disease combined. Worldwide, WHO estimates 50 million are affected, with 80% (40 million) living in the developing regions, adding that, while epilepsy responds to treatment about 70% of the time, about three-fourths of affected people in developing countries do not get the treatment they need.
Besides epilepsy, other benefits from the Cyberonic's patented processes have emerged and are in various stages of study. These studies take two forms: Treatment effectiveness by the scientific community, and cost-benefit effectiveness by insurance carriers and national health plans (e.g., the U.K. and Australia). As a result, the Cyberonics' FDA-approved depression treatment product sales are small currently. Likewise, international sales for the company's products are at the beginning stage.
Cyberonics is now established in the healthcare field - a brand name that can foster future growth. Financially, the company's sizeable free cash flow has allowed it to ramp up R&D, pay off long-term debt (potentially dilutive convertible bonds), move from lessee to owner of properties, and build its cash/investment reserves.
Cyberonics appears to be well managed with the capacity to move forward. Importantly, executives' financial interests match shareholders. As with most growth companies, a significant part of executive pay is option awards. Moreover, the executives have significant CYBX holdings.
All in all, Cyberonics looks to be an attractive growth company in the healthcare + technology field. It possesses desirable products, untapped markets, a brand name, strong finances and sound management. Today, it also has a rare investor benefit: A sharply reduced price (AKA, an attractive valuation).
ANSWER #2 - What is my goal in owning Cyberonics?
Last spring, I felt we were just about done with the Great Recession and mega-fear market swings, so investors would begin focusing on growth and success - i.e., a "normal" market. I described my thoughts in 3 Steps To Winning In The New Bull Market.
In normal markets, I prefer to pursue two types of stocks.
First, I look for those companies whose stocks are reaching new highs and possess a good possibility for growth. Often these are viewed as "over-priced" stocks. The problem with that view is that in normal markets, most stocks are priced appropriately. This fact traps many value investors in lower-priced stocks that then underperform. Its better to pay up for growth because it tends to get underestimated, thereby producing better returns when the results come in.
Second, I look for special situations. All markets can offer up the occasional value play due to bouts of uncertainty. My latest foray into this area just ended, in which I invested and traded five non-Apple stocks I felt investors were dismissing by an over-focus on Apple.
So, now to Cyberonics. I identified this new-high, growth stock on its run-up to ~$53. I then bought on its dip at just under $49 in October. After backing and filling, it started its climb to new highs, joining my other holdings. So far, so good.
Then, it left the fold, beginning to weaken even as others strengthened. That started its decline, culminating in last week's sell-off. As I said in my intro, through analysis of the short-seller report that seems to have caused the ruckus, I now have added label of "special situation" to CYBX. Therefore, I decided that, since it now fits both my new-high-growth and special-situation requirements, I would double the position. One-half the purchase was made at about $44-1/2; the other half at $43+.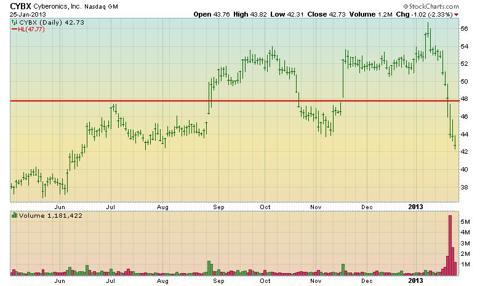 (Stock chart courtesy of StockCharts.com)
My CYBX goal has two parts: First, to sell the "special situation" portion on my expected run-up as the short-seller report fades from importance, and the stock returns to a more normal valuation. Then, it's back to holding my original position in anticipation of new highs. (Naturally, that plan can be disrupted, and I could end up selling sooner or at a loss.)
ANSWER #3 - Why do I think the short-seller report can be ignored?
After reviewing the report and support materials, along with my own added research and fact checking, my confidence in Cyberonics actually increased. For example, to support their notion that Cyberonics' future is limited, the authors have a table listing papers purporting to express doubts. In reading through them, however, I became more bullish. Here's why…
International expansion - Overseas sales have been stagnant, yet the potential in epilepsy treatment, alone, is enormous. Cyberonics is positioning itself to capture the opportunity, meanwhile running a loss on the operation. So, why the optimism?
The two papers mentioned in the report from the national health service organizations - Australia (2008) and the U.K. (2010) - explain why they are not yet paying for the Cyberonics' epilepsy products. The reasons have to do with wanting more proof before they open the floodgates, not about finding flaws. Meanwhile, in the U.S., Medicare and private insurance companies approved payment some time ago, hence Cyberonics' good growth over the past few years. We should expect that it's only a matter of time before the 30+% of non-U.S. epilepsy patients also gain access to the treatment. Remember that the FDA approved the original Cyberonics' device for epilepsy in 1997. Acceptance (and payment) eventually followed.
Depression treatment - A number of the studies cited in the report discuss the promising, yet not fully proven, efficacy of VNS for treating serious depression. The studies continue to come and, if they follow the epilepsy trend, Medicare and insurance company payments will eventually follow, opening up the market.
Further into the future - Other ailments are being studied because of observations that VNS could have beneficial effects beyond those currently known. (This is why the "nobody really understands how VNS works" is both true and a positive. It opens up possibilities currently unknown.)
In addition, the limits placed by the FDA on who can be treated with VNS might be relaxed. Studies are finding that perhaps epilepsy patients who are getting benefits from medications might be better off with both drugs and VNS. Likewise, there is the promise of being able to reduce drugs and improve quality of life through the addition of VNS.
Note: During my 49 years of investing, including 30 years in institutional fund management, I have read/heard and written/given many investment analyses. From that experience, I believe the authors (who are anonymous) are not professional analysts, much less healthcare analysts (a special breed). Their analytical approach, use of support material and conclusion methodology is filled with passion, but needs more objectivity and depth.
The bottom line
Cyberonics appears to be an attractive growth company operating in two desirable industries: healthcare and technology. The recent dramatic stock price drop seems to be the result of the short-seller report. However, the issues cited in the report actually support the company's future growth prospects. Consider any doubts as a symptom of evolving technology linked to people's health. Cyberonics has proven its capabilities, and its products are proving their efficacy, supported by scientific studies. Importantly, the company has now reached the point of being a known brand in the industry with untapped markets, proven products, sound management and strong finances. To me, future prospects look good.
So, once again, what about that short-seller report? Two Wall Street observations should give us the confidence to be bullish:
First, "Bulls make money, bears make money but pigs get slaughtered" - the underlying fact that supports this proposition is that few investors can alternate between bull and bear. The two think differently: Bulls look for strength and growth, bears look for weakness and shrinkage.
Second, bulls can be patient, knowing the worst that can happen is to have their position go to zero, while their potential gains are unlimited. Bears, on the other hand, need to flit. Potential gains are 100% if the stock goes to zero, but possible losses are unlimited if it rises.
A final thought: Look ahead
Think about the time when the short-seller report is a distant memory, and investors are focused again on the company's fundamentals and prospects. Now, imagine the international epilepsy VNS markets opening up, U.S. VNS depression treatment becoming accepted and new study results showing added possibilities (meaning new potential growth avenues for Cyberonics). Isn't it just possible that this name brand (in the healthcare field) could become a favorite stock among investors?
Disclosure: I am long CYBX. I wrote this article myself, and it expresses my own opinions. I am not receiving compensation for it (other than from Seeking Alpha). I have no business relationship with any company whose stock is mentioned in this article.
Additional disclosure: Positions held: Long U.S. stocks