Off-shore drilling has been a hot topic over the past few years, whether in the national conversation about energy production, oil platform disasters such as BP's (NYSE:BP) Deepwater Horizon, or, more recently, the grounding of Royal Dutch Shell's (NYSE:RDS.A) drilling ship Kulluk in the northern reaches of Alaska. Among the under-reported stories related to off-shore drilling are the serious advances oil and gas producers and component suppliers have made to deliver a commercially viable subsea compression system that would render traditional oil platforms obsolete. The technology would allow oil and gas producers to forgo costly oil platforms, and directly extract, process and export oil and gas from beneath the seabed.
Unfortunately for the oil and gas industry, oil platforms are massive tangible structures which environmental activists can use to shape public debate and prevent the exploitation of the resources within offshore fields. The negative optics of a large oil rig aflame or an oil platform run aground in transit to a rig site can create public backlash against drilling plans, even though a ship running aground is not an uncommon occurrence. As a point of reference there were more than 50 shipping accidents in 2012 worldwide that resulted in either a sinking or a serious grounding of the vessel, and the US Navy has even had to deal with its own ship grounding incident in the past week. Moving facilities to the seabed floor puts offshore oil and gas "out of sight and out of mind" for the general public and removes an arrow from the environmentalists' quiver.
In addition to being lightning rods for bad publicity, off-shore platforms are expensive to manufacture, move to the production field, and operate. Their replacement by unmanned subsea systems requiring a minimum of maintenance and intervention will be revolutionary for the industry and promises savings of between 20% and 50% on capex. Additionally, because of differences in pressure at sea-level and on the seafloor, less power is required to operate the systems and their pumps offer an increased recovery rate. For example, with the introduction of the technology in Norwegian oil company Statoil's (NYSE:STO) declining North Sea fields, the recovery rate is projected to jump from 62% to 74%.
The technology will also be incredibly useful as companies such as BP, Chevron (NYSE:CVX), Conoco Phillips (NYSE:COP), Shell and Statoil begin to venture further into the harsh climes of the northern latitudes. Offshore Arctic fields promise new sources of oil, but present unique challenges for maritime operations, harsh conditions and further scrutiny of environmentalists after the Kulluk grounding. Subsea compression technology will assist oil producers in mitigating some of the risks, both environmental and human, in ongoing operations in the upper reaches of the globe while delivering cost savings to shareholders.
Shell and Statoil are the primary pioneers in subsea compression technology. Below is a rendering of Statoil's proposed subsea compression system. Each system consists of modules for cooling, scrubbing, compressing and pumping the recovered oil and gas from the individual well to a centralized collection point. In Statoil's case this will be a legacy oil platform or recovery vessel that will also provide power to the units. As I will discuss in the next installment of this article, Shell is developing a similar system that will rely on shore-based power instead of an off-shore platform.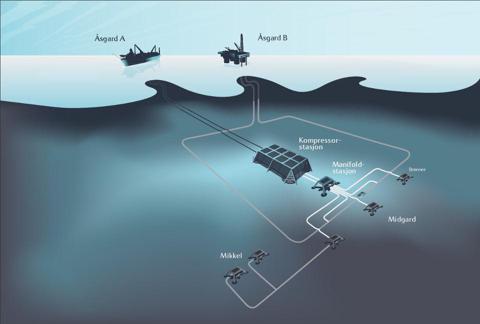 Photo: Statoil
Statoil, along with FMC Technologies (NYSE:FTI), began work on a related project nearly a decade and a half ago in the Lufeng oil field in the South China Sea. The system depends upon a disconnectable Floating Production, Storage & Offloading (FPSO) ship to collect and transport the recovered oil and gas. Statoil's larger new system draws on the lessons it learned from the Lufeng project and moves more of the production components to the seabed floor.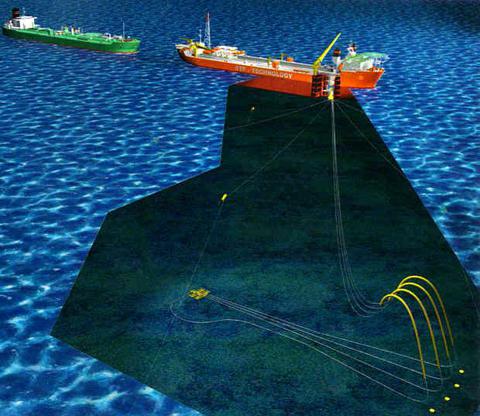 Photo: offshore-technology.com
The second installment of this article will present investors with 9 leaders in the subsea compression technology field and an overview of how each will benefit from commercialization of the technology. These companies present a compelling investment opportunity as orders for subsea equipment is expected to increase by 23% per year through 2015.
Disclosure: I have no positions in any stocks mentioned, and no plans to initiate any positions within the next 72 hours. I wrote this article myself, and it expresses my own opinions. I am not receiving compensation for it (other than from Seeking Alpha). I have no business relationship with any company whose stock is mentioned in this article.