On Wednesday, after the market closes, Facebook Inc. (NASDAQ:FB), the largest social media company in the world, is set to report earnings. There are four reasons why I bought FB calls ahead of the report. Personally, I am long the March 33 calls (currently trading at $1.49) but my thesis applies to all at the money or just out of the money short dated call options on FB.
Better Price Action
Since hitting an all-time low of $17.55 on September 4, 2012, as shown by the chart below, shares are up more than 77%. Interestingly, this move comes despite the end of a lock up period which has increased the float significantly. Simply put, the price action over the past few months has been quite bullish and it appears as though the narrative surrounding FB has changed. While not always the case, strong price action often precedes strong earnings results. That being said, some would argue that the pre-earnings rally may mean that even if FB beats earnings estimates, traders may decide to take gains and sell the news. I will go on to explain why I do not believe this will be the case with FB.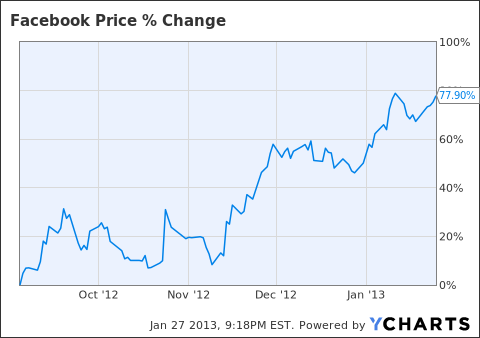 FB data by YCharts
Netflix & Apple
Two of the biggest moves over the past few weeks and months, as shown by the charts below, have been Apple (NASDAQ:AAPL) and Netflix (NASDAQ:NFLX). First, lets take a look at Apple. Shares of the world's largest technology company traded down significantly from the all-time high of $705 reached in September 2012 to $500 before the company reported its first quarter results. Despite, the sharp decline leading up to the report, Apple shares fell sharply following disappointing results.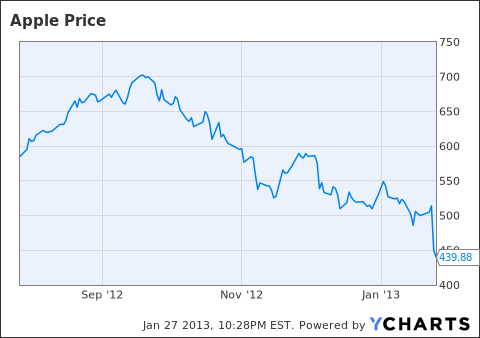 AAPL data by YCharts
On the other side of the coin is Netflix. Shares of Netflix rallied sharply prior to the company fourth quarter earnings report. Despite the sharp move higher ahead of the earnings release, shares surged following the actual announcement.
NFLX data by YCharts
Essentially, there are two key points regarding both Apple and Netflix. Firstly, both stocks continued their pre-earnings trends following their respective earnings releases. Secondly, both cases show that despite making major moves ahead of the earnings release both stocks still moved significantly following the earnings release. I am looking for a similar trend, a continuing of the pre-earnings rally, to emerge in shares of FB following earnings on Wednesday.
Mobile
The driver of Netflix shares following earnings was, without doubt, online subscriber growth. For FB, I think a similar catalyst could come in the form of mobile monetization. One of the reasons why I think FB fared so poorly following its IPO was the company's failure to take advantage of the shift away from the PC to mobile computing. FB CEO Mark Zuckerberg admitted this:
Facebook CEO Mark Zuckerberg acknowledged that the company's stock performance was disappointing. He also made an interesting remark about Facebook's development efforts over the past couple of years: 'The biggest mistake we made as a company was betting too much on HTML5 as opposed to native. It just wasn't ready. The benefits of cross-platform development weren't enough to outweigh the downsides of HTML5, which pulls in data much more slowly than native code, and is much less stable. ... Now, Zuckerberg says, Facebook is focused on continuing to improve the native mobile experience on iOS, as well as bringing a native app to Android.'
Any signs of improvement in the mobile side of the business could lead to a major move higher in FB shares. Respected technology analyst Dan Niles named FB as his top idea for 2013. Niles cited FB mobile ad revenue growth as one of the main reasons for his optimism.
Limited Risk
So, you may ask if you are bullish on FB ahead of earnings why not just buy the stock outright? The answer comes in the form of risk management. While I am confident in my views, I have learned from experience that trading stocks ahead of earnings tends to be risky. FB is especially risky for a few reasons. Firstly, FB is very controversial, meaning there is a lot of emotion-driven trading that goes on which can cause massive moves in the stock. Secondly, as a public company, FB has yet to prove itself, so the response to any earnings miss has the potential to be very strong. Playing FB through options means the risk is defined and limited. No matter how bad the results and how far the stock falls, traders can only lose the premium paid for the options. On the other hand, if FB shares surge, as I expect, call holders will be well positioned to benefit from the move higher.
Conclusion
FB call options, in my opinion, represent a good risk reward ahead of earnings.
Disclosure: I have no positions in any stocks mentioned, and no plans to initiate any positions within the next 72 hours. I wrote this article myself, and it expresses my own opinions. I am not receiving compensation for it (other than from Seeking Alpha). I have no business relationship with any company whose stock is mentioned in this article.
Additional disclosure: I am long FB calls