In another month or so, between March 5 and March 13, 2013, these three mid-size bio stocks-- Arena Pharmaceuticals (NASDAQ:ARNA), VIVUS, (NASDAQ:VVUS) and Amarin Corporation (NASDAQ:AMRN)-- will be reporting quarterly earnings. I chose these three for the simple reason that each one of them is on the buy list of analysts, and still, prices of all three have dropped anything between 8% and 10% in the last five trading days.

I believe that, barring certain unusual situations, stock prices usually start factoring in market expectations at some point in time before the earnings call of the company. I shall attempt to argue whether this has already happened in these three stocks or not. Let's take each company one at a time.
Arena Pharmaceuticals, Inc.
ARNA, a clinical stage biopharmaceutical company, is primarily focused on discovering oral drugs for treatment of diseases relating to cardiovascular, metabolic, CNS and inflammatory problems. Considering there hadn't been an approved weight loss pill for more than 13 years, FDA's approval of Arena's Belviq (active ingredient: lorcaserin) for weight loss worked as a shot in the arm for the company's stock. From $6.42 on June 7 it rose to $11.68 in the run up to the date of approval, July 18, 2012.
On January 23, 2013, the stock fell by 8% -- apparently on concerns that Belviq might not get approved by the EMA, Europe's regulatory body responsible for drug approvals.
The company has drug candidates for treatment of pulmonary arterial hypertension, thrombotic diseases and pain under pre-clinical and phase 1 stages of development. Development of two drug candidates, one for treatment of type-2 diabetes and the other for insomnia, had to be terminated for a variety of reasons. Arena has granted exclusive rights for marketing Belviq in North and South America to Eisai Inc. and to Ildong Pharmaceutical Co., Ltd., for South Korea.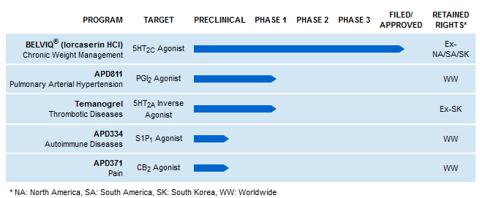 With operating losses of $82 million and a net loss of $119 million in the year ended December 2011, the company has been reporting negative EPS for the last four quarters. At the same time, analysts forecast earnings growth at 53.55% for the period ending December 2012 over last year and 92.89% in December 2013. The forecast for 2014 is even more attractive at 311.36%, and for 2015, they expect earnings growth of 182.58%.
ARNA has nothing much to show on the earnings front. Price movements have mostly been due to positive and/or negative news regarding future prospects of Belviq. In the short term, the stock is expected to react to news, the way it has been for some time now. Analysts expect the stock price to regain its mid-December level of $11 in a year's time.
At the current market price of $8.71, Arena is a good buy as the stock price does not appear to have factored in the earnings forecast and there is a scope for slight appreciation in the run up to the earnings call on March 13, 2013. Long-term investors who can hold the stock for a longer period can hope for a much greater appreciation. Much depends on EMA's approval or disapproval of Belviq and development of the pipeline products and their subsequent FDA approvals.
VIVUS, Inc.
Vivus is engaged in the development and marketing of therapeutic drugs including obesity and related morbidities. Presently, the company offers two FDA approved drugs - Qsymia (for weight loss) and Stendra (for erectile dysfunction). Qsymia for sleep apnea and Qsymia for diabetes are two development programs (both in second phase) that the company is currently engaged in.
The success of Qsymia was shadowed by two major issues, which forced the company to launch a free trial offer.
FDA approved Qsymia under the condition of strict REMS (Risk Evaluation and Mitigation Strategy), a strategy that the regulator mandates so that the benefits of a drug outweigh the known and/or potential serious risks associated with it. Vivus' proposal for modifications to REMS is not likely to be accepted as analysts believe it has never before happened so soon after launch of a drug.
Pricing is a major factor

in the presc

ription obesity drug market. The average cost of a 30-day prescription is $62. There were insurance issues due to which a lot of patients abandoned their prescriptions. Subsequently, the issue was addressed by a few insurance companies but still only 1 out of 5 patients are covered for Qsymia.
On the earnings front, the story of Vivus is no different from that of Arena. The EPS is in negative territory.

However, the book value of Vivus is $2.72 as compared to $0.54 of Arena. At $12.39, the VVUS stock is trading at a price-to-book ratio of 4.77. The company reported a net loss of $46.14 million for the period ended December 2011, which was lower by roughly $20 million from the year prior to that.
In contrast to ARNA, analysts forecast a negative earnings growth (-132.14%) for the period ending December 2012. However, they expect earnings to grow at a healthy average annual rate of 20.40% in the long term. Analysts forecast the stock price to double in a year's time and expect it to reach $25. The 52-week high of VVUS is $31.21.
VVUS has fallen 9.69% in the last five trading sessions, which means that the earnings growth forecast has probably been factored in or investors have lost interest in the stock. Like ARNA, VVUS too is a long-term play.
Investors wanting to choose between the two should pay attention to the following:
While VVUS has an erectile dysfunction drug in its portfolio, Qsymia's REMS and insurance issues are likely to hamper sales.
Arena has nothing apart from Belviq right now. While the company has undertaken a good strategy by handing over marketing rights to third parties, the success of the product has yet to be established.
Amarin Corporation plc
Amarin was originally a small British drug delivery company, which evolved into a cardiovascular drug development company and is now among the more promising biopharmaceutical companies in the US. Vascepa (icosapent ethyl) for treatment of hypertriglyceridemia is Amarin's first FDA approved product, whose market introduction was announced by the company on January 24, 2013. Hypertriglyceridemia refers to high blood level of triglycerides, a blood fat that contributes to cardiovascular problems.
In November 2012, Reuters reported that two firms, Teva Pharmaceutical Industries (NYSE:TEVA), the world's largest producer of generic drugs and British pharmaceutical company, AstraZeneca (NYSE:AZN), were looking to buy AMRN-- which was then valued at $1.6 billion. AMRN stock has since then come down by roughly 30% and with stock trading at $8.39 the company is now valued at $1.26 billion.
AMRN is a loss making company with a net loss of $26.42 million in the quarter ended September 29, 2012. Amarin raised $100 million non-equity funding in December 2012. The company's balance sheet, as on September 30, 2012 showed that it held cash and cash equivalents to the tune of $215.1 million. While there is sufficient funding for hiring marketing professionals, the company still needs to address marketing issues and like Vivus, needs a large-sized partner/s for improving sales, the way ARNA did with Eisai.
The earnings forecast for AMRN is shown here: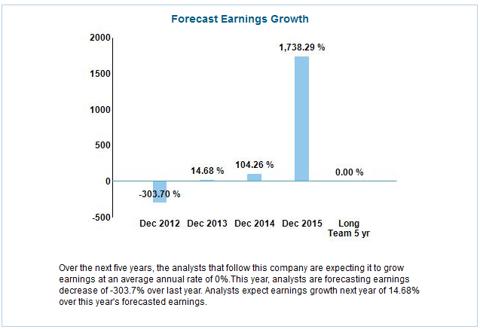 In the end, it is just a matter of how you look at growth prospects of the three companies reviewed. If I had made up my mind to enter this space, I would rather split my investing dollars into three and buy all three.
Disclosure: I have no positions in any stocks mentioned, and no plans to initiate any positions within the next 72 hours. I wrote this article myself, and it expresses my own opinions. I am not receiving compensation for it (other than from Seeking Alpha). I have no business relationship with any company whose stock is mentioned in this article.