John Deere (NYSE:DE) reports earnings on February 11th. The average earnings estimate is $1.39 per share. Since Deere reports relatively late, investors can form a good picture of the macro environment from other agriculture companies who report earlier. With that in mind, here is a quick summary of what the seed and fertilizer producers have reported for their most recent quarter.
During Mosaic's (NYSE:MOS) earnings report, the CEO said that global agriculture trends are very positive and that US farmers have the cash to buy whatever will help them help them obtain the most crops possible.
DuPont (NYSE:DD) reported a better than expected quarter helped by better than expected sales volumes of seed in Brazil.
In Agrium's (NYSE:AGU) better than expected quarter they reported continued strength in grain and oilseed prices. Also, they said that low global grain supplies would result in a strong year in 2013.
Lastly, Monsanto (NYSE:MON) reported that farmers in Brazil and Argentina were upgrading to newer and more expensive corn seed. Also, they noted big gains in their agricultural productivity division.
After looking through these reports, there are a few themes that stick out. First, farmers in the US are doing anything they can to increase productivity - and they have the cash to do so. Next, farmers in Latin America, in particular, are increasingly willing to pay higher prices for things that will increase yield and productivity of their land. And lastly, everyone is talking about low global stockpiles of grains and what that will mean for next year.
To me, all three of these overriding themes mean that the macro picture is set up for Deere to report a better than expected quarter.
Deere itself has a series of negatives weighing on it though. The company has a history of reporting good earnings and giving very conservative guidance which causes the shares to sell off after earnings. Short interest in Deere is at its lowest level since 2011 which means few people expect them to miss this quarter (short interest). Also, the chart below shows that Deere is running into a significant resistance level which was formed from two previous tops within the past 5 years. The dividend yield is also at the lowest levels since the 2008 top. The company has consistently raised their dividend but it has not kept up with the recent rally in shares.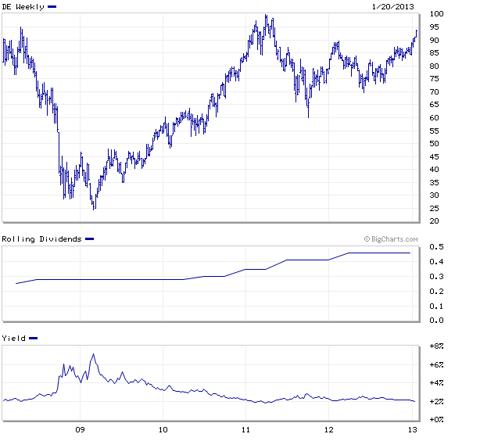 Lastly, the average analyst price target on the company is $96.50 which isn't significantly higher than where it is now. All of these factors tell me that everyone else has seen the positive reports from other agriculture companies and extrapolated the results to Deere. I think this logic is valid but it looks like very positive results are already priced into shares.
From this research, the risk/reward is not tilted into investors' favors to hold Deere through earnings. They do have favorable longer term trends which should impact the company's earnings for many years but it's time for investors to take profits and re-enter at more favorable levels.
Disclosure: I am long DD. I wrote this article myself, and it expresses my own opinions. I am not receiving compensation for it (other than from Seeking Alpha). I have no business relationship with any company whose stock is mentioned in this article.