Some companies are punished so severely by the failure of their lead product candidate that investors will often leave them for dead after totally discounting or not even being familiar with the rest of their pipeline. Rightfully so, small biotech companies often get defined in early stages of development by these lead product candidates. This is often due to the fact that smaller companies unfortunately do not have a deep pipeline to pursue to continue to entice investors, and if they are fortunate to have such a pipeline, are not in a strong financial position to allow the less advanced therapy candidates to advance quickly due to resources focused on the lead candidate. With investor attention and financial resources focused on the lead candidate, a setback or outright failure of the lead program can be catastrophic to the company's share price, with no residual value given to the rest of the pipeline.
I believe investments in forgotten gems like these can be profitable as the valuations can become very attractive due to the over-reaction of the marketplace. The downside risk could be minimal and the upside gains could be substantial as the company's developments finally begin attracting investor attention once again.
Candidate Introduction:
I wish to present one such investment for consideration that is just beginning to re-emerge and garner investor attention once again. Soligenix Inc (OTCQB:SNGX) had a devastating setback in 2011 due to its Phase III clinical trial failure of orBec®, an oral formulation of beclomethasone dipropionate (BDP), in acute gastrointestinal Graft-versus-Host disease (GI GVHD). Share prices did not recover and the company was quietly relegated to investors' "tax write off" status and forgotten. Meanwhile, the company's leaders pushed forward developing the remainder of its platform. They acquired a new product candidate and gained significant traction for new grant funding through extensive and collaborative discussions with government agencies across its promising pipeline.
The Pipeline:
Soligenix has a unique business model that has allowed for a rather diversified development pipeline. It is comprised of 2 business segments, biotherapeutics and vaccines/biodefense. Two key points stand out upon close examination of the product candidates. First, there are 8 development programs. Of these, 6 are being developed either wholly or in part by NIH or FDA funding. For long-term investors this is key, as it means their investment dollars need only be utilized for 2 out of the 8programs. The other 6 represent substantial upside potential with comparatively little shareholder money really at risk. The second pertinent point that catches my attention is the Orphan Drug designations already in place for 4 of the programs with 2 others also likely to garner the potentially lucrative status. For an investor (and the company), assignment of an Orphan Drug Designation is a significant achievement for a company's candidate as it has short-term and longer-term implications for the company's financials. The intent is to provide incentives for companies to develop therapies for small indication target groups. Formerly not desirable indications to target, an Orphan Drug candidate can now prove to be a large share price mover due to less cost prohibitive regulatory filing fees and additional marketing protection during the period of market exclusivity (7 years in the U.S. and 10 years in the EU).
Soligenix's biotherapeutics product line is based on 2 active ingredients, SGX94 and oral BDP (beclomethasone 17,21-dipropionate). SGX942 is being evaluated for its potential in treating oral mucositis in head and neck cancer. The drug is also showing promise in treating gram positive and gram negative bacterial infections, including antibiotic resistant strains. The Phase II clinical trial in mucositis in head and neck cancer trial is expected to begin enrollment in 2H 2013. Success in this trial could be significant as the total mucositis area of need is projected at over 500,000 patients in the U.S. annually and affects about 40% of all patients receiving radiotherapy and chemotherapy. Actual or perceived success in the head and neck cancer mucositis indication could mean success in other or all mucositis indications, a very large area of unmet medical need. Oral BDP is a potent, topically-active corticosteroid that has a positive effect on local GI inflammation. BDP is the active ingredient in SGX203 to treat pediatric Crohn's disease, SGX201 in the prevention of acute radiation enteritis, OrbeShield™ to treat gastrointestinal acute radiation syndrome (GI ARS), and orBec® to treat chronic GI GVHD.
The heavily government funded Vaccines/Biodefense portion of Soligenix's pipeline is proving to be potentially lucrative not only due to the government aid for their development, but also for the potential contracts that the company could obtain from the U.S. as well as foreign governments. Soligenix has 3 Biodefense candidates: RiVax®, a vaccine against ricin toxin, VeloThrax™, a vaccine for pre- and post exposure to anthrax toxin, and OrbeShield™, a therapeutic for the treatment of GI ARS. ThermoVax™ is the only candidate in the company's pipeline that does not have the potential to garner an Orphan Drug designation, as it is a platform technology. ThermoVax™ is Soligenix's thermostability technology that allows complex vaccine formulations containing aluminum salt adjuvants to remain heat stable at temperatures well beyond the typical 2-8 degree Celsius that would normally be required for their storage and transport. With over 50% of vaccines worldwide discarded due to temperature excursions from the stable ranges, the upside here could be substantial for the company. ThermoVax™ has already met early success with RiVax® as positive proof of concept was shown in animal studies. All of the animals dosed with ThermoVax™ formulated RiVax® stored at greater than 40 degrees Celsius developed potent and high titer neutralizing antibodies while those animals dosed vaccine without the ThermoVax™ technology did not produce the ricin antibodies.
Market Potential:
A January 8th, 2013 investor presentation sums up the potential value of Soligenix's programs. Working on basic assumptions of the targeted market groups, the company portrays its worldwide target market potential for each of its candidates (other than the ThermoVax™ platform).
The biotherapeutics platform is tackling indications of high unmet medical need with worldwide markets as follows:
SGX942 for oral mucositis - $500+ million
SGX203 for pediatric Crohn's disease - $200+ million
SGX201 for acute radiation enteritis - $300+ million
orBec® for chronic GI GVHD - $100+ million
The biodefense platform is tackling indications with worldwide markets as follows:
RiVax™ ricin vaccine - $200 million
VeloThrax™ anthrax vaccine - $500 million
OrbeShield™ GI acute radiation syndrome - $450 million
Reality:
Although I do not anticipate success in all of these promising candidates, the targeted market groups, especially with Orphan Drug marketing protection, could yield a nice return on investment (ROI) for the company and its shareholders. The closing share price on Friday of $1.34 translates to a market capitalization for Soligenix of only $15 million, a substantial value for a company with such a broad pipeline, government funding for much of its pipeline, and a rather active newsfeed that is beginning to garner investors' attention. The company's common shares are now trading at 52-week highs with more upside possible in the coming days and weeks as this once spotlighted company again reclaims investor support with what looks to be a promising year ahead.
Catalysts for 2013:
Soligenix looks to have a catalyst-filled year ahead to better enable it to earn and retain a space on investors' watch lists and portfolios. Already having 2 busy months behind it, the effects of a positive news stream is evident from the stock's chart with shares trading under $0.50 as recently as November 16th. These gains could very well be only the beginning as the company's early January presentation gave an indication of the catalysts possible for the year ahead.
Once again, we view the catalysts from the January 8th investor presentation as pertaining to the clinicals underway or planned for 2013:
OrbeShield™ GI acute radiation syndrome - 1H: Submission of Biomedical Advanced Research and Development Authority (BARDA) GI ARS contract proposal/start animal study (initiated) and 2H potential grant/contract awards from the government.
SGX942 for oral mucositis - 1H possible Orphan Drug designation and 2H Phase II trial initiation
SGX203 for pediatric Crohn's disease - 1H Phase I/II initiation and 2H Phase II/III initiation
SGX201 for acute radiation enteritis - 2H Phase II initiation
orBec® for chronic GI GVHD - 1H Phase II initiation
ThermoVax™ - 1H 1 year stability study date due out
RiVax™- nothing pertaining to clinicals, but please note a statement in the Phase I data release in August of 2012 stating "With the formal Request for Information (RFI) from the Department of Defense regarding the status of ricin toxin vaccine development, we believe that Soligenix is well positioned to collaborate with the DoD on the future development of RiVax™"
The next likely catalyst for the company pertains to the potential BARDA contract. On January 7th the company announced that it had received an invitation from BARDA to submit a proposal for a multi-year, multi-million dollar contract that would potentially fund OrbeShield™ through to FDA approval. In the announcement, the company stated that it expects to submit its proposal to BARDA in February of this year. Under this development contract, the company would develop the therapy to treat acute GI ARS. Soligenix would also continue to develop OrbeShield™ in accordance with the July 2012 press release announcing that it had received $600K over the next 2 years from the National Institute of Allergy and Infectious Diseases (NIAID).
Financials:
Soligenix has been quietly working behind the scenes since its 2011 lead drug candidate failure. The result of this work is now becoming evident with promising developments over the last several months. Investors knowledgeable enough to gain entry into the company's common shares during this time have seen solid returns on their investments even in this early stage of the company's return to the spotlight. However, the market capitalization is still very low for a company with such a diverse and deep pipeline and so much government funding behind it, with most of its pipeline under the FDA's Orphan Drug and/or Fast Track programs or in consideration for such. Soligenix's Q3 2012 10Q notes that the company has 11,160,573 shares outstanding, yielding a current market capitalization of $15 million. Total cash and equivalents as of September 30, 2012 were $3.7 million. Soligenix also received $521,000 in December under the State of New Jersey's NOL transfer program. For Q3, the company received $931,627 in grant revenue. For the 9 month period, the company used $2.3 million cash to fund its operations, just under $256,000 per month cash burn rate. Importantly, the company stated in its 10Q that it "has approximately $4.6 million in active grant funding still available to support its associated research programs into 2014. The company plans to submit additional grant applications for further support of its programs with various funding agencies." Soligenix appears to have a superb track record of winning non-dilutive government funding, and these grants are key value builders for the company and its investors.
Like virtually any development stage company, stock offerings are still likely for the company moving forward. However, Soligenix appears to be earnest in its endeavor to keep shareholder interests in mind as it marches forward with its growing pipeline. Investors interested in performing additional research on the company should review its financials, take into consideration its current OTCQB listing, view the bullish stock chart over the last 2 months, view the company's website, review its SEC filings and closely review its press releases over the last couple of years. While I believe this is a promising development stage company, it is not an investment for those who are risk averse. However, my personal risk assessment and risk tolerance has convinced me that this could be a solid investment for the long term. As stated earlier, I do not anticipate success in all the company's current endeavors. However, I do believe that success in only a few of its programs will be a huge share price driver in the weeks, months and years ahead. With 8 solid chances at success moving forward in its pipeline for 2013, I like Soligenix's prospects for positive news and the potential it has at returning a solid gain from its current share price.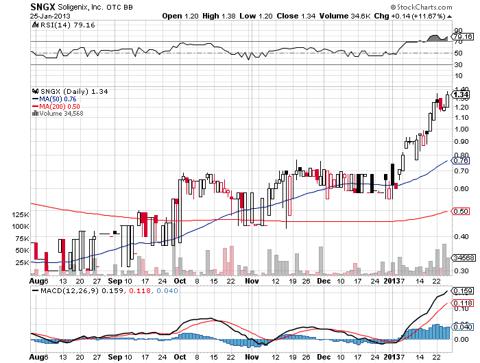 Click to enlarge
Disclosure: I am long OTCQB:SNGX. I wrote this article myself, and it expresses my own opinions. I am not receiving compensation for it. I have no business relationship with any company whose stock is mentioned in this article.