As defined benefit pension plans continue to go the way of the dodo bird, more and more workers are being tasked with managing their own investments through their employer-sponsored 401(k) plan. In an attempt to ease the burden, and also to make a few extra bucks, many mutual fund companies have answered by offering what is commonly referred to as target date funds. These funds are easy to recognize as their names typically contain a target date, which is designed to represent the year in which you plan (or maybe hope) to retire.
As you might expect, target date funds with near term dates have higher bond allocations than stocks, while funds with dates that are further out allocate a larger portion of their fund to equities. This strategy complies with conventional investing wisdom, which is that as you move closer to retirement, you should begin to move your assets from risky investments like stocks, to more reliable securities like bonds. But are these funds really the best choice for retirement savers? Or were they designed to simply appeal to, and pull in the majority of 401(k) owners who are looking for the easy, hands-off approach? Besides, years of conventional wisdom can't be wrong, can it?
I like to challenge conventional thinking, and in this case, I think there is one style of portfolio that will work more efficiently for virtually anyone's 401(k), whether you're 30 years from retirement or only 3. I've employed what I refer to as an aggressive bond portfolio for the last 2.5 years, and the results have been more than pleasing thus far. Now I know that 2.5 years is not the most impressive set of sample data, so I'll go into more detail regarding my holdings later in this article. I'll also present each of the fund's 10 year average returns, as well as what the expected return might look like for my entire portfolio.
In the meantime, my rendition of an aggressive bond portfolio has a bond/stock ratio of 85/15, with the vast majority of the bond portion consisting of high yield and investment grade corporates. Emerging markets, Treasuries and Inflation Protected securities make up another large chunk of the fixed income piece of the portfolio. The much smaller equity portion can simply be a broad market index, or funds that focus on particular sectors that you think are in upswings. My equity allotment includes a healthcare, energy and REIT fund.
The idea here is that you can come extremely close to the historical returns of the stock market (~8% per year), while removing a considerable amount of risk and offering consistently positive returns. This is especially important if your company matches some or all of your contributions to your plan. Those company matches represent an instant 100% return on the amount that your employer contributes, so the last thing you want to do is lose that free money to wild market fluctuations. Lastly, although you may miss out on potential big years by generally shunning the stock market, you also have the privilege of avoiding the down years. Since no one can predict when those bad years will occur, generating steady returns on top of free money from your employer is an attractive proposition, especially if those bad years happen to fall towards the end of your time horizon; just ask the people who were nearing retirement during the '07-'08 crash.
Below is a list of the mutual funds and their allocations which make up my portfolio. Also included are the 10 year returns for each of the funds and the expected return of my total portfolio.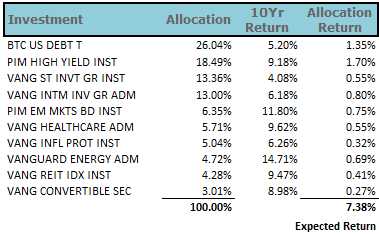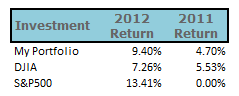 As you can see, I've been able to beat one of the two major indices over the last couple of years, which has resulted in a LTD return of 14.54% for my portfolio compared to 13.41% for the S&P500 and 13.19% for the DJIA. And remember, this is with a 85/15 bond/stock mix, which carries considerably less risk than the market indices.
Disclosure: I have no positions in any stocks mentioned, and no plans to initiate any positions within the next 72 hours. I wrote this article myself, and it expresses my own opinions. I am not receiving compensation for it (other than from Seeking Alpha). I have no business relationship with any company whose stock is mentioned in this article.
Additional disclosure: I am long all of the mutual funds mentioned.