Recently, the auto research firm Polk estimated that with the improving US market, auto sales in 2013 will be ~15.3 million, with a net growth of 900,000 units. This seems to be good news for all auto companies; which faced slower sales during recession. Looking at the recent announcements of unit sales in 2012 by the three auto giants I feel more optimistic about this target. Let's have a quick look at their sales story.
Ford Motor Co. (NYSE:F) recently announced its US sales figures for the year 2012. Its unit sales growth for 2012 was up by ~4.7% Y/Y, which resulted in the total sales of ~2.25 million vehicles. The top selling products of the company were Focus, Mustang, Explorer and Transit Connect. Ford also declared its production plan for 1Q13 which was ~750000 units which indicates its anticipation of increase in the demand for vehicles for the rest of the year. Talking about the General Motors Company (NYSE:GM), its 2012 unit sales in the domestic market was up by ~3.2% y/y. GM sold nearly 3.02 million vehicles in the US out of which, Chevrolet managed to achieve ~1.85 million units. Looking at its global sales, the company sold ~9.28 million vehicles which was up ~2.9% y/y. International sales of the company is driven by the Chinese market which showed a growth rate of ~10.1% (3.61 million vehicles). Another industry peer, Toyota Motor Corporations (NYSE:TM) also showed strong global 2012 unit sales with growth of ~22% Y/Y. The Company sold ~9.7 million vehicles worldwide mainly led by the Corolla and Camry brands. Toyota also managed to achieve an overall growth of ~27% in the US for the year 2012.
If asked to pick up one out of the three automakers, I would place my bet upon Ford. This stock has given its shareholders ~40% return in comparison to the other two players in the last 3 months. Going forward in 2013, the shareholders can anticipate a brighter outlook with the One Ford Plan's savings potential as well as the emerging economies driving up the sales.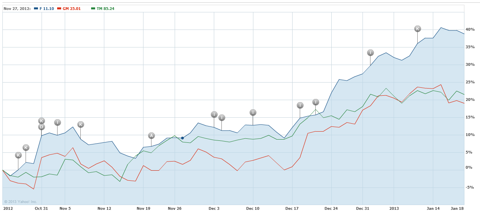 Source: Yahoo Finance
One Ford Plan:
Although Europe contributes more than 25% to Ford's revenue, under the current macroeconomic scenario the targeted sales from this region would be very difficult to achieve. The company's One Ford plan, I think should offer respite here. It aims at reducing the total production capacity of its European plants by ~18%, its workforce by ~13% and thus would save ~$500 million annually.
Other One Ford positives:
1. ~87% of 2013's global production by Ford will be only on its core platforms. The company will refresh ~176% of its portfolio in the next five years versus the industry norm of ~100%. This enhancement of its product line will definitely give Ford an advantage over its competitors in different car segments.
2. The renovation of the Lincoln brand which began with the recent launch of Lincoln MKZ is also a part of this Plan. Four new models of Lincoln are planned to be launched in 2014. This planned revitalization of Lincoln has the potential of ~33% growth in the global premium market and aims at the implementation of standardized global platforms which will reduce the cost and time taken in the production cycle.
The Chinese Drift:
Until the European region stabilizes and regains its true potential, the company's Chinese focus should help it to maintain a positive growth. In the last 3 years, China has doubled its automotive market and is on an incremental growth path. Ford is targeting the Chinese luxury car market and is aiming for a market share of 8% in the country by 2015 and is in the process of building four additional plants. It needs a mention here that the luxury car segment was behind one-third of the company's revenue from China last year. Ford has seen 21% y/y growth in its revenue for 3Q12 from the APAC and African regions. With increasing contribution from the Chinese market, the shareholders can anticipate this growth to be around 37% y/y in 4Q12.
The Investing Opportunity
Summing up, I feel that Ford will be able to achieve its sales targets in 2013 with the One Ford Plan boosting the sales of its Ford and Lincoln brands. Added to it, its focus towards the emerging economies and stronger performance in the domestic market should further drive sales upside.
Disclosure: I have no positions in any stocks mentioned, and no plans to initiate any positions within the next 72 hours. I wrote this article myself, and it expresses my own opinions. I am not receiving compensation for it (other than from Seeking Alpha). I have no business relationship with any company whose stock is mentioned in this article.