While getting a cup of coffee the other day, I saw an Amazon Kindle in real life for the first time. Considering the extensive press about the device in the last several months, I've been surprised not to see more people using them.
Back in October, Oprah featured the Kindle on her show, an announcement that created a lot of buzz, and the device sold out around Christmas. So, I wondered how much traffic the Kindle has attracted over the last few months.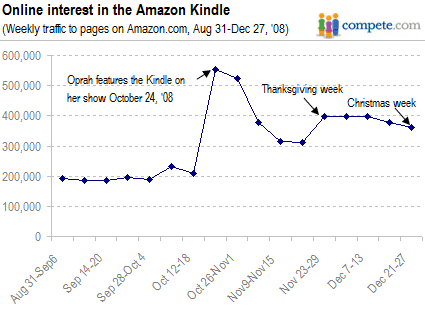 Interest in the Kindle surged the week of Oprah's endorsement, attracting more than half a million visitors, 2.5x as many online consumers as the week before
The momentum seems to have carried the device into the holiday shopping season, with interest dipping in November, but still remaining well above the "pre-Oprah" weeks
Between Thanksgiving and mid-December, nearly 400,000 people looked at the Kindle online each week
With recent interest booming, the slight decline leading up to Christmas may seem odd. But remember that Amazon sold out of the device in December and couldn't deliver it before Christmas. All things considered, the strength of the Kindle's online interest around the holiday season has been remarkable.
According to Amazon's website, the Kindle is still sold out. Will we be seeing more in 2009? Much of that will depend on converting interest into sales in a tough economy – at $359, the Kindle isn't as accessible or as versatile as other portable media devices like the iPod. Still, with diverse and affordable content, rumors of a new version coming out in early 2009, and a lot of buzz, I wouldn't be surprised to see one the next time I head to Starbucks.