A person would have to look pretty long and hard to find a satisfied SandRidge Energy (NYSE:SD) shareholder. Behold the chart below, which depicts the share price performance from the inception of the company in 2007 through today:
Click to enlarge image.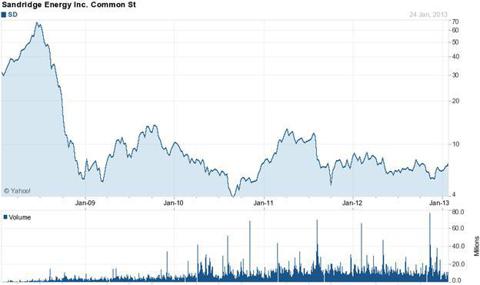 When I invest in a publicly traded company, I like to pretend that I'm buying the entire business or that I'm the only shareholder. I figure if I wouldn't be interested in buying the entire business, why would I be interested in buying a tiny fraction of it? With that point of view in mind, imagine if you will that you were the only shareholder in SandRidge Energy.
Back in 2007, you capitalized on SandRidge by investing at $30 per share and appointed a board of directors to oversee your investment for you. One responsibility of that board was to hire a manager to run the company for you. You are a patient investor and don't like to get your hands dirty, so you mind your own business and let the manager run the company for six years, trusting the board of directors to protect your investment for you. When you check back in on what your $30 investment is worth today, you discover that you can cash that investment in for only $7. That is not exactly the power of compound interest that you are big fan of.
Would you be satisfied? Of course not. You would be nauseous. But your nausea is about to get worse.
You then do some digging into what your board of directors paid your manager. TPG-Axon -- a large shareholder of SandRidge that is trying to oust the current board of directors -- has detailed that compensation for you:
One fact summarizes the appalling corporate governance practices of SandRidge -- despite the single worst stock performance of any energy company, and among the worst stock performances in the entire U.S. market, and massive discounts applied to the company because of management … payments to Mr. Ward from the company have totaled approximately $150 million over the past five years.
You would no longer be nauseous, you would be out for blood. But your nausea turned into rage will escalate further. To infuriate you even more, I then have to tell you that it turns out that the manager the board of directors hired has personal interests in companies that compete with your company, deal with your company, and possibly profit from your company.
It isn't enough for this manager to have been paid $150 million for turning your $30 investment into $7, he also feels it appropriate to have outside interests in your company's field of business. Who in their right mind does these sorts of things?
None of the above is fictitious, of course, as the manager running the business is SandRidge CEO Tom Ward and the board of directors in question belongs to SandRidge. This week, SandRidge Energy's board has cleared Ward of any wrongdoing in the interactions of his outside interests with SandRidge:
TPG-Axon Group has made allegations in public statements concerning certain activities of our Chairman and Chief Executive Officer, Tom Ward, and questioning the Board's oversight of those activities. Specifically,TPG-Axon claims that Mr. Ward and WCT Resources, LLC, an independent oil and gas company, have engaged in 'front running' and 'flipping' leasehold interests to the Company. TPG-Axon also notes that WCT Resources actively competes with the Company in its Mississippian Lime play. Mount Kellett Capital Management LP has also voiced its concern regarding the allegations made by TPG-Axon. The Board has reviewed issues related to these allegations several times over the Company's history and has found no wrongdoing to have taken place.
To which I say, "I don't care."
Here's the thing. If you are a CEO of a publicly traded company, you shouldn't have any outside interests that come anywhere close to profiting from dealings with the company you are charged to run. And if you are CEO of a publicly traded company, you shouldn't have any outside interests that compete with the company you are charged to run.
Ward's actions may have all been legally acceptable to the board of directors, but you can bet that they aren't acceptable to the real owners of SandRidge (the shareholders). Why does someone getting paid $150 million need to have any outside interests in the first place? Isn't that enough money to live on these days?
At what point do these ultra-rich CEOs and their board of director patsies lose the ability to apply the common sense that the rest of us can? The SandRidge board deserves to be replaced simply for the destruction in shareholder value. The fact that it signed off on $150 million in compensation for Ward over that time makes it a no-brainer.
Despite my obvious dislike for the incumbent board and management, I think SandRidge could be a good investment provided the activist investor TPG is successful. Why? Because the assets of SandRidge are available at a discount at the current share price. That discount is appropriate if one assumes "business as usual" going forward at SandRidge, given the track record of management and the leverage of the balance sheet.
But should the value in those assets be realized through the company sale that TPG desires, then we have some pretty upside and a catalyst to realize it near term. The shares are currently trading for roughly $7. A second activist investor, Mount Kellett, calculates the value per SandRidge share as being over $20 using the following assumptions:
Mississippian

In the Company's Mississippian play, we believe the Company's original 750,000 acres to be worth approximately $6,800/acre on a developed basis. Further, we believe the 1,000,000 excess acres in the extension of the Mississippian play into Kansas to be worth approximately $2,500/acre based on comparable transactions. In total, the Company's Mississippian assets could represent an approximate $8 billion asset.

Permian

The Company's Permian assets, pre-royalty trust interests, are worth up to $4 billion, based on Apache's purchase of BP's Permian assets in 2010, at approximately $22/boe when oil was at $75-$80 per barrel. The Company's own reported PV-10 of its Permian assets is approximately $4 billion. Additionally, we believe that if the Company were to continue to monetize portions of its Permian assets through a royalty trust structure, such as the SandRidge Permian Trust ('PER') or a Master Limited Partnership ('MLP') structure, the Company would continue to realize premium valuations for these assets.

Other Assets

We estimate the Company's other production, undeveloped proved reserves, undeveloped acreage and Gulf of Mexico assets are worth $3.6 billion. In addition, the Company has other assets that have not been properly highlighted.

-- Mississippian Infrastructure: The Company has invested huge amounts of capital to develop the water disposal and electrical infrastructure necessary for future Mississippian development. This front loading of infrastructure has increased the value of the Company's Mississippian assets, providing the Company with a competitive advantage on its acreage and should enable the Company to accelerate development over the coming years. We commend the Company's operations team for successfully managing such a large and complex project. We estimate that the Company has spent approximately $500 million in mid-stream infrastructure, gathering system and salt water disposal wells in this area. We believe these assets could ultimately have tremendous value to an MLP buyer who would be willing to pay a multiple of in-place cost, especially with the prospect of attracting third party volumes as the play continues to develop.

-- Mississippian Drilling Carry: By our calculations, at year-end the Company will have approximately $650 million of drilling carry remaining in the Mississippian.

-- Pinon Field: The Company's Pinon field in the West Texas Overthrust, while of little value today, should have tremendous value in a higher natural gas environment or in the hands of the right buyer.
I don't know if I agree with $20 per share, but even if Mount Kellett has overstated the value of SandRidge by 100%, it still implies 30% upside from the current share price of $7. That provides for a pretty significant margin of safety provided TPG is successful in its efforts to remove the current board.
Disclosure: I have no positions in any stocks mentioned, and no plans to initiate any positions within the next 72 hours. I wrote this article myself, and it expresses my own opinions. I am not receiving compensation for it (other than from Seeking Alpha). I have no business relationship with any company whose stock is mentioned in this article.