I don't know what it;s going to take to get investors to finally figure out which equity based closed-end funds (CEFs) are attractive and which ones are not, but the difference can mean a lot of money for investors in these high yielding funds over the long run.
Just over 2 years ago on January 13, 2011, I wrote an article, which you can read here, Real ROC CEFs, which compared four global stock based CEFs, all of which came public around the same time in mid 2006 to early 2007. The funds made good comparables because not only did they all go public around the same time, but they all started with the same $20 inception price, similar global stock allocations and similar inception yields of around 9%. The difference between the funds was how they derived their income to pay for their large distributions and yields. Two of the funds, the Eaton Vance Tax-Managed Diversified Equity Income fund (ETY) and the Alpine Global Dynamic Dividend fund (NYSE:AGD), I went on to write about later in 2011 when I felt the valuations were again becoming increasingly ridiculous. You can read that article here, Audacity CEF Valuations.
The reason why I wrote about these funds is because investors were completely getting it wrong as to which fund deserved the higher valuation based on each fund's Net Asset Value ((NYSE:NAV)) total return performance. Investors figured that because AGD offered 100% tax-qualified distributions and positive UNII while ETY offered mostly Return-of-Capital ((NYSE:ROC)) in its distributions and negative UNII, that AGD was a much more attractive fund and were willing to pay up to 12% premium market prices over its NAV just for the right to own the fund (still a far cry from the 55% premium AGD once had in 2010). ETY, on the other hand, suffered just the opposite treatment with discounts ranging from -10% to -16% because its distributions were mostly ROC.
Here are the 3-year Discount/Premium graphs of both ETY and AGD in which ETY was essentially a ramp down for the better part of three years while AGD was a gradual ramp up after a large percentage drop in June of 2010 when Alpine cut the distribution of AGD by 45%.
ETY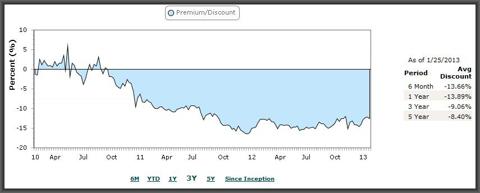 Click to enlarge
AGD

Click to enlarge
What investors didn't realize however was that ETY's NAV was far outperforming AGD's over just about any time frame even with that high ROC in its distributions. They ignored the fact that many option-income funds like ETY specialize in generating high ROC at really no cost to the fund's NAV. They also ignored the fact that option-income, which is the fund's primary income source, is not even included in UNII and thus, is almost always negative. However, if investors had just paid attention to what mattered most, the total return performance of the fund's NAVs, they would have seen what I saw. That ETY's NAV was holding up much better than AGD's over 1 year, 2 years, 3 years and about as far back as you wanted to go.
I have argued time and time again, that if you follow a fund's NAV, taking into account all distributions, you will eventually follow where the market price goes. For investors in AGD, that became another hard lesson just last week as Alpine finally cut the distributions of both AGD and its sister fund, the Alpine Total Dynamic Dividend fund (NYSE:AOD) a whopping 50% and AGD dropped from a 9.3% premium valuation to its current -4.7% discount.
What I find amazing is that no matter how many times I wrote negatively on AGD (9 times!) over the past two years, the last being just a week before the cut...and how many times I tried to point out how undervalued other funds like ETY were...the valuations never changed that much and in fact, diverged even more. Going back to the graphs above, AGD continued to trade at premium valuations of up to 12% while ETY continued to trade at some of the widest discounts of all equity CEFs between -10% to -16%.
And what have investors missed? Here are the total return market price performances of these two funds over a 1-year, 3-year and 5-year time frames. Total return means all distributions reinvested.
1-Year Comparison: ETY (blue) vs. AGD (orange)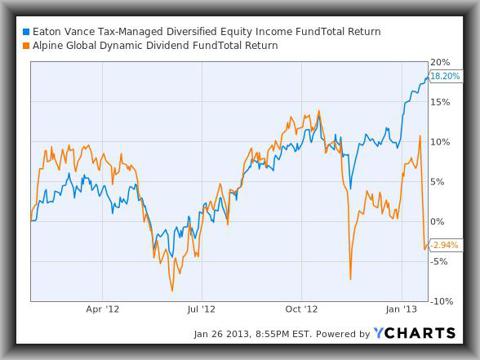 Click to enlarge
3-Year Comparison: ETY (blue) vs. AGD (orange)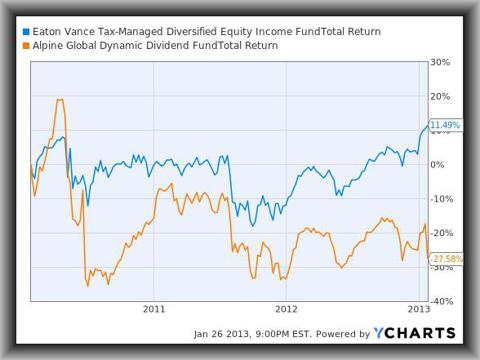 Click to enlarge
5-Year Comparison: ETY (blue) vs. AGD (orange)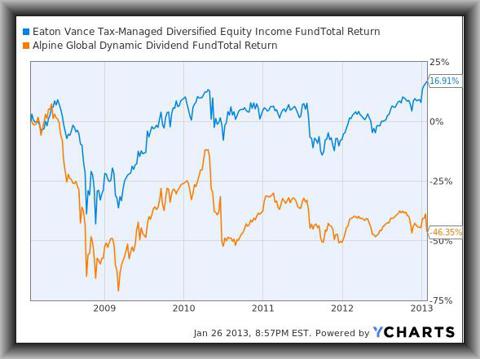 Click to enlarge
It wasn't until Alpine finally slashed the distributions of both AOD and AGD just over a week ago on January 18th that the valuations of AGD and ETY finally started to show some resemblance of sanity. Or have they? Here are the vital statistics of these two funds as of January 25th, 2013.
ETY - Eaton Vance Tax-Managed Diversified Equity Income fund
- Current Price: $ 9.95
- Current NAV: $11.38
- Discount/Premium: -12.6%
- Current Market Yield: 10.2%
- Inception Date: 11/27/2006
- Inception Price: $20.00
- Inception Yield: 9.3%
Source: CEFConnect.com
AGD - Alpine Global Dynamic Dividend fund
- Current Price: $4.88
- Current NAV: $5.12
- Discount/Premium: -4.7%
- Current Market Yield: 7.4%
- Inception Date: 7/26/2006
- Inception Price: $20.00
- Inception Yield: 9.0%
Source: CEFConnect.com
Does anybody else find this just amazing that a fund like ETY, which by any measure, has blown the cover off AGD since their inceptions and now offers a market yield significantly higher at 10.2% vs. 7.4%, can still trade at a market price discount almost three times as wide as AGD's. Could investors still be so insane that they would apply a higher valuation to AGD than ETY even now?
Now I realize most investors may not follow a fund's discount or premium valuation like I do and I certainly place a lot more emphasis on these valuations than most investors. However, my analysis has proven time and time again which funds will outperform others based in large part on a fund's market price valuation to its NAV. So it would behoove investors to pay more attention to discounts and premiums if they want to make money in these funds over the long run.
In fact, I have found that many of the best equity CEFs, as measured by their total return NAV performances, tend to trade at some of the widest discounts while some of the worst trade at much higher valuations to even premiums. This is what I mean by insane...but this is also why equity CEFs present great opportunities to investors who do their due diligence.
Why ETY Is As Compelling As Ever
This will be the last time I compare ETY with AGD. In fact, this article wasn't intended to be so much about the insanity of investors who could still find value in a fund like AGD, since for all I know, the new fund managers over at Alpine may drop their "dividend harvest" income strategy, which I've pointed out many times doesn't work, and finally turn that ship around.
No...this article is intended to point out how insane investors are for not buying or holding on to a fund like ETY. I admit that I too actually focused more on ETY's sister fund, the Eaton Vance Tax-Managed Global Diversified Equity Income fund (NYSE:EXG), over the past two years while EXG traded at an even wider discount than ETY. Not so any more as ETY trades at the widest discount of any CEF (equity or bond) offering even close to a 10% market price yield.
Though ETY has not materially reduced its discount as of yet, it still has been one of the best performing global option-income funds since I started writing about it in early 2011. Compared to most of the global option-income CEFs from BlackRock (NYSE:BLK), ING (NYSE:ING) and Allianz/PIMCO that trade at much lower discounts to even premiums, ETY has performed better than virtually all of them both at the NAV and market price level. And why is that? Because after a series of distribution cuts beginning in early 2010 that finally got ETY's (and most all option-income funds) NAV yields down to more reasonable levels, ETY's NAV has been performing exceptionally well. Option-income funds may not have the upside potential as leveraged income funds in strong up markets because of their defensive sell call option strategy, but over time and over up and down market environments, the best option-income funds will outperform their benchmarks at the NAV level.
Most investors might be surprised to learn that ETY's NAV has actually outperformed its primary benchmark, the S&P 500, since inception. And compared to a secondary benchmark, the FTSE Eurotop 100 index, its not even close. It's right there in ETY's Annual Report dated 10/31/2012: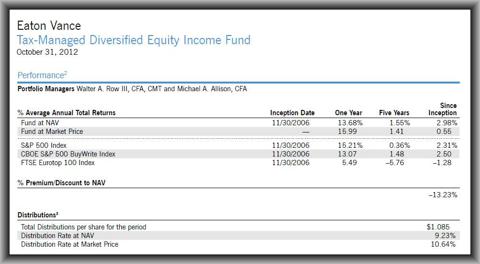 Click to enlarge
So why does ETY's market price trade so comparatively badly that investors are willing to sell it at a -12.6% discount even though it has outperformed its benchmarks and currently offers a 10.2% yield paid monthly? Frankly, it's the craziest thing I've ever seen. For years, investors gave AGD and AOD every benefit of the doubt while funds like ETY and EXG went begging. Now that reality has set in for holders of AGD and AOD, will investors start to give ETY and other high ROC funds the benefit of the doubt? They should because they are leaving a lot of tax-free* income on the table as well as significant growth potential if these funds ever reflected their proper valuations.
Personally, I believe ETY is a steal at $9.95 and I wouldn't sell it until it started to show a more reasonable discount to even a premium valuation like it had back in 2010. Even at $11, ETY would still offer a very generous 9.2% yield and would still be trading at a -3.3% discount based on its current NAV, not than much different than AGD's current -4.7% discount even after AGD has effectively destroyed its NAV over the years and just announced a 50% reduction in its distribution. How insane is that?
For investors who are concerned about high ROC in ETY's distributions, I have written extensively on the subject, pointing out that many option-income funds are managed to maximize ROC because of the tax-benefits. High ROC in option-income funds does not have to be at the expense of the fund's NAV and in fact, tells you very little about how the fund is actually performing at the NAV level. For more information, you can read this article I wrote on November 5th of last year, Best ROC Funds.
Frankly, Eaton Vance has done everything they can do to make ETY, and all of their option-income funds, attractive to investors. Even going as far as to approve a 10% repurchase program in the fall of 2012 and to change the distribution schedule from quarterly to monthly pay for all of their option-income funds. You got to wonder, with everything that is going right with these funds, who in their right mind would sell them? But oh, I almost forgot...this article is about the Insanity of CEF Investors.
* Return of Capital is non-taxable in the period received though an investor would need to lower their cost basis by the ROC amount, effectively deferring any adjusted capital gain or loss.
Disclosure: I am long ETY, EXG. I wrote this article myself, and it expresses my own opinions. I am not receiving compensation for it (other than from Seeking Alpha). I have no business relationship with any company whose stock is mentioned in this article.