In 2012, consumer staples as a sector, tracked by the Consumer Staples Select Sector SPDR (NYSEARCA:XLP), were laggards among the S&P 500 sectors. While relatively weak, the consumer staples' total return was still 10.75% on the year. The sector is known for its resilience to economic cycles, which makes it a defensive play, and it includes some of the best-known dividend stocks. Even though the risk-on trade is likely to persist this year, making the consumer staples sector less favored among investors, for income investors seeking relatively high dividend yields and consistent and consecutive dividend increases, the sector may offer some opportunities.
Looking into Mergent's Dividend Achievers 50 Index - the index consisting of 50 highest-yielding companies with at least 10 years of consecutive annual dividend increases - six consumer staples stocks offer a combination of above-market yields and consistent dividend growth. Even though Avon Products Inc. (NYSE:AVP) was included in the Index at the Index's reconstitution at the beginning of 2012, the stock slashed its dividend in the course of last year, and was therefore omitted from this review. Here is a closer look at the six remaining consumer staples companies from the Dividend Achievers 50 Index.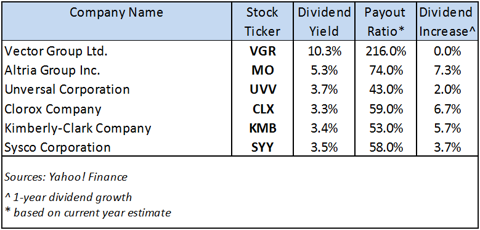 Vector Group Ltd. (NYSE:VGR) is a cigarette maker producing the brands of Eve, Pyramid and USA, and a real estate company. Citing a part of the company's 2011 Annual Report, Vector Group has "a long-standing track record of paying a cash dividend of $0.40 per share per quarter, or $1.60 per year, as well as an annual stock dividend of 5%" for 14 consecutive years. Interestingly, the company has been raising dividends well in excess of its earnings or free cash flow for years. The company's high-yield is reflective of the concerns about the sustainability of the company's dividend policy in the long run. Vector Group also has a negative book value. From an accounting standpoint, paying out more than the company's earnings in dividends reduces the book value of equity in the firm. As for Vector Group's price-to-earnings, with a forward P/E of 21.0x, this stock is priced well above the industry's multiple of 15.0x. Analysts forecast Vector Group's EPS CAGR at 11.0% for the next five years. At the end of third quarter 2012, billionaire Jim Simons held $69 million in the stock.
Altria Group Inc. (NYSE:MO), another cigarette maker, selling popular brands such as Marlboro, Basic, L&M, Parliament and Virginia Slims, has "increased its dividend 46 times in the last 43 years." Following the spin-off of Philip Morris International (NYSE:PM) in 2008, the company has increased dividends six times. MO's dividend growth averaged 8.0% per year over the past four years. Despite the negative sentiment towards the industry, rising regulatory and litigation costs, and declining consumption trends, Altria's stock "is one of only three companies in the S&P 500 Index whose total shareholder return has exceeded the S&P 500's return every year for the last 12 years," according to a Motley Fool article. Analysts forecast the company's long-term EPS CAGR at 7.3%. Altria is priced at 14.3x forward earnings, a small 6% discount to its peers on average. Fund managers Tom Russo (Gardner Russo & Gardner), Jim Simons, and David Winters (Wintergreen Advisors) all reported owning large stakes in the stock at the end of the third quarter of 2012.
Universal Corporation (NYSE:UVV) is the third Dividend Achiever engaged in the production of tobacco products. The company has raised dividends for 42 consecutive years. The company has a solid, leading position in the leaf tobacco merchant industry. It boasts long-standing relationships with tobacco manufacturers and has proven to weather well the supply and demand volatility in the global leaf tobacco markets. Last year, the company was struggling with oversupply conditions that reduced green tobacco prices in many markets and squeezed margins. However, revenues inched up 1%, year-over-year, in the first half of fiscal 2013, which ended on September 30, 2012, and 5% for the three months ended September 30, 2012. Segment operating income, excluding unusual items, was up 34%, year-over-year, for the six-month period and 27% for the quarter ended September 30, 2012, mainly based on larger volumes due in part to shipment timing. The company boasts a high free cash flow yield of 13.3% and a price-to-sales ratio of only 0.5. Its forward P/E of 6.5x is well below the company's five-year average multiple of 10.8x. RenTech's Jim Simons held $11 million in the stock at the end of the third quarter of 2012.
The Clorox Company (NYSE:CLX), a consumer goods and institutional products company making cleaning products, bleaches, water filters and packaged food, has raised dividends for 35 consecutive years. This admits the company into a privileged club of the S&P Dividend Aristocrats, select dividend companies with at least 25 consecutive years of annual dividend increases. The company's EPS is expected to rise nearly 5% this year and almost 8% next year. The EPS estimates revisions over the past 90 days have been modestly positive. Analysts see the company's long-term EPS CAGR at 7.9% for the next five years. Given the positive market momentum as well as the recent strong results and a positive guidance from Procter & Gamble (NYSE:PG), CLX has rallied to a new 52-week high, expected to see firmer sales. Still, the company has a negative book value. It is trading at 17.6x forward earnings, which puts it on par with its industry. Based on the last 13-F filings for the third quarter of 2012, fund managers Jim Simons and John Overdeck (Two Sigma Advisors-check out its major holdings) were particularly bullish about the stock.
Kimberly-Clark Corporation (NYSE:KMB), a consumer goods giant, has raised dividends for 40 consecutive years, which makes it one of the S&P Dividend Aristocrats. Analysts see the company's long-term EPS CAGR at 9.2%, more than double the average rate over the past five years. In its 2012, the company "delivered organic sales growth of 5%, highlighted by 10% growth in K-C International," which now accounts for 37% of total company sales. KMB's emerging market growth is particularly strong, recording robust personal care volume gains. For example, diaper sales volumes are up 45% in China, 20% in Russia, and 15% in Brazil. The company is targeting 2013 organic sales growth of between 3% and 5%, and growth in adjusted EPS of between 5% and 8%. The consumer goods giant also announced intentions to boost its dividend by a high-single-digit rate effective in April 2013 and to repurchase $1.0 billion to $1.2 billion of KMB shares this year. The stock is trading at a discount to its industry, with a forward P/E of 15.8x versus the industry's 18.9x. Fund manager Ric Dilon held more than $202 million in the stock at the end of the third quarter of 2012.
Sysco Corporation (NYSE:SYY), the largest U.S. food wholesaler and distributor for the food service or food-away-from-home industry, has raised dividends for 43 consecutive years. The company is thus another S&P Dividend Aristocrat. The company's fortunes are tied to the restaurant business, which is expected to regain its momentum once the economic backdrop improves. Analysts forecast the company's EPS CAGR at 7.0% for the next five years, double the average rate over the past half-decade. This forecast is in spite of accelerating food price inflation, which is squeezing margins at Sysco and its customers. The company is aiming to complement its growth through international acquisitions. Sysco's goal is to increase revenues by between 0.5% and 1.0% annually through acquisitions. The stock has a low price-to-sales ratio of 0.4 and a forward P/E of 16.0x, a 17% discount to its industry. Value investor Jean-Marie Eveillard's First Eagle Investment Management held almost $746 million in SYY shares at the end of the third quarter of 2012.
Disclosure: I have no positions in any stocks mentioned, and no plans to initiate any positions within the next 72 hours.
Business relationship disclosure: Dividendinvestr is a team of analysts. This article was written by Serkan Unal, one of our writers. We did not receive compensation for this article (other than from Seeking Alpha), and we have no business relationship with any company whose stock is mentioned in this article.