CenturyLink (NYSE:CTL) is the third largest telecommunications company in the U.S., with approximately 14 million voice customers and 8 million DSL internet customers, mainly in rural areas. Having been very active in acquisitions in recent years, the company has chosen to forego dividend increases recently in favor of the potential long-term benefits. Although earnings (and the share price) are expected to be relatively flat over the next several years, I believe that this company will produce significant growth and shareholder value in the future. I advocate buying and holding in this case, since the stock pays you over 7% while you wait.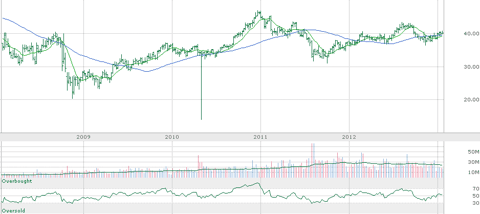 Click to enlarge
CenturyLink has made three notable acquisitions in recent years. In July 2009, the company acquired larger telecom provider Embarq Corp. in a stock deal, also assuming $6 billion of debt. This merger is the least significant for our immediate purposes, as it is fully integrated into the company's earnings.
More significantly, in April 2011, CenturyLink acquired Quest Communications for $10.2 billion in stock and assumed $11.8 billion in debt. This deal is very significant because of the potential for increased operational efficiency that should result once the companies are fully integrated. CenturyLink has stated a cost-savings goal of $575 million annually as a direct result of this deal. However, it is looking like it will take several more years for this to happen.
Third, and most recently, CTL acquired cloud computing company Savvis in July 2011 for $2.5 billion. According to CenturyLink's CEO Glen F. Post III, "The combination of CenturyLink's hosting and network assets with Savvis' proven solutions in colocation, managed hosting and cloud services substantially enhances CenturyLink's capabilities and immediately provides the company with a solid platform for future growth." More details on the merger are available here.
As far as the dividend goes, the company had a great track record of increasing their dividend until 2010, at which point management thought it would be in the best interest of shareholders to use excess free cash flow to help pay for the acquisitions, thereby raising the company's market share, improving synergies, and paving the way for higher future dividend increases. As mentioned before, the current dividend of $2.90 per share is not too shabby (7.23% yield currently), and I wouldn't be surprised if the company increases it in 2013 as the acquisitions become better integrated and there is more free cash to go around.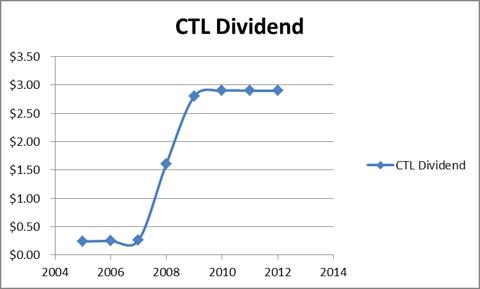 Click to enlarge
As far as earnings go, the consensus calls for $2.64 in 2013 and $2.76 in 2014, so earnings should start to grow slowly but surely as more cost-savings are realized. When the company reports earnings in mid-February, there are a few things I would like to hear that would make me more bullish on this stock.
First, instead of increasing the dividend, keep it the same for the time being. A yield of over 7% should be enough to make holding the stock worthwhile. Instead, use any excess cash flow to pay down debt, which currently stands at $21 billion.
Also, I want to hear the company's strategy for preventing customers from moving away from DSL and land-line phones. As of June 2012, CTL's access lines were down 6.1% on a year-over-year basis, and I would like to hear how the company intends to stabilize this trend.
To sum it up, I believe CenturyLink is a solid long-term dividend play, despite any concerns over access line losses. As debt gets paid down over the coming years, there should be significant upside for shareholders, in the form of both increased dividends and share price appreciation. Although it may take several years to reap the full benefits, 7.23% is a good income for the time being.
Disclosure: I have no positions in any stocks mentioned, and no plans to initiate any positions within the next 72 hours. I wrote this article myself, and it expresses my own opinions. I am not receiving compensation for it (other than from Seeking Alpha). I have no business relationship with any company whose stock is mentioned in this article.