It has been around for decades, and has been ignored by many for just as long. However, the US national debt stands to finally be thrown into the forefront of political discussion as the record for a single-year deficit looks to be beaten – by threefold.
According to the government-run TreasuryDirect.gov, US national debt is the largest it has been in history at $10.6 trillion, or $10,638,425,746,293.80. This is at a time when the US is facing the worst economic crisis since the Great Depression, which requires record-shattering government spending to stabilize the faltering economy. In addition, global demand for US national debt is waning as countries world-wide are implementing their own financial stimulus packages. Yet economists are virtually unanimously advocating for radical government spending to stabilize the economy, which leaves future generations of Americans holding extremely large amounts of national debt.
The problem for the average American is twofold: national debt doesn't seemingly affect their daily lives and $10.6 trillion is a hard number to conceptualize. After a certain point, the human brain stops comprehending the magnitude of a given number, and simply categorizes it as "extremely large." Subsequently, there is little public outrage or discussion when the US has run up a few hundred billion dollar deficit in years past. It doesn't seem to affect their lives, no government projects are cut, and adding $0.2T onto $10.6T seems relatively insignificant.
However, when viewed in another light, the enormity of the national debt is astonishing. According to the 2007 United States budget, and TreasuryDirect.gov, the interest alone on national debt is approximately $460 billion. It accounts for the second-highest expenditure on the US budget and if the US could forgo paying that interest on national debt for one year, the United States government could:
1) Pay for the entire education budget of the United States six times over

2) Reduce federal taxes by 33% for all Americans, or

3) Write a check to every man, woman, and child in the United States for $1,500.
Yet, that $460 billion in annual interest looks to grow substantially with looming deficits in the years to come.
A New York Times article entitled "Obama Warns of Prospect for Trillion-Dollar Deficits," stated: "President-elect Barack Obama on Tuesday braced Americans for the unparalleled prospect of 'trillion-dollar deficits for years to come.'" President-elect Obama did not give details about the size of the deficit, but projections place the proposed deficit at close to $1.2 trillion for 2009, shattering the record from President Bush last year at $455B.
That is not counting the proposed $800B 2-year stimulus package which could easily raise the deficit into the $1.7 trillion range – bringing the national debt to roughly $12.3 trillion by the end of 2009. Assuming deficits run at approximately $1 trillion per year for the next two years, which may or may not be conservative, the US could see its national debt as high as $15 trillion in three years.
Subsequently, Obama added emphasis on tighter government regulation, quoted in the NYTimes article as saying: "' We're not going to be able to expect the American people to support this critical effort unless we take extraordinary steps to ensure that the investments are made wisely and managed well.'" In correlation, he created a new position, chief performance officer, in charge of eradicating government inefficiencies.
This comes at a time however, when global demand for US debt is falling sharply. A prime example is China, one of the largest creditors to the US, which has heavily curtailed its purchases of US debt in light of the recent financial crisis. Another NYTimes article entitled: "China Losing Taste for Debt from U.S.," states that: "China's foreign reserves will increase by $177 billion this year — a large number, but down sharply from an estimated $415 billion last year." The Chinese government is dealing with their own economic woes – a stock market which has shed two thirds of its value in the last year – and is attempting to implement their own economic stimulus package. Furthermore, the sharp outflow of foreign direct investment in China has further complicated the issue. The situation is similar across the world, as the Emerginvest heat map shows the damage from the past quarter (click to enlarge):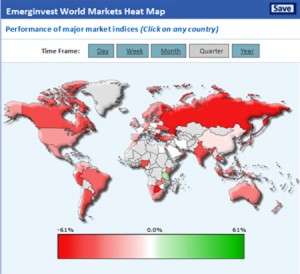 The lack of global demand for US national debt could put severe pressure on US interest rates in the years to come if demand continues to shrink drastically. However, there is a political buffer, as the article stated that: "China's leadership is likely to avoid any complete halt to purchases of Treasuries for fear of appearing to be torpedoing American chances for an economic recovery at a vulnerable time, said Paul Tang, the chief economist at the Bank of East Asia. 'This is a political decision,' he said. 'This is not purely an investment decision.'"
Yet even in the face of significant strain on government debt and sagging global demand, economists are virtually unanimous in calling for exorbitant amounts of government spending to stabilize the economy. Yet another NYTimes article entitled: "A Crisis Trumps Constraint," states that: "To a degree that would have been unimaginable two years ago, economists and politicians from across the political spectrum have put aside calls for fiscal restraint and decided that Congress should spend whatever it takes to rescue the economy," in addition to: "'It pains me to say that because I am a fiscal conservative who dislikes budget deficits and increases in government spending,' Mr. Feldstein told the lawmakers. But he said, 'Reviving the economy requires major fiscal stimulus from tax cuts and increased government spending.'"
Therefore, it looks as if the U.S. is inexorably tied to unparalleled government spending in the short term, nearly guaranteeing a national debt of over $14 trillion within a few years. The Obama administration has hinted at overhauling Medicare and Social Security as ways of dampening the gargantuan deficits, but the method, and certainly the net effect of such an undertaking remains ambiguous until the budget is revealed. It seems as if, in the interest of short term self-preservation, future generations of Americans will be inevitably saddled with incomparable amounts of national debt which will heavily shape future American fiscal policy for decades.
Disclosure: Emerginvest is an international finance portal, providing analysis and data on 120+ world markets to help individuals find investments from around the world. Emerginvest provides impartial information about world stock markets, and does not have any holdings in foreign equities.