Since Research in Motion's (RIMM) stock bottomed at $6.22 in late September of last year, it has been on a tear, closing at $17.52 on January 25.
I argue that the hype surrounding Research in Motion is misplaced and I am recommending going short heading into the launch and increasing positions if the stock moves above the $20-21 range. I believe the stock will trade in the singles digits in about 6 months' time.
I think that RIM's current business model is unsustainable, and that ultimately management will have to either sell the company, attempt to reorganize into an IBM (NYSE:IBM)-like business model, or a combination of the two, which is most likely.
Overview
RIM is unusual among smartphone manufacturers because it not only provides its own proprietary operating systems with its handsets, similar to Apple (NASDAQ:AAPL), but also owns and operates its own network infrastructure. Many of RIM's iconic services such as push email and BlackBerry Messenger (BBM) employ this infrastructure, bypassing carrier services. RIM receives royalty payments per BlackBerry user (subscriber) for use of these services. The company subdivides revenue into the following components:
Hardware - Sales of smartphones and tablets.
Service - Payments made by carriers on behalf of BlackBerry users (subscribers) for use of RIM's network assets.
Software - IT software solutions provided by RIM to corporations for the management of their mobile workforces.
Other - Accessories, non-warranty repairs, BB App World revenue and gains/losses on revenue hedge contracts
Revenue ($MM) by segment for the most recent reported quarter (Q3FY13), filed on December 20, 2012 for the quarter ended December 1, 2012:
| | |
| --- | --- |
| Hardware | $1,627 |
| Service | $974 |
| Software | $64 |
| Other | $62 |
| Total | $2,727 |
Source: Company filings
In the last several years, we notice a trend of service revenue becoming a more important driver of both top line and bottom line performance. We first take a look at the absolute trends: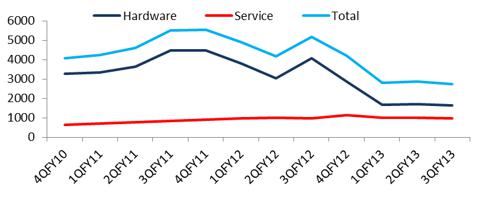 Source: Company filings
Total revenue has declined from 4,078mm in 4QFY10 to 2,727mm in 3QFY13; service revenue has increased from 641mm to 974mm in the same timeframe, representing a jump from 16% to 36% of total revenue:

Source: Company financials
As already negative hardware margins are squeezed from increased competition, service revenue has become the main driver of profitability. Two things influence service revenue - total subscribers and Average Revenue per Unit (ARPU), which is the average monthly fee RIM receives per subscriber. As the company's biggest markets increasingly become the domain of low cost manufacturers, service revenue and consequently subscriber growth rate and ARPU become the single most important factors influencing the viability of RIM's current business model.
Market share and subscriber trends
RIM's lack of competitiveness has led to a dramatic loss of global market share: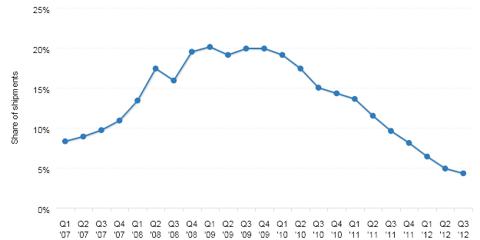 Source: Statista
The above chart is a reflection of the company's falling aggregate device sales, coupled with the explosive growth of the smartphone market. Note that tablet shipments are not taken into account, which would make the numbers starker still.
Since market share is a lagging indicator, I've put together a chart to compare market share data and share of sales data, which gives us a glimpse of where market share may be heading given the current state of affairs: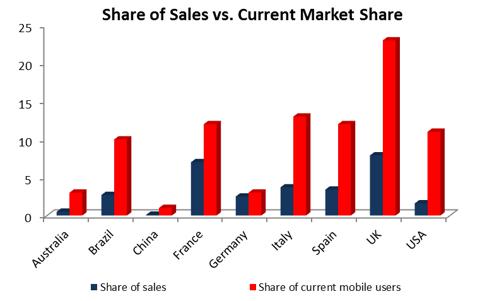 Share of sales data: Kantar World Panel
Market share data: My mobile planet (Google)
For the end of 2012, US share of sales dropped to 1.6% compared to current US market share of 11%. In the UK, currently RIM's strongest mature market, share of sales is at 7.9% compared to current market share of 23%. We note that in what is now the largest smartphone market by volume, China, RIM is a non-factor. This data presents RIM with a very serious issue, namely: The viability of any mobile ecosystem is subject to a feedback mechanism - as market share deteriorates, it becomes increasingly difficult to attract developers to the platform, leading to increased sales pressure. The company's challenge is to break this feedback mechanism.
I draw your attention to RIM's subscriber trends next: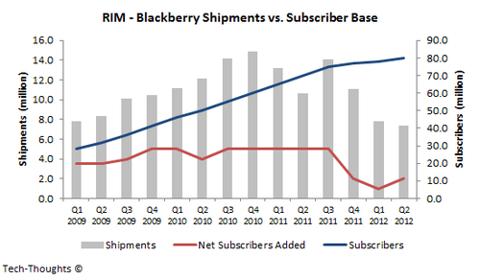 Source: Tech-Thoughts
Although the last reported quarter (not shown) has seen the first decline in RIM's subscriber base (from 80MM to 79MM), we nonetheless can see that the company has done well in maintaining their subscriber numbers. This is can be attributed to several factors:
New subscriber additions are a result of emerging market demand, where RIM's network assets complement immature and low bandwidth local carrier networks. BBM and RIM's email service are key differentiators in these markets, where many users lack even basic internet access.
Though RIM is losing market share globally at an alarming rate, the exponential growth of the smartphone market globally means that it still sees a net addition of subscribers.
In order to continue subscriber growth, RIM is selling handsets at negative gross margins.
The company's strategy is to maintain the subscriber base via incentives and lower prices while it prepares to release its new BB10 operating system.
The market share numbers presented previously are the result of RIM's near irrelevance in developed markets. But the company still retains a loyal and robust customer base in many developing markets. The Southeast Asia region (especially Indonesia), and countries such as South Africa and Nigeria provide the bulk of new subscriber additions. RIM subdivides regional revenue into Canada, United States, United Kingdom and Other. The 'Other' category has grown in relative size markedly in the past few years. We can infer from the market share and sales data in China and Europe, as well as management commentary, that the growth in 'other' regional revenue is coming primarily from emerging markets in the South-East Asia Region, and countries such as Brazil, parts of the Middle East and Africa (as mentioned previously).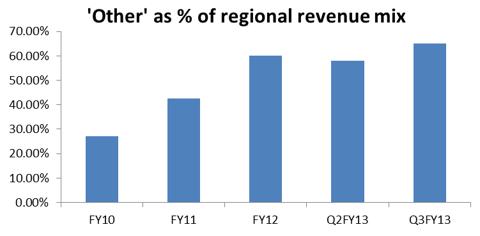 Source: Company financials
Even though emerging markets still remain a source of net subscriber additions for RIM, the company is losing market share steadily. Cheaper Android phones are making rapid headway, offering more features at steadily decreasing price points. Consumers in emerging markets are increasingly demanding fully feature smartphones, and not the halfway point that RIM's offerings represent. This trend is made possible by the continued expansion of 3G/4G and Wi-Fi networks in emerging markets, making RIM's network advantages less relevant.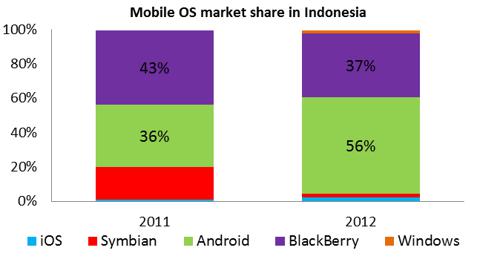 Source: Mobile Monday Report
In India, which is the fastest growing smartphone market in the world, RIM's share of the smartphone market has declined to < 10% in 2012 from just over 13% in 2011.
In summary, even though RIM may continue to add net subscribers, it continues to lose market share in almost all of its markets, including in its last bastion of strength, South-East Asia. Furthermore, we see a parallel between RIM's performance in developed markets of a few years ago and its current performance in developing markets; all touch screen devices are rapidly taking market share from feature phones and RIM's offerings. The reversal of this trend will require a drastic change in approach for the company.
ASP and ARPU trends
As a result of the company's shift towards emerging markets, it is now forced to compete on price, selling hardware at what analysts believe are negative gross margins. Average Selling Price trends make this clear: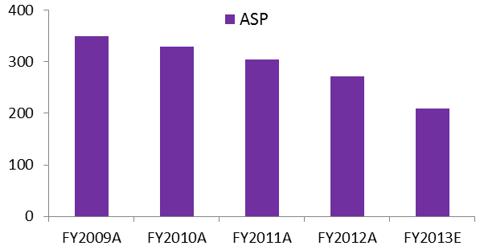 Source: Company filings and analyst estimates
Service revenue is far and away RIM's highest margin revenue stream. As we've seen earlier, aggregate service revenue has remained relatively flat over the last several quarters, even in the face of net subscriber additions. This is because Average Revenue per Unit is steadily decreasing: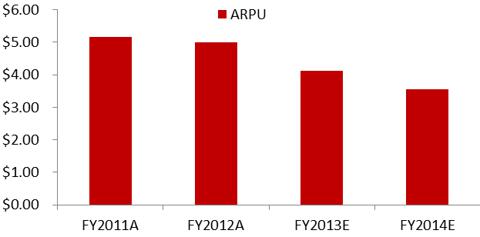 Source: Company filings and analyst estimates
The company's carrier partners are continuing to pressure RIM with regard to ARPU as they increase their own data capacity. RIM's competitors do not generate fees in this way. The question mark around service fees is absolutely critical to RIM's future. Management has said previously that BB10 devices will not rely on RIM's own network to the same extent, and therefore cannot be relied upon to generate service fees in a similar manner. There is currently no clear answer as to how RIM plans to stop the decline in ARPU.
RIM maintains a strong presence in the enterprise/corporate market. Many people still carry around two phones; a company issued Blackberry and a smartphone for personal use. The trend in the corporate market is unmistakably towards BYOD (Bring Your Own Device). This will increasingly lead to consumers' work devices being supplanted by their personal devices, and as we have seen previously, RIM is not competitive in that realm. The company has rolled out software suites aimed at corporate IT departments that can accommodate most types of smartphones; previously RIM only offered such functionality exclusively for its Blackberry corporate clients. This was done out of necessity, as companies like Microsoft (NASDAQ:MSFT) and IBM are entering the corporate IT market with similar solutions that allow IT departments to better manage their communication environments, driven by the complexities inherent in BYOD. Once BYOD implementation becomes less cumbersome, I see the trend accelerating - eliminating the distinction between business and personal devices and targeting RIM's weak spot. In addition to BYOD, companies are also simply issuing iPhones instead of BlackBerries increasingly often. These trends are confirmed by IDC; which as of 2013 sees iOS as the top operating system in the enterprise among companies that deploy their own devices, and Android taking top spot where BYOD is prevalent.
BB10 as the solution for all that ails RIM?
Google (NASDAQ:GOOG) recoups its investment in Android via clicks and advertising revenue. Apple has excellent margins on their highly differentiated hardware, and many additional services such as iTunes where it makes a profit. Samsung, much like Apple, has found a way to differentiate its hardware and generate margins (keep in mind they have no OS development costs). Other manufacturers have either cost advantages, just enough product differentiation to remain relevant, or a combination of the two. RIM's business model is in jeopardy because the company does not possess cost advantages, and its products offer insufficient value to consumers and thus no pricing power. This forces the company to sell hardware at negative gross margins. RIM also has OS development costs, and its last source of high margin profit (service revenue) is becoming increasingly uncertain. This is the central theme of the company's struggles - in what segment of the market can it generate value?
RIM's answer to these challenges is BB10. Since declining ARPU is the new normal (even if BB10 is successful) RIM must offer enough value to customers and enterprises to meaningfully start regaining market share in an increasingly competitive environment. I believe management is betting that this would allow them to return to hardware profitability, and by branching out some of their service suite, can retard the decline in service revenue.
But make no mistake, RIM's fate this year rests squarely on the success or failure of BB10. The thesis is therefore binary.
Why BB10 will not be successful
BB10 handsets are initially aimed at mature markets, where management believes it can gain back share and raise hardware ASPs.
I believe that BB10 will not differentiate itself sufficiently from Android, iOS and Windows Phone.
RIM's lack of a coherent ecosystem is a serious hindrance to BB10 acceptance.
BB10 continues doing best what Blackberry has done best for years. Emphasizing security and business friendliness has not stopped RIM from bleeding market share, doing more of the same is not likely to bring success.
BB10 is innovative in some areas, but it will not stand out from the crowd for consumers who are increasingly becoming attached to established ecosystems.
The company needs a truly disruptive product, on a scale of RIM's earlier handset versus feature phones, or the iPhone versus RIM's handsets. BB10 and the devices it will run on will not be that product.
Probabilities of 20-30% for BB10 success, as maintained by some analysts, are wildly optimistic in my view. While it is likely that loyal Blackberry customers who have postponed upgrading will make the switch to BB10, clawing back market share from the smartphone leaders in my view is not realistic. A key weakness for the company is its lack of coherent ecosystem, similar to Google, Apple and Microsoft. All three of these companies have developed a robust support structure around their mobile operating systems. This includes desktop operating systems (Apple, Microsoft), cloud storage services (all three), a robust presence in tablets (Google, Apple, Microsoft in early stages), and services such as Xbox Music, iTunes, Siri, Google Now and other peripheral products with which customers associate a certain mobile platform.
RIM has attempted entering the tablet space via their Playbook tablet, with less than stellar results. The Playbook OS is similar to BB10 as both are based on the QNX architecture; it offers a smooth user experience, a quick browser and traditional BlackBerry services such as BBM - much of what RIM promises with its upcoming line of BB10 devices. Developer support is greater for BB10 than for the Playbook at launch, but ultimately developers follow consumers, and an OS must be sufficiently different and specifically appealing to entice consumers to switch from established ecosystems, where they are familiar with the apps, services and functionality. I believe that BB10's unique features, namely: an enhanced on screen keyboard, the ability to switch from business to personal functionality, BB Hub universal inbox, novel use of gestures, and a faster browser will not be enough of an enticement for consumers to switch to what is essentially a me too operating system experience. Consumers buy on emotion rather than logic, and it's very difficult to ascertain both the identity and target market for BB10. These must be easily identifiable properties for any disruptive product.
While the first device (Z10) based on BB10 seems to be on par from a technical standpoint with current devices on the market, it is mere months away from being a generation behind. By the midpoint of this year, 5 inch 1080P Android phones running Key Lime Pie will be the high end standard. These include Samsung's G S4, Google's rumored X phone, and offerings from companies such as HTC and a reinvigorated Sony. Apple will also strike back with an updated iPhone and iOS 7 and the possibility of an iPhone with a larger screen for the high end. In addition, Nokia, which is seeing early signs of success with its Lumia line, will both expand its carrier offerings and update its hardware. RIM's handsets are entering a shark tank.
The first device to launch after January 30th is an all touch screen model. This is somewhat perplexing as one of the main differentiators for RIM is its best of breed physical keyboards. This may slow the adoption rate of BB10 among existing clients, as they wait for the QWERTY version which, depending on the rumor, will ship with a delay of a few weeks to two months. RIM's best selling phones in the US are its Curve line, which have physical keyboards. In addition to the lack of keyboard, the first device features absolutely no physical buttons, instead relying on gesture control for basic functionality, this learning curve may put off some existing BB users who retain their BlackBerrys out of familiarity.
The case for Microsoft as the third major OS
Analysts believe that carriers seek to disrupt the Android/iOS duopoly. This is absolutely correct in my view.
Carriers will certainly give RIM a fair shot at gaining market share, through advertisements and promotions.
This opportunity afforded to the company by carriers is no guarantee of success, as witnessed by Microsoft and its Windows Phone 7 rollout with Nokia (NYSE:NOK). It is the product that will ultimately determine success.
As Microsoft and its partners iron out the kinks in Windows Phone 8 and its ecosystem, I expect Windows Phone to gradually gain market share, relying on Microsoft's expertise in enterprise, security and productivity.
Ultimately, Microsoft possesses the assets and expertise required to become the third major mobile OS provider.
As of yet, Microsoft hasn't had much success in the mobile landscape. Its partnership with Nokia has yet to bear much fruit. Nokia's recent sales figures may be an early indication of the gradual acceptance of Windows Phone devices. This doesn't mean WP8 will be a runaway success, far from it, it may languish in a distant third for a while to come. But the situation presents yet another challenge to BB10. Consumers who are looking at something other than iOS or Android may opt for WP8, which offers Microsoft's robust ecosystem as well as an OS that is sufficiently different from the incumbents. Nokia has also managed to differentiate its hardware with unique designs, top notch build quality, and excellent built in cameras.
Implication for share price
RIM is facing a binary outcome in the next several months. I assign the probability of strong BB10 consumer adoption at about 10%. This would be the upside case, and may well lead RIM's stock to the $40s in the second half of the year. The downside scenario I believe has a probability of 90%, and will lead to RIM's stock trading in the single digits in about 6 months. Uncertainty surrounding the company's future business model makes fundamental valuation essentially useless at this point. There is no reason to believe that the crop of speculative investors who have bid the stock up will find a reason to hold if BB10 fails. They will not discover their inner value investor and start looking at RIM's balance sheet; they will simply stampede for the exits. By the time we get a clearer picture of RIM's future good enough for fundamental valuation to have merit, this trade should be covered. If BB10 does not succeed, RIM faces a difficult period of restructuring; this will most likely include licensing patents and software, and selling off divisions. There are currently several alternative OSs being developed, and the patent bubble is showing signs of bursting. Companies such as IBM will challenge RIM in its traditional domain as a provider of wireless workforce management solutions. Beware of analysts touting 'intrinsic value' at this point. They are sure to not have a clue of what they're talking about.
Disclosure: I have no positions in any stocks mentioned, but may initiate a short position in RIMM over the next 72 hours. I wrote this article myself, and it expresses my own opinions. I am not receiving compensation for it (other than from Seeking Alpha). I have no business relationship with any company whose stock is mentioned in this article.