With interest rates near historical lows, investors of all ages and risk tolerances are increasing their focus on high yielding opportunities. I utilize a dividend screen discussed below and this week there are 12 possible ex-dividend opportunities (nine analyzed below based upon SA readership criteria). These equities are primarily utilities ranging from natural gas distributors to traditional electrical utility providers. The remaining three opportunities are financial services including private equity firms and banks. Utilities tend to have yields in the range of four to five percent and Prospect Capital (NASDAQ:PSEC) is the clear yield winner this week above 11%. Market capitalizations are diverse this week but approximately two-thirds are below $10B. Half of the opportunities go ex-dividend tomorrow so it is critical to review this article soon.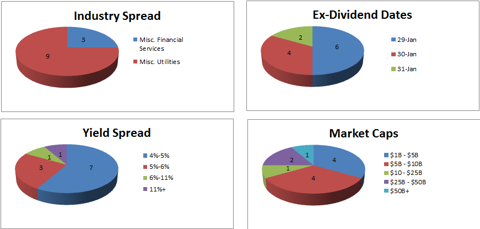 Click to enlarge
(Click to enlarge)
For details of the strategy and my screener details, please consult my methodology on the topic (last modified 1/21/2013). In brief, the screen focuses on relative stable equities with a concentration on liquid companies at affordable valuations. This is summarized below:
Dividend Yield ≥ 4.0%
Ex-Dividend Date = Next Week
Market Capitalization ≥ $1B
P/E Ratio: 0-20
Institutional Ownership ≥ 15%
Ideally Modest YTD S&P 500 Underperformance
Minimal European Exposure
After applying this screen I arrived at the equities discussed below. Although I envision these as short-term trading ideas, (i.e. less than three month holding period), you still need to exercise caution. Depending on the quality of the equity you may decide to just hold long enough for the dividend or to make the stock a longer-term holding. The information presented below should simply be a starting point for further research in consultation with your professional financial advisor before making an investment decisions. My goal is to present new companies to you and provide a brief overview of their recent developments; this should not be considered a substitute for your own due diligence.
Prospect Capital Corporation: 11.60% Yield; Ex-Dividend 1/29
Prospect Capital is a specialty finance company that operates primarily in the private equity and specialized investment categories with a focus on secured lending. The firm prefers to make small investments ($5-$50M) in small-to-mid-size North American companies. Private equity companies are attractive dividend producers because they frequently revitalize or improve existing businesses and are able to return excess cash quickly. These can be volatile firms because their ventures often do fail but once they have successful investments, they can pay above-average dividends.
Earlier in 2012 Prospect agreed to acquire a specialty finance company, First Tower Corp., in a cash/stock deal valued at approximately $233 million. First Tower specialized in offering installment loans to consumers for mid-sized consumer purchases. Based upon TTM earnings, the deal would offer a current yield of 21% and thus far has been an accretive acquisition. This is another case of the rich getting richer, and shareholders should take advantage.
Prospect reported another strong quarter of earnings in November in which net investment income increased 166% year-over-year. The current portfolio yield sits around 13.3% revealing that the dividend is quite safe. In early December, Prospect increased the December 2012 and January 2013 dividend payments by 8.2%. CEO John F. Barry commented that "because of its 2012 record date, Prospect's 11.0000 cents per share December 2012 dividend should enjoy current 2012 tax rates for shareholders and should not be subject to higher 2013 tax rates envisioned by currently passed United States legislation." In June 2010, Prospect began distributing dividends monthly rather than quarterly, which accounts for the large perceived dividend decrease from $0.40 to $0.10. Private equity investments are complex due to the scale and diversity of their operations so I strongly recommend that you read the earnings release for further details of investment activities. The company has been very active recently as it offered $200M of 5.9% notes as well as increasing its revolving credit facility.
The stock was largely immune to poor equity performance in 2012 but has dropped 4.8% in the past three months due to dilution concerns relating to the company's $384M net stock issuance ($11.10 per share before fees). Dilution is never good for a company but Prospect has a history of raising capital to meet investing requirements. I am confident that the $300M in capital will deployed profitably and investors would be wise to take advantage of the drop in the share price. The P/E is still around seven and the yield is approaching twelve; therefore, I am bullish on Prospect Capital's future. This valuation is consistent with the depressed multiples of other financial services companies. Many companies with yields in excess of ten percent can be yield traps, but Prospect has withstood the test of time and also offers capital gains opportunities.
None of the loans originated in the past four years have gone on "non-accrual" status, highlighting management's ability to select attractive investment opportunities. Jeffrey Gall recently performed a detailed analysis of Prospect's holdings and came to the conclusion that "Outside of a few minor portfolio holdings, PSEC's portfolio is very healthy … Given its current portfolio coupled with the fact that PSEC is trading below book value makes PSEC a stock worth owning." If you needed even more of a reason to buy PSEC there was recently a "cluster insider buy" in which the COO, Director, and CFO all purchased shares within a five-day period. I stated last month that I would be comfortable buying Prospect under $11.50 and the stock has jumped sixty cents (approximately 5.6%) in that time period but I believe there is still value here.
In the past two week Prospect announced that it would be diversifying its investments into the real estate market with three investments totaling $50M. President Grier Eliasek stated that "while our initial real estate investments have been in industrial and multi-family residential properties, Prospect is interested in all types of direct and indirect real estate investments, including properties owned by private equity-owned companies." Prospect might be late to the game but I believe management will tread lightly and make conservative investments rather than speculating. I do not anticipate the yield on these new investments increasing the portfolio yield substantially but but this diversification could strengthen the portfolio over time.
El Paso Pipeline Partners LP (EPB): 5.97% Yield; Ex-Dividend 1/29
El Paso Pipeline Partners owns and operates natural gas transportation pipelines and related assets throughout the Central and Southern United States. El Paso is one of the highest yielding pipeline partners but has an alarmingly high dividend payout ratio, which is in excess of 100%. If you only plan on holding El Paso for the short-term then this is not a critical issue but it is a flag that requires further research. This risk is significantly mitigated by the fact that El Paso Pipeline is an MLP which is required to distribute most earnings to investors in the form of distributions; therefore, the payout ratio is far less meaningful metric than for traditional dividend payers.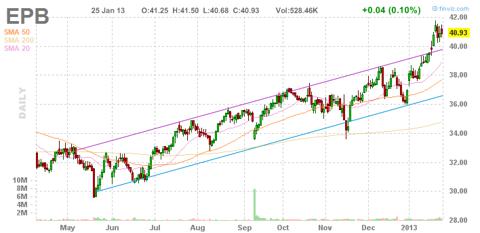 Click to enlarge
(Click to enlarge)
(Source: Finviz.com)
EPB has a very strong chart and recently broke-out of its positive trading range above $40. The partnership has a track record of generating cash from operations and recently increased its distribution by 11%. El Paso recently reported fourth quarter financial results that beat earnings expectations while being light on revenue. Despite this mixed performance, there should be some gas left in the tank to consider this partnership for dividend capturing.
Baytex Energy Corp. (BTE): 5.80% Yield; Ex-Dividend 1/29
Baytex Energy is an oil and gas company that engages in the acquisition, development, and production of oil and natural gas in Western Canada. In recent years Baytex has also been expanding its presence in the United States. As a Canadian publicly listed corporation there may be special tax considerations for United States shareholders depending on their unique situations. Despite its natural gas interests, more than 75% of revenue is derived from heavy oil with light oil accounting for nearly 20%. Todd Johnson wrote a very comprehensive overview of Baytex in which he concludes "I believe Baytex is a long term winner in the Canadian monthly dividend oil sector. I prefer the company's focus upon internal funding and monthly dividends." The stock has been volatile since that point and the yield has stayed between 5.8% and 6.1%.
Baytex announced an acquisition in October 2012 of 46 sections of undeveloped oil sands leases in the Cold Lake area of northeast Alberta for approximately $120M. This acquisition is consistent with Baytex's focus on heavy oils. Note that Baytex pays dividends monthly and the payment has remained constant at $.22 per month since 2012. Overall Baytex appears to be a solid dividend opportunity but there may be storm clouds looming on the horizon. Demand for pipeline capacity is outstripping supply and those companies without refining capabilities, such as Baytex, may suffer. Earnings are estimated to drop almost thirty percent going forward if demand stays at this level. This is a critical situation to monitor if you are considering a long position in the company. With current and forward P/Es of 19.1 and 30.0, respectively, I would personally avoid the risk involved in Baytex.
Enterprise Products Partners LP (EPD): 4.82% Yield; Ex-Dividend 1/29
Enterprise Products Partners is one of the more diverse midstream providers with interests in not only pipelines and storage but also in natural gas processing, marine services, platforms, and natural gas liquids importing/exporting. EPD is more of a directional bet on natural gas price and demand as natural gas is highlighted prominently in the firm's growth strategy. Substantially all revenue is derived from third parties and net income has been rising as operating costs are declining at a faster rather than revenue. This type of activity is not sustainable and I much rather prefer investing in companies with expanding operations.
Contributors at Seeking Alpha have mixed opinions on Enterprise Products with a generally positive bias. The stock is trading less than fifty basis points from its high despite slowing revenue and sharply negative cash flows. The liquidity (current ratio of 0.8) and solvency (debt/equity of 1.2) ratios are less than ideal. Operating cash flows are very strong but have been declining due to increased project expenditures. I would rather invest in EPB than assume the risk of EPD declining from its high. On a positive note, EPD has increased the dividend every quarter since 2004 and the dividend has climbed 77% over that time frame.
Oneok Partners LP (NYSE:OKS): 4.73% Yield; Ex-Dividend 1/29
Oneok (pronounced "one-oak") Partners is one of the largest publicly traded MLPs and specializes in gathering, processing, storage and transportation of natural gas in the Mid-Continent and Rocky Mountain regions. Approximately two thirds of announced capital investments relate to natural gas liquids (NGL) with the balance pertaining to Natural Gas Gathering and Processing. Oneok Inc. (NYSE:OKE) is the general partner for Oneok Partners LP and owns 43.4% of the limited partnership.
This month Oneok announced that it plans to invest $500M through 2015 to build a large natural gas processing facility, construct a new NGL pipeline, and improve existing infrastructure. New infrastructure should help Oneok to work through its $2B+ backlog of pending commitments. This activity is not unusual but clearly management is trying to signal to the market that its prospects are bright. On the same date, Oneok increased the dividend and made bullish commentary regarding the dividend payout policy. The quarterly dividend was increased by 3.6% and Oneok is targeting annual dividend increases between ten and fifteen percent. If the dividend increases by two cents per quarter as forecasted, management will be slightly above the midpoint for 2013. This forecasted activity brings the forward yield closer to five percent and much closer to that of comparable MLPs. Revenues were sharply lower in the quarter ended September 30 but commodity costs declined by a greater amount. As I said with EPD above, this is not exactly what you want to see from a potential investment. Cash flows from operations are positive and investing activities (CapEx) are financed with debt. Looking forward, management forecasts average annual EBITDA growth of 17-21% for 2012 (remaining unreported portion) through 2015 based upon new projects so I am willing to give Oneok some leeway with its declining revenue.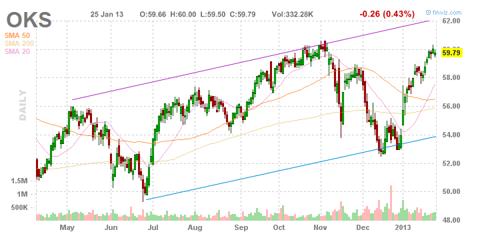 Click to enlarge
(Click to enlarge)
(Source: Finviz.com)
Financial metrics are strong as the company is liquid (current ratio of 1.6) and solvent (debt/equity less than 1.1). The reported beta on Finviz is only .44 but a quick glance at the chart indicates that OKS can be quite volatile and is not for the faint of heart. If you believe in technical, the stock is trading in a nice upward channel with trendline support but the bottom has only been tested briefly.
Albert Alfonzo has a succinct overview of the company and concludes that "Oneok Partners offers a compelling combination of both yield and growth. While its 2012 share price performance was disappointing, I expect shares to perform much better in 2013 as expectations are much lowered [sic]".
The Southern Company (NYSE:SO): 4.43% Yield; Ex-Dividend 1/31
The Southern Company is a utility company with more than four million customers in the Midwest. The Southern Company is unique because it is still dedicated to nuclear energy and is proactive in trying to adapt to the realities of the energy market. This is one of my preferred utility companies and it is affordable with a forward P/E below 16 but investors need to be careful with the fourth quarter earnings announcement scheduled for January 30th. Todd Johnson has an extremely detailed article that breaks down the company's recent performance. The financial results have deteriorated recently but this is still a solid company that is worth considering for its stable yield.
EQT Midstream (NYSE:EQM): 4.21% Yield; Ex-Dividend 1/31
EQT Midstream Partners is a limited partnership formed by EQT Corporation (NYSE:EQT) to provide midstream services in the Appalachian Basin of the United States. IPODesktop did a great job summarizing the LP when the partnership went public. EQT still maintains a 2% GP interest and 57% LP interest in EQM. EQM is one of the smaller equities in the screen but has been performing very well. The stock has risen from $22 to $33 as strong performance has pushed the forward P/E below 20. The partnership's liquidity and solvency ratios both indicate a strong financial position. EQM has no outstanding debt and relies only on a $350M revolving credit facility. Most contracts are long-term (weight average life of ten years) and have fixed-fees, thus EQM's commodity risks are low.
EQM was recently highlighted at a Wells Fargo MLP conference as being a high growth opportunity that could perform well in 2013. Generally I prefer to see at least a year of performance before executing an ex-dividend strategy but EQT might be worth a speculative play.
Pinnacle West Capital Corporation (NYSE:PNW): 4.11% Yield; Ex-Dividend 1/30
Pinnacle West Capital is a regulated utility company that produces and distributes energy for over one million customers in Arizona. The company has an average valuation given its yield but the positive cash flows and low payout ratio make it more attractive of an opportunity. Pinnacle recently announced a four percent dividend increase to break its stagnation but it remains to be seen whether future increases are likely. Pinnacle reported third quarter 2012 earnings that included slight drops in both revenue and earnings. This is not too disconcerting as management affirmed full year guidance so such a fluctuation is not unexpected.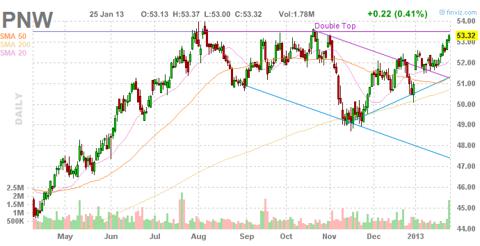 Click to enlarge
(Click to enlarge)
(Source: Finviz)
Pinnacle West has had difficulty surpassing its 52-week high, as the chart indicates, and is forming a triple top. An ordinarily pull back would not be unexpected given the stock's recent run so Pinnacle might not be the best ex-dividend opportunity; however, if you plan on holding longer-term Pinnacle may be a worthwhile stock. On Friday an EPA statement put the viability of a PNW joined owned coal plant into question so the stock will likely have further downward pressure on Monday.
Alliant Energy Corporation (NYSE:LNT): 4.10% Yield; Ex-Dividend 1/29
Alliant Energy Corporation is a regulated utility company that produces and distributes energy for 600,000 customers in the Iowa, Wisconsin, and Minnesota. Alliant is one of the cheapest utility companies I follow on a forward P/E basis but lags peers for return on equity. For example, The Southern Company has a RoE that is more than two hundred basis points higher. Alliant was recently named a top ten dividend utility by Dividend Channel.
Alliant's nine month performance has declined slightly but the most recent quarter was strong year-over-year as electrical utility performance rose. Cash flows and the financial position are generally unchanged versus the comparable prior year period. Liquidity and solvency are average for the group and the payout ratio is comparable at 63%. The dividend was recently was increased 4.4% and has exhibited modest growth over the years. Overall Alliant is an average utility and in the middle of the pack compared to peers. Volatility is low and the stock has traded within a tight range of $42 to $46 dating back to August; therefore, the downside is somewhat limited if you execute an ex-dividend strategy. You should always exercise caution when buying a stock near its 52-week high and Alliant currently sits less than three percent from its high.
The information presented has been summarized below. I make no warranties regarding the information in the chart as industry classifications are frequently imperfect. Yellow and red represent "avoid" and "consider" classifications, respectively.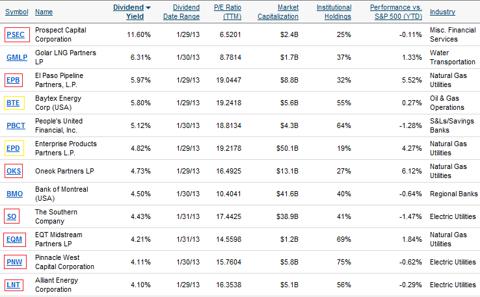 Click to enlarge
(Click to enlarge)
Please refer to profile page for disclaimers.
Disclosure: I am long PSEC. I wrote this article myself, and it expresses my own opinions. I am not receiving compensation for it (other than from Seeking Alpha). I have no business relationship with any company whose stock is mentioned in this article. Please refer to profile page for disclaimers.