Will the drama that has been Digital Generation (NASDAQ:DGIT) at last come to an end? Or, will chapter two begin? We should know one way or the other within a few weeks. The company's annual shareholder meeting is scheduled for February 21, 2013. DG is currently in noncompliance with NASDAQ since it did not hold its annual meeting of stockholders prior to December 31, 2012. The company chose to delay the meeting until its special committee reviewing strategic alternatives has made its recommendation to the board. We should know the results of the strategic alternatives process within the next week or two.
Setting the Pins
Digital Generation is a provider of digital technology services that enable the electronic delivery of advertisements, syndicated programs, and video news releases to traditional broadcasters, online publishers and other media outlets. It is basically a middleman digitally preparing content for display. Competitors include Google (NASDAQ:GOOG), Comcast (NASDAQ:CMCSA) and Akamai (NASDAQ:AKAM). The company was founded in 1991 and became public in 1996.
The company has traditionally distributed advertisements and other content to television and radio stations. It was doing pretty well too. In 2010 they earned $41.569 million or $1.50 P/S. The stock traded around $40. In 2011, the company made a series of acquisitions (MediaMind being the most noteworthy) in an effort to transform the company into a sort of one stop shop for digital distribution to traditional media outlets and online publishers. However, the company took on $435 million of debt where previously there was none and integration of the traditional and online divisions has not gone smoothly. 2011 earnings fell to $26.5 million, or $0.95 P/S. The company recorded a small loss in the first half of 2012 followed by a massive goodwill impairment charge for the online unit of $208.2 million in Q3. Shares currently trade for ~$10.65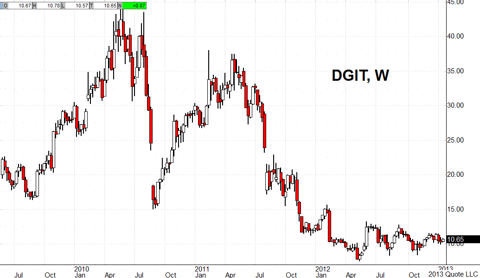 New Information
In June, 2012 DG reportedly rejected an offer from competitor Extreme Reach to acquire the company for over $20 per share which was, and still is, about twice what the company's shares traded for. Extreme Reach was told the combination of the two companies might raise antitrust concerns. (A dubious excuse in this author's opinion.)
In July 2012 the company hired Goldman Sachs to help explore strategic alternatives. They also, curiously, stopped providing financial guidance or affirming previous guidance until the process is completed. About a month later a shareholder rights plan was initiated which expires on March 5, 2013. The poison pill kicks in if anyone accumulates more than 10% of the outstanding shares.
Lots of Interested Parties
In September, Scott K. Ginsburg, the company's executive chairman filed a 13D revealing a 9.2% stake and expressed interest in acquiring the company.
Alex Meruelo is the company's largest shareholder with a 9.7% stake. He seems concerned that the strategic alternatives process may not be conducted fairly. He wants the company sold and does not care who it's sold to so long as the board gets the best deal possible. His13D and subsequent letter to the board of directors threatens "to hold the board and management directly responsible for maximizing value for all shareholders."
The board has since approved an indemnification agreement entered into with each current board member, the CFO, General Council and Controller whereby the company will indemnify all of the above against all expenses, liability and loss incurred in connection with any civil, criminal, administrative or investigative action, suit or proceeding,
The Clinton Group has a 5.9% stake. In its 13D filed on January 14, 2013 Clinton Group states that it intends to nominate three new members to the board. It states: "If the Board cannot complete its strategic process by the annual meeting, we believe it is in the interests of all stockholders to elect directors who can sell the business quickly or help guide the Company to a brighter future as an independent Company."
On January 16, 2013 DG and Clinton Group reached an agreement. DG will make room on the board for two Clinton nominees in exchange for Clinton supporting DG's nominees.
Unchecked Aggression
Not to be outdone, Mr. Meruelo released a statement on January 25, 2013 stating his intentions to nominate four independent directors to the board. If he is successful the board would increase in size from seven to eleven, six of which would be independent nominees from Meruelo and Clinton.
"This is a very complicated case... You know, a lotta ins, a lotta outs, a lotta what-have-yous. And, uh, a lotta strands to keep in my head, man. Lotta strands in old Duder's head." -Jeff 'The Dude' Lewbowski
It's hard to tell if Meruelo and Clinton are working together or against each other. I think they both are suspicious of the board and the company's executive chairman. The lack of transparency is concerning as is the board's CYA move. But, it's hard to see how this does not work out for shareholders. In addition to the three parties described above whom collectively own about 25% of the company, there are several other 5% passive holders including Morgan Stanley who filed a 13G in November. A lot of people see value here. Some are even willing to buy the whole company. Meanwhile, the stock languishes at about half the value reportedly offered for it last June. I'm in…
Let's go bowling.
Disclosure: I am long DGIT. I wrote this article myself, and it expresses my own opinions. I am not receiving compensation for it (other than from Seeking Alpha). I have no business relationship with any company whose stock is mentioned in this article.