The Japanese Yen (NYSEARCA:FXY) has been on a decline since the new government led by Shinzo Abe has been pursuing a policy of currency debasement to boost their economy.
The USD/JPY daily chart shows resistance at the 90 level, which it passed last week: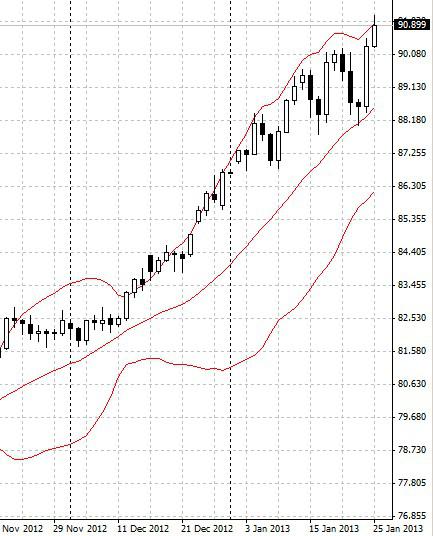 This level has not been seen since 2010. The significance of this chart shows that although the Yen continually meets resistance, the trend is steady down.
The decline continues even though publicly, Japanese officials have downplayed this new policy:
Economy Minister Akira Amari denied Japan's new government is actively targeting a weaker yen, taking to the international stage to argue that economic policy is instead aimed at defeating deflation.
Yen Rise period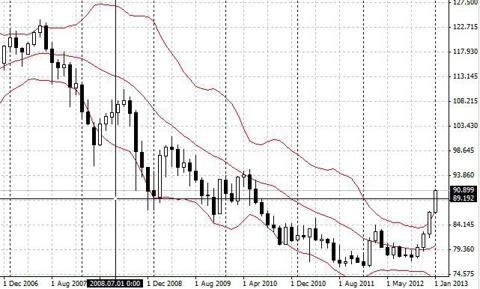 From 2006 to 2011, the Yen was on a general rise against most other currencies, including the US Dollar (shown above). The reversal that has happened recently was severe (in daily percentage change terms) but the continued Yen decline may be more steady as was the rise in the chart above.
Competing devaluations
The largest impediment to the Yen decline will be any retaliatory actions by other central banks. It's even a big topic at this weeks economic forum in Davos:
No less an authority than German Chancellor Angela Merkel got the ball rolling in Davos when she complained - in typically under-stated fashion - that she was "not without some concern about Japan right now".

She also appeared to warn Tokyo that its actions were not going unnoticed on the world stage, saying there was an increasing awareness of what she called "political influences or manipulations of the exchange rate".
If a currency war did ensue, other central banks would pursue similar policies, thus driving down their respective currencies and up the Yen. If this did happen it would likely be a long, planned move. But any announcement about another central bank pursuing such a policy could cause the Japanese Yen to spike up as the market reacts.
Sell the Japanese Yen
Based on the policy announcement, and based on the fact that the currency is moving through its resistance, shorting the Yen seems to be a pretty clear trade. The currency ETF is for the Japanese Yen. Traders with Forex accounts could choose to go long the USD/JPY, EUR/JPY, GBP/JPY, AUD/JPY, NZD/JPY, or create a basket and go long all of them.
Forex Risk Disclosure - Click here to read
The risk of loss in trading foreign exchange markets (FOREX), also known as cash foreign currencies, or the FOREX markets, can be substantial.
Disclosure: I have no positions in any stocks mentioned, and no plans to initiate any positions within the next 72 hours. I wrote this article myself, and it expresses my own opinions. I am not receiving compensation for it (other than from Seeking Alpha). I have no business relationship with any company whose stock is mentioned in this article.