Investor attention has been focused on so many issues as of late that it appears that many are not aware of the recent multi-decade breakout in the Russell 2000 Index (IWM). This popular index of small-cap stocks is currently sitting at levels never seen before after having recently taken out the 2007 and 2011 highs. The Index breached the $900 level this month and while trading at only a forward P/E of 15x is poised to move higher as we move further into uncharted territory (Source: Morningstar).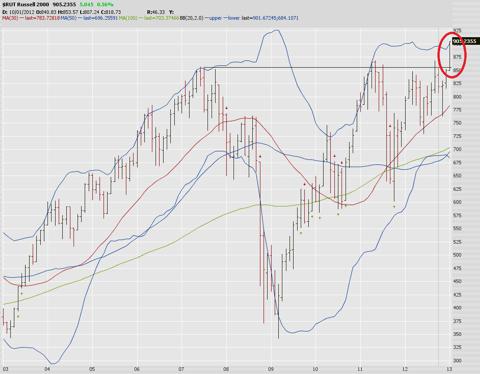 Click to enlarge
Source: TD Ameritrade (Think or Swim)
Small-Cap Premium
Strengthening the case for small-cap stocks going forward is that they usually trade at a premium to their larger peers and generate greater returns over time (Table 1). This is for various reasons and has been extensively researched by academics for years. While I will not get into the details in this article, for those who are interested I recommend the following sources:
Size Matters: How to Apply Size Premium Metrics When Size-Based Category Breakpoints Over

lap, by M

ichael W. Barad
2010 Ibbotson Risk Premia Over Time R

eport,

by Morningstar
Unfortunately, both of these resources are copyrighted and therefore only available for purchase. (Note: I do not have any affiliation with these sources and as such do not receive any compensation from them.)
Table 1: Recent and Annualized Return Comparison

Click to enlarge
Source: Morningstar
Note: Returns greater than one-year are annualized
The current forward P/E on the S&P 500 Index (SPY) is 12.8x, which is lower than the forward P/E on the Russell 2000 Index (Source: FactSet). With this theory in mind, one can see how multiple expansion in the S&P 500 Index translates into multiple expansion in the Russell 2000 Index. In fact, is not uncommon to see this small-cap risk premia result in a 4-5x P/E multiple premium above the S&P 500 Index. While at a 18-20x forward P/E multiple on the Russell 2000 Index is not far outside the realm of possibility, I would argue that valuations and fundamentals would be stretched at these levels.
Small Caps Love Liquidity
The sub-title pretty much explains it all. When the Federal Reserve is actively engaging in quantitative easing small-cap stocks tend to generate greater returns than large-cap stocks. The Federal Reserve's announcement of QE III+ or "open-ended quantitative easing" is likely the catalyst that pushed the Russell 2000 Index to all time highs.
Table 2 below shows the returns of the Russell 2000 Index relative to the S&P 500 Index during times of quantitative easing. While there are no clear or direct fundamental reasons for this outperformance, the trend is apparent. The most reasonable explanation is that a "rising tide lifts all boats" and that quantitative easing increases investor tolerance for risk and therefore, higher-beta, smaller stocks outperform lower-beta, large stocks.
Table 2: Returns During Periods of Quantitative Easing

Click to enlarge
Source: Morningstar
Conclusion
From a contrarian perspective, news of the Russell 2000 Index hitting an all-time high may be interpreted as the first warning shot across the bow. However, a breakout in this nature can also be interpreted as being extremely bullish, a sign that the past is behind us and the future is bright. Also, for those who believe that price action in small-cap stocks is a leading indicator of large-cap performance, then we may be hitting new highs on the S&P 500 sometime soon.
Uncharted territory is just that, uncharted. With it come new risks, but also new opportunities. Investors should be cautiously optimistic about the recent breakout and take advantage of the recent strength by locking in gains, not getting greedy, appropriately sizing positions and rebalancing their portfolios.
Disclosure: I have no positions in any stocks mentioned, and no plans to initiate any positions within the next 72 hours. I wrote this article myself, and it expresses my own opinions. I am not receiving compensation for it (other than from Seeking Alpha). I have no business relationship with any company whose stock is mentioned in this article.