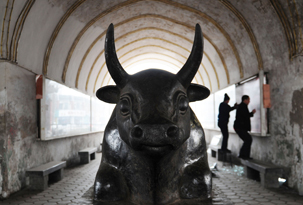 The Chinese mark New Year is on January 26 and 2009 is the Year of the Ox. This patient, methodical and hard working animal is a perfect example for investors in these difficult times.
Rather than equity analysts and strategists, 2009 will be a year when credit analysts prove to be more valuable than their flashier research teammates, according to CIBC World Markets economist Avery Shenfeld. "A stubborn, hard working ox in your credit analysis group will more than earn his keep."
That's because the ability to access credit at reasonable terms will determine which companies survive, whether in commercial real estate, oil and gas, retailing or finance. In the resource sector, for example, a healthy cash reserve will not only allow producers to avoid tapping capital markets, but it could enable them to acquire competitors that are squeezed for finances at cheap prices.
The economist said:
High cost producers will benefit more from a recovery in resource prices late in 2009 and beyond, but they should be avoided if they have uncertain refinancing prospects in the here and now.
Meanwhile, companies that get over financing hurdles should be well rewarded in terms of their share prices. For example, Air Canada (AIDIF.PK) recently rebounded from its lows caused by liquidity concerns after successfully raising money. H&R Real Estate Investment Trust has also rallied since it announced a C$200-million debenture private placement with Fairfax Financial Holdings Ltd. (FFH) just before Christmas.
"In the equity market, looking only at earnings prospects beyond the recession risks putting the cart before the ox," Mr. Shenfeld told clients. But even more so than in equities, success in fixed income will depend on investors' ability to "separate the wheat from the chaff" in terms of credit risks, he said.
While risk-free government long bonds proved to be the best strategy in 2008, the economist said Canadian and U.S. government bonds have little room left to rally. And while there will surely be defaults in the non-financial sector as the recession impacts a range of businesses, Mr. Shenfeld suggested that a diversified portfolio that avoids the riskiest high-yield bonds should do well as the economy recovers in the second half of 2009.
Photo: The Year of the Ox according to the Chinese lunar calender, a sign of prosperity through fortitude and hard work, begins on January 26 and across the country people are gearing up for the biggest holiday of the year, also known as Spring Festival, or Chunjie. (FREDERIC J. BROWN/AFP/Getty Images)