On New Year's eve, I penned an article called 5 Best U.S. ETFs for 2013. I didn't expect too many people to read the article. I wrote it more for myself, as it helped me think through and summarize my game plan for 2013. Surprisingly, that article became my most-read article on Seeking Alpha. It was very humbling. Thank you, readers, for considering my investment ideas for that article.
I firmly believe that if I write about some investment idea, I should myself invest in the same, and share the risks with any reader who chooses to follow the same strategy (or state clearly that I am not indulging because of other risk). I am not a financial advisor, nor do I earn a living from writing articles on Seeking Alpha (the money I get is nice pocket change, to spend guilt free in the casino). But, it is important, I believe, that all writers share how their strategies did.
If the strategy didn't work out well, then I believe writers should apologize to their audience, and think twice before posting another article. The principle of social responsibility, above all, should be to do no harm. If on the other hand the strategy does do well, I believe that writers should periodically revisit and retest if the underlying premise is still valid. We are now 4 weeks into the New Year. I attempt to do exactly that in this article.
I recommended
This is how the 5 have done so far this year.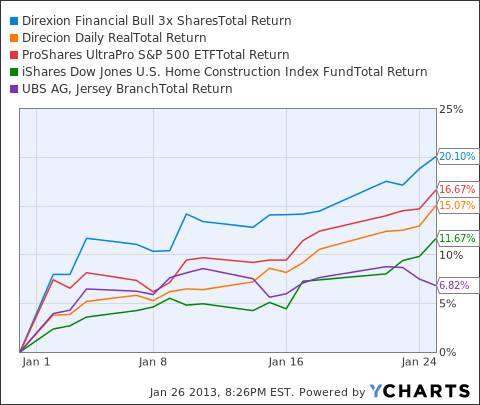 Assuming equal weighting in the 5 ETFs, the year to date performance has been just slightly above 14%. This is good performance, considering that the S&P500 has returned ~5.5%. All the 5 ETFs have so far beat the S&P500.
Do the investment premises in FAS, ITB, UXI, and UPRO continue to hold? BDCL is a dividend play, and nothing material changed between the previous article and this one. So I will leave that alone and focus on the remaining 4.
The case for the UPRO is the simplest. The earnings season has been good, money continues to chase risk assets, the debt ceiling nonsense has been resolved for now as the Republicans have caved, and QEternity is well under swing. So the market is under no immediate threat, and has a lot of tail wind. Supporting evidence follows:
Reports the Wall Street Journal on the January rally:
Among the tailwinds for the market is the Federal Reserve's monthly injection of capital into financial markets, easing of tensions in Washington, and an earnings season that has been largely positive. That has overcome skepticism about the strength of the rally.
Reports the New York Times on the debt ceiling:
Avoiding an economic showdown with President Obama, the House on Wednesday passed legislation to eliminate the nation's statutory borrowing limit until May, without including the dollar-for-dollar spending cuts that Republicans once insisted would have to be part of any debt limit bill.
Reports the CNBC on money flow into equities:
"Slowly but steadily, things have moved up and we've seen some signs money being diverted into stocks instead of bond funds," said Art Cashin, director of floor operations at UBS Financial Services.
The case for ITB remains strong as well. The housing recovery is well in progress. Reports the New York Times:
The inventory of houses for sale - both new and used - is as low as it has been in decades. Home prices are rising in most markets. Sales have picked up ... Last year there was a total of 780,000 (housing) starts. That was the highest in four years. Over the most recently reported four quarters - through September, just as housing starts rose above the 800,000 rate - real spending on residential construction rose 13.6 percent. Not since 1994 had that sector risen so rapidly.
What about UXI? The January PMI number were very strong, so the manufacturing recovery continues. This continues to bode well for the industrial sector. Reports Marketwatch on PMI:
The preliminary flash manufacturing purchasing managers index for the U.S. rose to a 56.1 reading in January from 54.0 in December, according to a Markit report released Thursday. This is the strongest rate of growth since March 2011. Output, new orders and employment each accelerated and stayed above the 50 level indicating growth. The new orders index was at the highest level in 32 months.
Finally, coming to FAS, we have the banking sector to worry about. As this Seeking Alpha article points out, earnings have been stellar. With the money flow QEternity continuing (as above), and with the housing sector recovery (again as above) making the mortgage books look better and better, there is reason to believe that the banking sector will continue its run.
In summary, I think the investment thesis as laid out 4 weeks back continues to hold, and I will continue to hold these equities in my US ETF portfolio.
Disclaimer: This is not meant as investment advice. I do not have a crystal ball. I only have opinions, free at that. Before investing in any of the above-mentioned securities, investors should do their own research, consult their financial advisors, and make their own choice.
Disclosure: I am long BDCL, UXI, UPRO, ITB, FAS. I wrote this article myself, and it expresses my own opinions. I am not receiving compensation for it (other than from Seeking Alpha). I have no business relationship with any company whose stock is mentioned in this article.